How to Take a Toddler Backpacking Without Losing Your Mind
The trail can be a challenging place for parents and kids. Set aside your expectations of how a hike should go and learn what you can.
Heading out the door? Read this article on the new Outside+ app available now on iOS devices for members! Download the app.
Whether you're planning a 30-mile day with your friends or a 2-mile day with your toddler, Backpacker has the advice and guides you need, and the deep stories and profiles you love. Get full access to all of our stories—plus training plans, full-length gear reviews, and more—with an Outside+ membership today.
There is little as joyful as falling into step with the rhythms of the trail. We establish routines: when to wake up, when to eat, when to sleep, when to filter our water and how far to walk. Ritual allows us to take on most obstacles nature throws at us.
Toss a child into the mix, however, and chaos can erupt at any moment. Suddenly, a majestic mountain vista can turn into a stage for a full-blown temper tantrum. A 50 yard trek from a campsite to a stream can take hours.
While hiking alone is an exercise in freedom, hiking with kids is an exercise in patience. It's not just the children we have to keep from screaming. It's us.
The solution? Learn to adjust your expectations, and go with the flow. Embrace these nine lessons to avoid burnout.
Go light
I've seen parents lugging heavier bags for a day at the mall than I would ever be willing to cart on the trail, at least, when I'm going solo. As a parent, it's easy to fall into the trap of thinking that you and your kid need to bring the whole toy chest with you.
But when you've had a long day on the trail and your kids have decided that this is literally the worst day of their young lives, you may have to lug them and their bags out. It's in that moment, when you're shouldering thirty-some pounds of whining child along with your pack, that you realize you probably didn't need two extra pairs of pants, a fishing pole and those supposedly lightweight camp chairs you thought you'd enjoy
Count your ounces and cut anything you don't need to survive. The trail has more entertainment than a toy store, and you won't have time to bust out your gadgets as you're making sure you saw off the miles and keep your kid chugging along.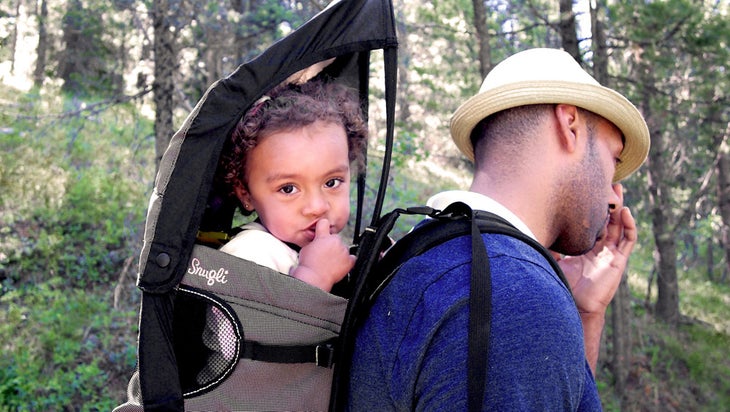 You are much faster and stronger than you think.
Kids are slow — like, glacially slow. Sometimes they walk a step a minute; other times they run, but in the wrong direction. Hiking with kids, you can feel like you're walking through an ocean of glue.
Heather and Josh Legler, the brains behind The First 40 Miles backpacking podcast who trek with their family, talk about having to bribe one kid with a post-hike toy, another with a pre-hike gadget to experiment with along the way, and the third, a track star, with the privilege of running ahead
Chris Mills, a two-time Pacific Crest Trail thru-hiker who I joined on an emotionally harrowing two-mile, Rocky Mountain National Park overnight trip with our three-year-olds, says that hiking thirty mile days is easier than taking a toddler on a two mile jaunt. On the plus side, the next time you go solo, you'll devour miles without an ache or frustration, and you may never feel slow again.
Junk food is your friend.
On a hard day, there nothing better than downing a bar of chocolate or a bag of chips. Kids feel the same way: Though you may nudge your kids to eat healthy at home, on the trail, you're nagging them to forge on. And when you see their eyes light up when you mention that you brought a sack of Fritos, you realize that, yes, even in the bleakest of moments, there is a time and a place for junk food.
Don't forget to look at the bugs.
For us, it started with an ant named Cupcake — an ant that mesmerized our kid. He studied it. He watched it scurry. He watched it climb. The ant, he decided, was his friend.
For most people, the moose that woke us up one morning would be the trip's wildlife highlight. For my son, it was the ant. Several trips after we first encountered the bug, every time he saw another, he assumed it was his friend, Cupcake.
Take it as a lesson from your kids to you: There's cool nature all around you, if you're willing to take the time to find it. Kids remind you to look at the small things you might just walk past — or in the case of an ant, crush underfoot.
Keep them clean.
It's a thoroughly gross but undeniable fact of parenting: When you're hiking with an un-potty-trained child, you're going to spend a lot of time wiping butts. Be thorough, because if not, your children are going to be unhappy, with rashes and sores, and they'll make sure that you're unhappy too. We spend extra time keeping the kids clean and making sure there are no problems that could cause an early end to our trip. Baby wipes are a gift from heaven, and more than worth the trouble of packing them out.
Take naps — anywhere.
Kids are volatile, mercurial creatures. But many tots have a fairly predictable nap schedule, and even if they don't, after a night sleeping outdoors and a morning of hiking, they want to rest. And they'll sleep anywhere. They'll lay down in the middle of the trail, on a wide log or next to a stream. And while we do encourage you to practice basic trail etiquette in choosing a solid spot for a nap that's at least 200 feet away from and out of site of the trail, a little rest can help your kid bounce back from the worst of moods.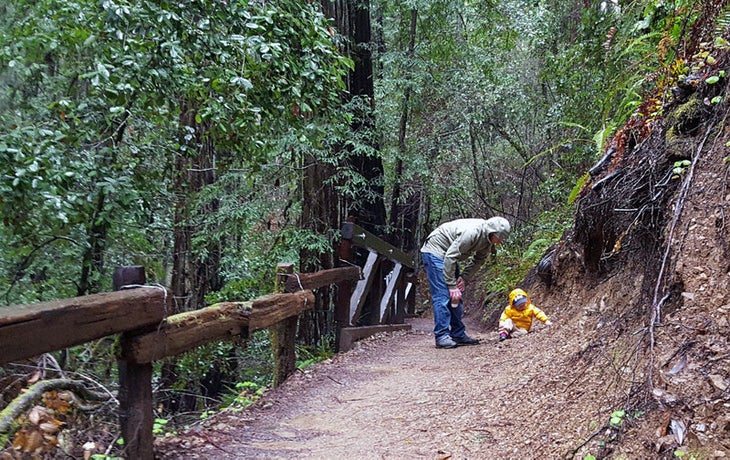 Relax your dress code.
The hard rule of hiking, particularly in places where temperatures drop, is to skip cotton for synthetics and wool. But kids aren't always logical. The Leglers have a fashion conscious child who refuses to hike unless she's allowed to wear jeans; so far, she's always survived.
Sometimes, kids want to wear their sparkly cotton socks or a tutu. With proper supervision, that's OK. Just keep a change of (synthetic or wool) clothing in your pack for insurance.
Learn to appreciate the journey more than the destination.
Yes, when you're hiking to an otherworldly rock formation or a beautiful mountain lake, it's easy to anticipate the endpoint. But watch children on the trail, and you'll see them find pure joy in the smallest things. What an adult experiences as an aspen grove, a kid sees as a wonder of moss and insects and rocks and plants. Children don't just lose the forest for the trees: Sometimes they can't even see the trees for the lichen. Learning to stay in the moment transforms a boring slog into an ecstatic journey.
They (and you) will forget the hard parts
Kids have their rough patches on the trail. Maybe they fall and skin their knees, have one too many mosquito bites or simply want to give up because their legs ache.
Mills recalls a night out with his daughter and some friends that went sideways. Everybody hated their mac and cheese, because Mills had added ground beef thinking it would be a treat. Instead, the kids refused to eat. His two-year-old daughter was terrified after a rigging mistake almost resulted in her being clocked in the head by a bear bag. Someone puked in the tent.
But by the time they arrived at home, his daughter's trauma had faded. When he asked her if she'd wanted to backpack again, she said, "yes." And when he asked her what her favorite part of the hike was, she said, "Daddy."