Yes, You Can Hike Off-Trail Without Wrecking the Environment
We talked to Leave No Trace about the best ways to bushwhack.
Photo: helivideo via Getty
Heading out the door? Read this article on the new Outside+ app available now on iOS devices for members! Download the app.
Looking to tread a little lighter? Learn what to do (and what not to do) in our guide to Leave No Trace.
Whether you learned them in Scouts, from a mentor, or from us here at Backpacker, most backpackers spend years absorbing and practicing the principles of Leave No Trace (often called LNT). Planning ahead and preparing, traveling and camping on durable surfaces, disposing of waste properly, leaving what you find, minimizing campfire impacts, respecting wildlife, and being considerate of others—these are pretty straightforward and a non-controversial way to keep our impacts on the environment in check. But when it comes to bushwhacking, it gets a lot more complicated.
Also known as off-trail hiking, bushwhacking is essentially hiking cross-country, usually to reach things like waterfalls, scenic views, or remote mountain peaks. It's an essential skill if you hope to hike in areas like Denali or parts of the High Sierra where there are no established trails. You don't need a machete to do it, and, despite what many people think, it can be done in accordance with Leave No Trace .
Bushwhacking isn't for beginner hikers: There are no paths to follow, so you'll need excellent navigation skills, including the ability to use a compass and read topo maps with contour lines, reference points and area features. 
So how can you do it while still minimizing your impact? According to JD Tanner, Leave No Trace's director of education and training, off-trail hiking is an acceptable practice as long as hikers abide by the first two core principles: plan ahead and prepare and travel and camp on durable surfaces.
Plan Ahead and Prepare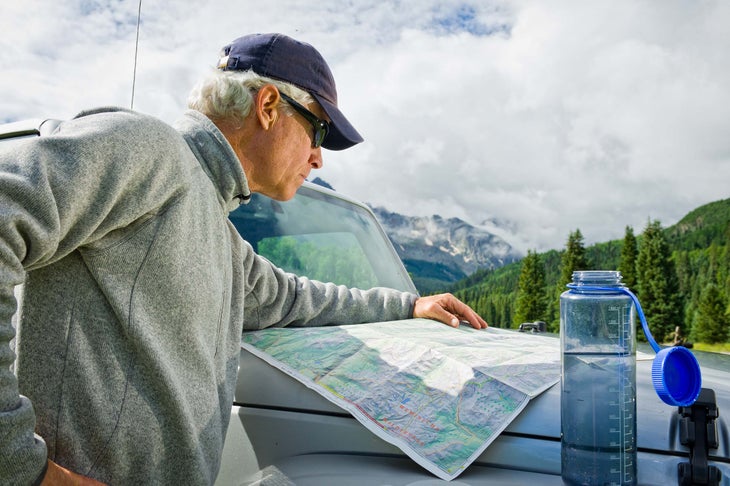 If you're planning on traveling off-trail for the first time, "you need to get real with yourself," says Tanner. Like, really real. Are your outdoor and navigation skills up to par? Would you be able to safely and responsibly hike out and hike back without endangering yourself or straying off-course?
Next, find out if off-trail hiking is allowed, because it's not permitted everywhere. Call ahead to a land manager, who may have a job title like naturalist or permit ranger. Besides finding out the rules and permit requirements, you also want relevant intel like bear sightings and areas of sensitive vegetation.
Prepare and provide a detailed itinerary to a trusted person. It should be as exhaustive as possible and include all possible side trips; while this is a good idea on any trip, it's absolutely essential when you're getting remote. Last, bring extra food, water, shelter and appropriate clothing to ensure dryness and warmth. 
Travel and Camp on Durable Surfaces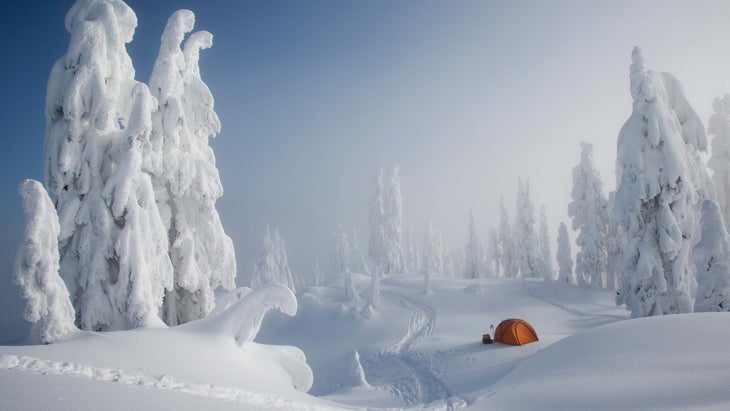 As with hiking on designated trails, you need to minimize your impact to the ground, to vegetation, and to burrows used by animals like snakes and squirrels. When hiking with a group, even just one other person, never walk single file. "Disperse footprints to reduce personal impact to the terrain," Tanner says.
What exactly constitutes a "durable surface" may vary depending on your environment. According to LNT, dirt trails are acceptable, but other durable surfaces include dry grasses, sand, and water (when you cross or follow rivers and creeks). In winter, at least six inches of packed snow counts as a durable surface, which can let you tread on otherwise fragile alpine meadows without causing damage. Wherever you walk, be conscientious about not creating social trails that others begin to use, magnifying your impact. 
For off-trail hiking, avoid flowery meadows, wetlands, alpine zones, sensitive vegetation areas, cryptobiotic soil, and puddles, which can be essential water sources in the desert. Also, stay away from the edges of streams and ponds, as well as open rock areas with lichens. 
Gear for Bushwhacking 
An off-trail hike requires more than the basics, like water, food, a first aid kit, and a cell phone. Besides a map and compass, you'll want a personal locator beacon, like a Garmin InReach Mini, eye protection like wraparound sunglasses for branches and foliage, and a signaling device like a mirror and whistle. Unless you have unusually strong ankles, a pair of boots or high-top shoes with some ankle support are usually a good idea. If you're traveling through an area with spiny or thick foliage, consider wearing a pair of heavy-duty hiking pants.
Tips for First-Timers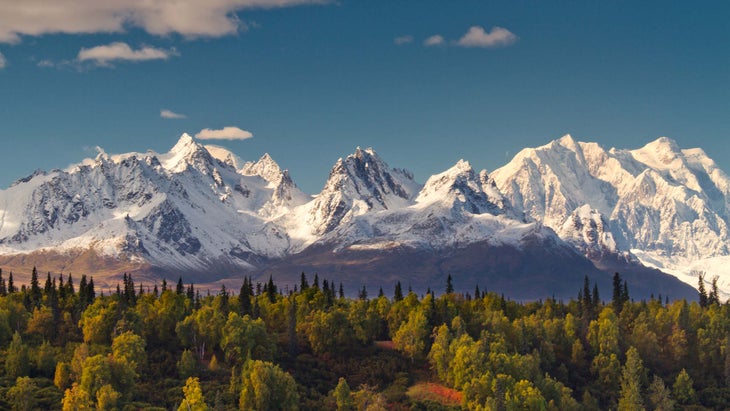 For first-timers, we looked to Dan Crane of The Bushwhacking Fool who goes on off-trail hikes several times a year, sometimes alone and sometimes with friends. He shares the following pieces of advice to help ensure a positive and responsible first bushwhacking experience. 
Make your first trip a short trip. Look local and connect two parallel trails. "Start simple to get your legs underneath you," says Crane. "Go somewhere it would be hard to get lost." 
Take a trip with someone with experience. Or, go with a group. Keep your expectations low and ensure everyone is on the same page. 
Stay aware of your surroundings. Not just straight ahead of you, either. Be aware in all directions—left, right, up, down, forward, backward. You don't want to knock over bird's nests or trample rare plants.
Trekking poles are great, but use them judiciously. The best use for poles is for safety near tree branches. They can do damage to the ground, but they are good for stability when stepping over logs or descending steep, loose slopes. 
Camp near objects that are easy to find. Think lakes, ponds, or anything marked on a map. Camp near a place you said you would be so you can be found with relative ease in case of emergency. 
Go somewhere less trafficked. Avoid concentrating all the damage to the soil in one area. When camping, keep food and gear close to avoid tamping down a new campsite. 
After your hike, contact rangers about trash or illegal trails. Whether from hunters, hikers, or bikers, unplanned, cut-and-marked trails are a major impact on the wilderness. Also alert rangers to illegal lean-tos and personal property that's been abandoned in the woods.