Ask a Thru-Hiker: What's the Best Way to Get Fuel on the Trail?
Buy, ship, or check hiker boxes and just hope for the best? Here's how to keep your stove running on your thru-hike.
Heading out the door? Read this article on the new Outside+ app available now on iOS devices for members! Download the app.
This is Ask a Thru-Hiker, where record-setting long-distance hiker Liz "Snorkel" Thomas answers your questions about life on the trail. 
Dear Snorkel,
On a week-long backpacking trip, I can run my camp stove off one fuel canister. But on a multi-week thru-hike, I'm going to need more. With fuel being flammable, is it possible to mail myself camp fuel in a resupply box? 
Fueled Up
Dear Fueled Up,
With wildfire fears running high and open flames banned, thru-hikers who want hot food and beverage should plan on carrying a canister stove instead of an alcohol stove this year. While it is possible to mail yourself fuel in your resupply box, you need to jump through some hoops—and finding isobutane canisters in towns along the trail is easier than you think. 
On major long trails like the Appalachian Trail and Pacific Crest Trail, most trail towns know the needs of hikers well. Even in towns too small for a gear store, you'll find fuel cans for sale at hostels, gas stations, and resorts (don't confuse these for the kind of resorts on tropical islands; they'll feel just as luxurious to a hiker, but are often just a few cabins in the woods).
Mountain towns that cater to hunters and anglers often sell fuel canisters, too. They may be bigger (and heavier) than the ones ultralight backpackers prefer, but they'll last several weeks on the trail.
If you aren't sure whether you'll be able to find fuel canisters along your route, contact the trail organization that manages your trail. Chances are they have a list of where fuel canisters can be found and will be thrilled to help you support local businesses. 
While I don't recommend relying on this strategy, thru-hikers living on the cheap will sometimes look at hiker boxes for old fuel cans. Hiker boxes are free boxes found at hostels or other places thru-hikers frequent in towns. If all you need is a few burns for a cup of coffee or two, a hiker box is a prime place to find half-full fuel cans. 
The only downside of buying fuel locally (or using the hiker box method) is the chance that hikers before you will have cleared out the inventory. If you're hiking a trail during peak season, this is a real possibility.
If you prefer knowing for sure that you'll have a fuel can for every dinner and every leg of your thru-hike, mailing fuel to yourself is possible if you follow a strict set of conditions. 
As with most combustibles, USPS requires that fuel canisters be declared to your postal clerk and ground shipped. Up until January 2021, USPS required you to label the box "ORM-D Consumer Commodity-Surface Only". This year, the ORM-D label is out. You'll need a Limited Quantity label instead.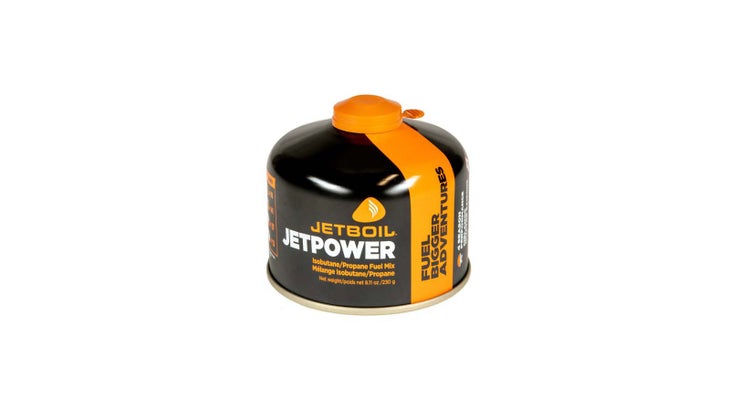 As you're packing your fuel, use padding, good tape, and a structurally sound box. You are limited to 1 L of fuel per box. However, most backpackers won't find this to be a problem: A big 16 oz (450 g) fuel canister has about 780 mL of fuel, and most hikers traveling light won't even want to carry that much. 
Wait to seal your box until you've had a chance to show your canister to a postal clerk. Printed on the side, there's a US Department of Transportation number, which some clerks will want to see to verify it can be shipped. 
Regulations change, so make sure to check before you ship. For more information on labeling, packaging, and quantity restrictions, see the USPS page on mailing hazardous gases. Ask a postal worker for help on how to do this correctly. If you're sending from a big city downtown post office, this may be the first time your postal clerk has mailed camp fuel; consider printing out the regulations to show you've done your homework.
Similarly, UPS and FedEx have their own rules on shipping fuel. Same as USPS, both these carriers must use ground shipping and limit the quantity you can send. FedEx has their own marking and labeling system; UPS considers fuel and even camp stoves without attached fuel to be hazardous. See UPS's guide for shipping hazardous material. Note that both FedEx and UPS are abiding by the new 2021 rule phasing out the ORM-D label.
A last word on shipping fuel: These systems may work if shipping in the Lower 48 states. But if you're thru-hiking abroad or in Hawai'i or Alaska, there's a different set of rules. Since you can't fly with a fuel canister, plan on picking up your fuel locally before starting your trip. Many shuttle services targeted towards backpackers are familiar with your needs and will have a way for you to get fuel. 
My advice? Shop local and skip the box. You won't just support local businesses, you'll save yourself a lot of bureaucracy too.
—Snorkel