How Beginners Can Cut Pack Weight, Not Comfort
The best way to ruin your first backpacking trip? A pack that's too heavy. Lighten your load with these tips.
Heading out the door? Read this article on the new Outside+ app available now on iOS devices for members! Download the app.
When I went on my first backpacking trip at age 11 in California's Anza-Borrego Desert State Park, I made just about every rookie mistake possible when it comes to pack weight. Because I was in charge of my own packing list, I brought heavy pajamas, a sweatshirt, too much food, and for some reason, a stuffed animal. I wanted to replicate exactly what I ate and wore at home for just a couple days on the trail. Although it was nice to have my usual pajamas at night, the heavy pack felt pretty burdensome during the day.
It's important to make sure you're comfortable in the backcountry, but unnecessary gear will weigh you down and lead to discomfort in the long run. In general, beginner backpackers shouldn't carry more than 20 percent of their body weight on their backs; for example, a 150-pound hiker should haul less than 30 pounds, and a 200-pound hiker should have less than 40 pounds. But cutting down on pack weight does not mean that you have to sacrifice comfort altogether. Fly down the trail with these tips to reduce your pack load.
Make sure your gear is multipurpose.
Do you really need to bring more than two pairs of underwear? (The answer is no.) It's important to be prepared, but it's more important to bring gear that serves multiple purposes. For example, a cooking pot can double as a bowl, and a bandana can be used as sun protection, a coffee filter, a dish cleaner, a potholder, and more. Also, embrace the inevitable stank of the backcountry by re-wearing clothes to save space in your pack.
Get organized.
Create a spreadsheet to log the weight of every piece of gear you own. Every time you get new gear, weigh it and add it to the spreadsheet so you can do some easy calculating when it's time to pack for your next trip. Keep this spreadsheet handy to save yourself time later. Don't forget to weigh your water and consumables, like food. If spreadsheets aren't your jam, weigh your full pack with a luggage scale before leaving home. Over the 20 percent limit? Remove some non-essentials until you get there. These free digital programs can save you from tedious number-crunching and spreadsheet-organizing, too. Don't forget to bring the 10 essential pieces of gear that outdoor experts recommend always carrying for safety.
Plan your hydration.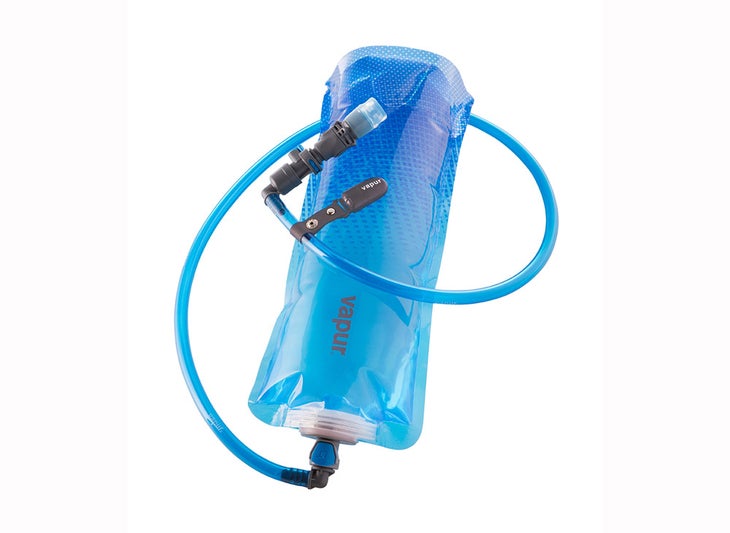 At about 2.2 pounds per liter, water can make up a significant amount of your pack weight. If you're able to filter water periodically during your trip, you're wasting pack weight by hauling an entire day's worth of water. It's better to plan out water stops and filter water as you hike. In very wet areas, it's possible to get away with only carrying a liter of water at a time. Bring some collapsible water bottles to save extra pack space and weight compared to bulky Nalgenes.
Bring your partner.
The best part of backpacking with a buddy? Dividing the weight between two backpacks. Talk with your hiking partner to make sure you're not bringing duplicates and are evenly splitting shared gear. For example, if you're using a two-person tent, one person can carry poles and stakes, and the second person can carry the body and fly, or one person could carry your stove and one could carry the fuel. With this, you might have extra pack weight to spare and can bring something to bring along some campside fun, such as a book or deck of cards.
Quick ways to save a couple of ounces
If you're setting up camp in a rocky area, leave your stakes at home and use rocks instead.
Don't pack cotton or denim; they soak up moisture and dry slowly, sucking out your body heat all the while. Instead, wear outdoor-appropriate alternatives, such as wool or a synthetic blend.
Don't bring a full pillow. Fill a stuff sack with clothes, or opt for a compact inflatable one.
Vaseline can be used as an anti-chafe or anti-blister tool, a slow-burn fire starter, and a barrier to protect open wounds from infection.
Tarps are much lighter than tents—use extreme caution if you're a beginner, though. Confident the weather will be nice, and have an emergency shelter or an easy retreat if it's not? Cowboy camping is lighter than both.