My First Backpacking Trip Was a Comedy of Errors. Here's What I Learned.
One hiker reflects on the backpacking lessons she learned during a particularly memorable first overnight.
Heading out the door? Read this article on the new Outside+ app available now on iOS devices for members! Download the app.
The plan was to hike the Chicago Lakes Trail, an 11-mile out-and-back near Georgetown, Colorado, with flat camping spots and a sparkling lake at the top. It was June 2016, and I was about to embark on my first-ever backpacking trip with my then-boyfriend, Steve. We were both new to Colorado and had decided it was time to finally spend a night in the backcountry. I grew up camping as a Girl Scout and with my family in frontcountry campgrounds, but I wanted to leave the parking lots and level tent pads behind for a more remote experience. What happened, while avoidable, is a version of a story that every backpacker has. First time overnighters make the same mistakes again and again. Maybe by sharing what I learned, I can help break that cycle. 
We parked at the Echo Lake Lodge, which rests at about 10,000 feet in elevation, and began to lace up our boots and shoulder our packs—two overstuffed 50-plus liter bags, a bulky Army Surplus sleeping pad strapped to the bottom of mine with a bungee cord. It was crisp and cool out, and the mostly blue sky was covered in clouds, including an ominous gray one that we didn't notice. It was also already 4 p.m. Leaving too late was only our first mistake. 
As we started walking, the weight of our packs rubbed against our hips and hindered our balance. (Backpacking was supposed to feel uncomfortable, right?) It was slow going up the trail, which ascends about 600 feet every mile. We shuffled up switchbacks, passed the wooden Mt. Evans Wilderness sign, and came upon the Idaho Springs Reservoir, about 2 miles in.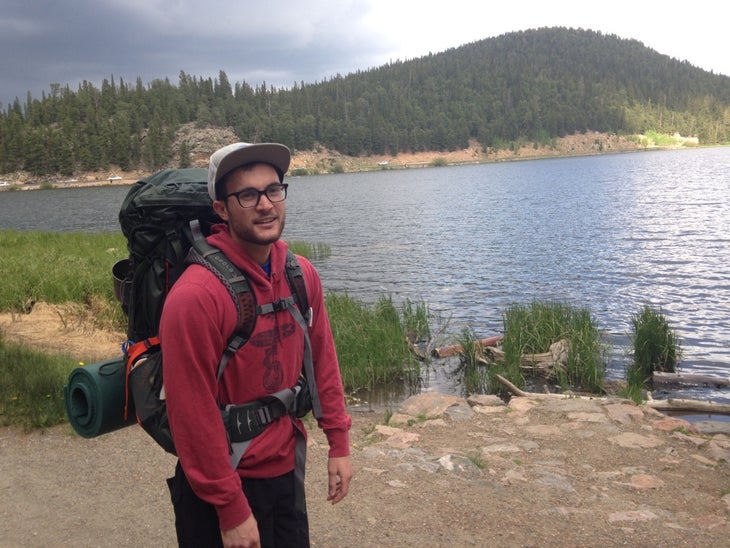 It was close to 6 p.m. by then. Trees cast long shadows over the water's indigo surface, and a ridgeline nearby was pink and golden with alpenglow. Nighttime was approaching quickly, and we weren't even halfway to our destination of Summit Lake. It was cold, and we were growing weary and losing hope.
"Over there looks good," Steve said every few steps, pointing at potential campsites in the woods. 
Eventually, maybe a quarter of a mile farther, I agreed with him that it was time to abandon our night's goal and camp here. There was no way we would reach the last lake before dark. We stepped off the trail over branches, fallen trees, and boulders to claim the only grassy patch we could see. It happened to be on a slope, but we pitched the tent anyway. 
It was a never-used two-person REI Half Dome he'd bought the year before. We might have been newbie backpackers, but we'd car-camped plenty and figured setting up camp would be the easy part.  We laid out the footprint, then the tent. We assembled the poles and threaded them through the sleeves. But as soon as the poles began the flex, one snapped right above the doorway. The tent immediately collapsed.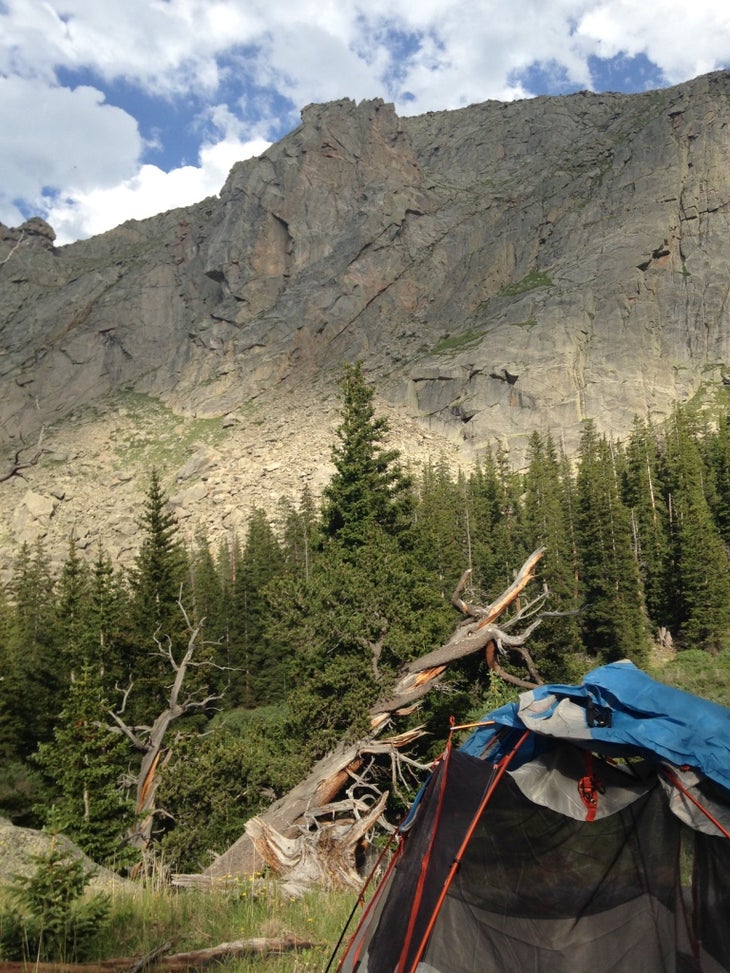 This was our second mistake: We hadn't set up the tent at home prior to heading out, a step we'll never skip again, because we could have addressed the problem (a manufacturing defect, as far as we can tell) before struggling in the dusky wilderness. The other lesson we learned then is to always bring duct tape or a tent pole splint for moments like this. Instead, we tried using my hair ties and then the bungee cord to messily secure the poles together. It looked pitiful, but it was just enough for it to hold.
Next up, dinner.  We boiled water and rehydrated two of the several packets of dehydrated food I'd packed (I figured options would be nice). I hadn't realized these packs equated to six whopping servings of rice, beans, noodles, and chicken. We were hungry, but not hungry enough for seconds and thirds. We scooped spoonful after spoonful into our mouths until our bellies were bloated. The third mistake was bringing far too much food. And my fourth? We hadn't brought any food storage, and not wanting to attract wildlife, we ate every bite.
The sun had set by the time we finished, and darkness enveloped us. We tucked into our broken tent and immediately, the slight slope felt more like a steep hill. There was also a giant rock between us. We barely slept, sliding deeper into our sleeping bags and down our pad and bolting upright at the slightest sound, thanks to a heavy case of first-night-out jitters. 
When we rose at sunrise, the  tent was still standing over us, somehow. We were cozy and warm and actually pretty proud of ourselves for sticking it out. Still, we decided to call it, and hike the 2.5 miles back to the car. On our return, we filed away a few dos and don'ts for our next backpacking adventure. One lousy, logistically-challenged night wasn't going to discourage us from trying again.
"More than anything, it was an exciting milestone," Steve—now my husband—told me recently.
The following summer, we returned to the Chicago Lakes Trail for a do-over. That time, we started in the morning, packed a working tent and an appropriate amount of food, and made it all the way to the last lake to dip our toes in the icy water.
Lessons Learned
Go small: For us 11 miles in one day, at altitude, and under the weight of bulging packs we'd never used wouldn't have happened even if we left bright and early (instead of a laughable 4 p.m.). Plan a first day's mileage to a campsite 3 to 7 miles from the trailhead. This will allow for a slower pace and frequent breaks and gear adjustments. And leave the trailhead by midmorning, latest.
Do test-runs: Check every piece of gear at home before heading out. You'll learn how to use it and discover any defects or issues. Set up your tent in the backyard (don't forget to repack the poles and stakes), boil a quart of water in your stove, practice filtering water from your sink…you get the idea. And, while most boots these days are pretty good out of the box, wear your boots at least a few times prior to your hike.  
Weigh your pack: This will give you a number, one that may be daunting, and help you dial in your packing list to true essentials. For a first overnight or weekend hike with modern gear, your packweight shouldn't be more than 30 to 40 pounds. If you're pushing that, start asking the tough questions about what you can do without. 
Don't forget emergency gear: Pack supplies for repairs (like duct tape or a tent pole splint), and a small first-aid kit, just in case.
Menu-plan: Plan your food based not on whimsy but the number of people on your trip and the days you'll be out. Most hikers consume 25 to 30 calories per pound of bodyweight. Make sure you have

a balance of carbs

, protein, and salty foods. Most importantly, pack food you actually like to eat. 

Find a flat spot to pitch your tent: Don't settle for a crappy campsite, even if you have to walk a bit further. Even the slightest angle matters when it comes time to sleep.
Learn from the experience: If everything doesn't go perfectly, don't get discouraged. Use those lessons to inform your next attempt.