Don't Make These 5 Common Leave No Trace Mistakes
Forgetting to plan ahead, leaving social trails, and 3 more ways errors backpackers make.
Heading out the door? Read this article on the new Outside+ app available now on iOS devices for members! Download the app.
Looking to tread a little lighter? Learn what to do (and what not to do) in our guide to Leave No Trace.
If Instagram has taught backpackers anything, it's that the coolest backcountry pictures are taken in places that you shouldn't be. Camping on a lake shore too close to water, standing at the edge of a fragile cliff edge, or bushwhacking off trail to get away from the crowds may help increase your social media clout, but it has consequences beyond getting a few extra likes. And with historic numbers of new hikers hitting the trail, those little impacts add up. We talked to Leave No Trace's experts about the most common mistakes that people make, and how to go a little lighter.
Not Planning Ahead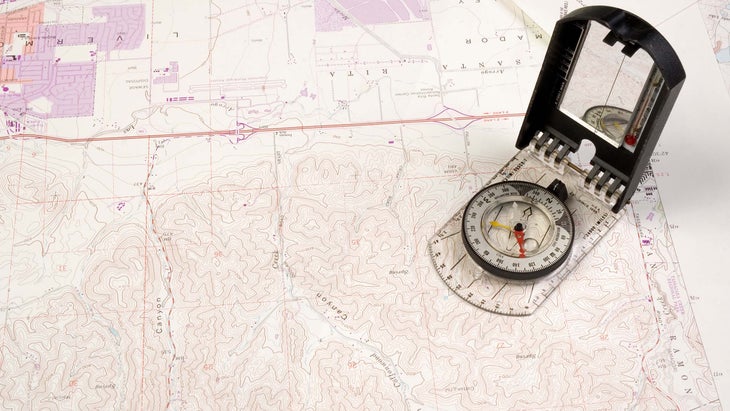 As the community engagement manager for Leave No Trace, Faith Overall knows how much planning goes into backpacking and believes that the #1 most important principle in Leave No Trace is to plan ahead and prepare. Failure to plan ahead is also the most common mistake that backpackers make. 
"You'll have more of an impact because you don't have what you need," says Overall. She sees backpackers get in a pickle and make Leave No Trace mistakes (such as not camping on durable surfaces or camping outside of designated sites because they didn't get a permit) when they haven't thought through their plans. 
Leaving Social Trails
According to Michael Garcia, the Southern California state advocate for Leave No Trace and a Leave No Trace Master Educator, one common mistake is "making the trail wider by not traveling through the trail." Instead, when there is mud or a puddle in the way, hikers will go around it to avoid getting soaked (often because they're unprepared for wet conditions—see answer #1) which widens the trail over time and creates a bigger impact. It's also common to see side trails branching off the main trail, whether it's cutting switchbacks, a higher-impact shortcut to a view, or a path that goes around a tricky obstacle. 
Not Storing or Disposing of Food Properly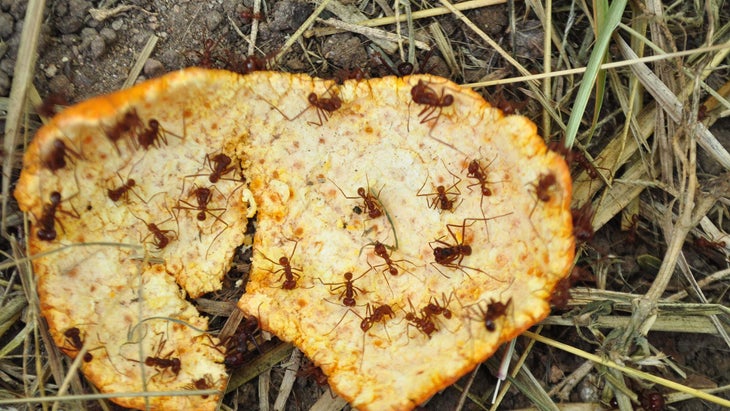 "People think food can magically disappear," Garcia explained. There are many mistakes related to food storage and disposal that backpackers don't always think about. Throwing orange peels into the woods is a classic faux pas as the peels can take years to decompose. Burying food in a pit instead of carrying it out, introduces unnecessary foreign substances into the backcountry. In bear country, the missteps multiply, with raided caches and improperly-hung bags leading to bear euthanizations as the animals get too cozy with people, and too invested in their food.News flash: Food doesn't just go away when it's out of sight. 
Not Knowing Local Leave No Trace Guidelines  
Leave No Trace is a set of principles, not rules, and they may vary depending on what part of the country (or world) you are in. "You don't practice Leave No Trace the same in every area," Garcia said. He explained that while it may be common to bury your poop a certain depth in the ground in forested areas, that may not translate to the desert. Similarly, Overall emphasizes the importance of knowing what local regulations are: Maybe it's ok to have a party of 8 in a site in one national park, but a party of 4 is the limit in another. 
Another factor is societal differences related to how we treat the environment that we are backpacking in. Some land that seems unremarkable to non-Native people may be sacred to indigenous communities.  It's important to follow local Leave No Trace guidelines rather than assuming that every backcountry area is the same. 
Shaming Others Instead of Educating
"Do the best you can do, to the best of your ability," said Garcia, referring to the Leave No Trace guidelines. A common trap backpackers fall into is black and white thinking when it comes to abiding by guidelines. It's easy to get on a high horse when observing others breaking the principles and shame the culprits. Often it comes down to a lack of education, rather than purposefully shunning Leave No Trace. 
"We think people don't care, but it's really the education they are lacking," Garcia says. He has also seen the Leave No Trace principles evolve in his years as an educator. "You don't just learn the rules once, they are constantly evolving." 
Besides, he says, teaching people about Leave No Trace is an investment that pays off later.
"Thirty people that are educated can have less of an impact than four uneducated people," Garcia said. While scrolling through Instagram may give you a glimpse into some beautiful people doing beautiful things in the backcountry, don't assume they are following best practices. Take the time to learn or brush up on the Leave No Trace principles before your next backpacking trip, and remember, you don't have to be perfect.