How to Start Planning Your Next Thru-Hike
From choosing the right water filter to evaluating your gear list, AT hiker Michael Perry shares his advice for getting trail-ready
What would it be like to spend a couple weeks—or maybe a few months—living on a trail? Maybe you've been daydreaming about breaking into thru-hiking culture. Whether you want to tackle a section of the Pacific Crest Trail or complete more than 2,000 miles on the Appalachian Trail, you'll need the right attitude and gear to get the most out of the experience. So who better to get some tips from than Michael Perry—an Appalachian Trail and Oregon Desert Trail thru-hiker, former REI instructor, and outdoor gearhead. Here's what he had to say about choosing the right water filter, evaluating gear, and living out of a backpack.
Outside: What big hikes do you have planned for this year? 
Michael Perry: I like to go on spontaneous weekend hikes lately—like a 50-mile loop on some forest service trail or harder off-trail routes of my own design. I've found that short, high-intensity hikes fill the void of a thru-hike while I'm holding down a full-time job. 
How do you decide what gear to bring on a thru-hike or backpacking trip?
Researching and preparing for the conditions you'll be hiking in is the key to having fun on any backpacking trip. I would never bring a set of microspikes or an ice axe on the AT, but if I was one of the people hiking the PCT this year, those tools would be necessary. 
In July, I did some backpacking around the Three Sisters Wilderness in Oregon and didn't bring a shelter because the forecast said no rain. The weather held, but the mosquitoes were ravenous. A little research would have meant a much more enjoyable night! 
What's the best way to stay fueled and hydrated while covering long trail miles?
Some say you should treat your body like a temple when it comes to fuel. On the trail, I treat mine like a walking garbage disposal. Family-sized bags of potato chips are my favorite because they're calorically dense and delicious, and the salt helps replace electrolytes when you're sweating all day. A friend even tried to give me the trail name "Crinkle" after the crunching sounds I'd make.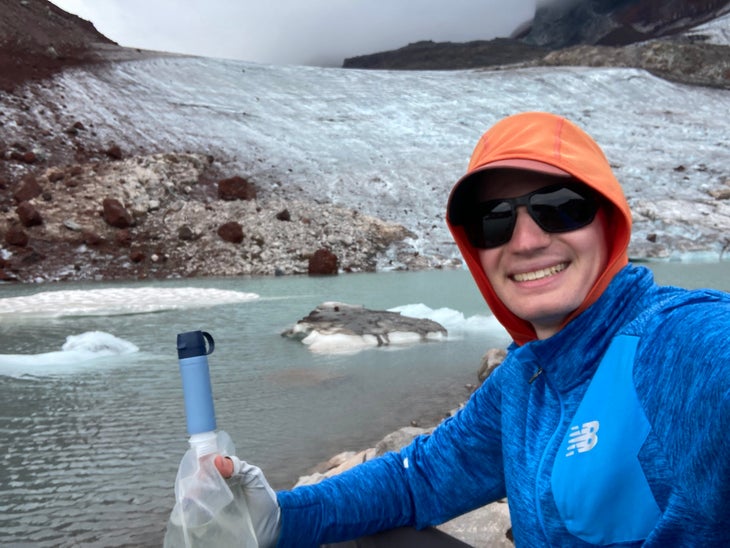 But no matter what you eat, hydration is critical, and making it easy to treat water is important. If treatment takes forever, you'll either do long water carries, weighing you down unnecessarily, or you'll skip drinking altogether, which can be a recipe for disaster. I've tried a lot of different tools for quick, reliable treatment, and the new LifeStraw Peak Series Solo Water Filter is my go-to. 
I've been using a Solo Water Filter on all my backpacking trips for about three months now, and I've been loving it. It's lightweight, super versatile, and filters quickly. At 1.7 ounces, the Solo looks great on my spreadsheet and feels even better on the trail.
The flow rate is above average compared to other water filters I've used. So, when I'm pairing the Solo with a Smartwater bottle or any standard threaded water bottle, moving water through the filter takes just a light squeeze.
The fact that you can easily backflush the Solo with a Smartwater bottle sport cap means it's easy to care for in the field. The filter also comes with a custom-made syringe for backflushing. The syringe does a great job of maintaining the flow rate. On the whole, it's a great kit that I recommend to anyone looking for a new water filter for their next thru-hike. Plus, I love that the brand provides safe water to kids in need.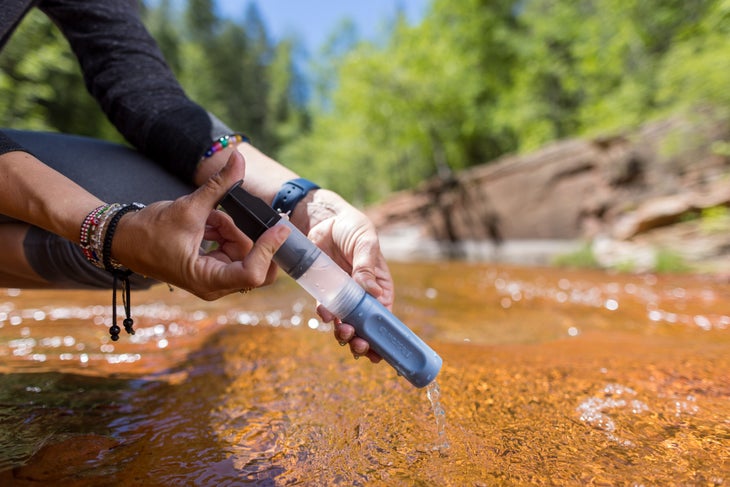 What's your top advice for folks planning a thru-hike?
You can do a few simple things to maximize fun and adventure on a thru-hike. These are some of my favorite learnings: 
Be flexible. You're about to embark on the adventure of a lifetime. And while it's important to plan, it's just as important to go with the flow. Embrace the surprises, because they could turn into your best memories. 
Hike your own hike. It's a commonly used phrase for a good reason. People may tell you your pack is too heavy or you're hiking too fast. Don't let them sway you—keep doing you as long as you're having fun. If that means you grind out 30-mile days with no zeros (a.k.a. rest days), then great. Enjoy yourself—whatever that looks like for you.
Stay connected. You'll make amazing friends that you'll want to keep forever. Once the trail ends and everyone goes their separate ways, it can be challenging to keep in touch. Swap contact info during your hike so you can stay connected. Mark and Ophelia, I miss you two.
---
LifeStraw products are used in more than 64 countries by schools, clinics, outdoor enthusiasts, adventure travelers, and households and are regularly deployed to support communities impacted by emergencies or natural disasters requiring potable water. LifeStraw's innovative water filtration technology is rigorously tested by independent laboratories and leveraged across some of the harshest environments around the world. The company is also a Climate Neutral certified B Corp. For every product purchased, a schoolchild in need receives safe water for a year. Follow LifeStraw on Instagram and TikTok or visit lifestraw.com to learn more.