Ask a Thru-Hiker: How to Hitchhike Safely
We've been warned against hitchhiking our entire lives—but on a long trail, sometimes it's the best option.
Photo: Satawat Khumsongsee / EyeEm via Getty
Heading out the door? Read this article on the new Outside+ app available now on iOS devices for members! Download the app.
Do you dream about hitting the trail for a long—really long—hike? In Ask a Thru-Hiker, record-setting long-distance hiker Liz "Snorkel" Thomas answers your burning questions about how to do it.
Dear Snorkel,
I'm not worried about hiking a long trail, but the idea of hitchhiking to town to resupply scares me. I've spent my whole life hearing horror stories about why you shouldn't accept rides from strangers. What tips do you have for safely hitchhiking as a thru-hiker?
Hitchhiking Without a Hitch
Dear Hitch,
Your concerns about hitchhiking are shared by many seasoned thru-hikers–myself included. While you can practice wilderness skills, hitchhiking involves humans, who can be more unpredictable. Here are the tips I have for thru-hikers who are concerned about hitchhiking:
First of all, remember that a thru-hike does not necessarily have to involve hitchhiking. Depending on what trail you're hiking, how much planning you can do, and how far you are willing to go between town stops, you can often resupply entirely in towns or resorts that won't require thumbing a ride.
Some towns like Monson, ME, on the Appalachian Trail or Wrightwood, CA, on the Pacific Crest Trail have trails that lead to town. Rutland, VT, is a trail town on the AT and Long Trail that can be accessed by bus. Some hostels and hotels will pick up hikers and bring them to town (as long as you stay at their business). Some resupply points have taxis, rideshares, shuttles, or trail angels who will pick up hikers. If a friend lives nearby and has been jonesing to meet you on trail, encourage them to meet you at a place where you'd otherwise have to hitchhike. Do your research, get phone numbers, and have an idea of where along the trail you may have reception to call for a ride.
If those aren't options, here's another trick: If your entry point into town is a trailhead, consider befriending day hikers or weekend backpackers on the trail who are trekking back to their back to their car. You may even want to hike with them for a few miles before asking for a ride. This gives both you and your potential driver time to get to know one another and feel comfortable getting into a car together. Remember, drivers are just as worried about picking up hitchhikers as thru-hikers are about getting in a car with a stranger!
If you haven't managed to befriend a day hiker or backpacker, the trailhead is still a good place to ask people for rides. It's a lot easier to ask someone who is outside of their car for a ride than to flag down a vehicle moving at 60 miles per hour.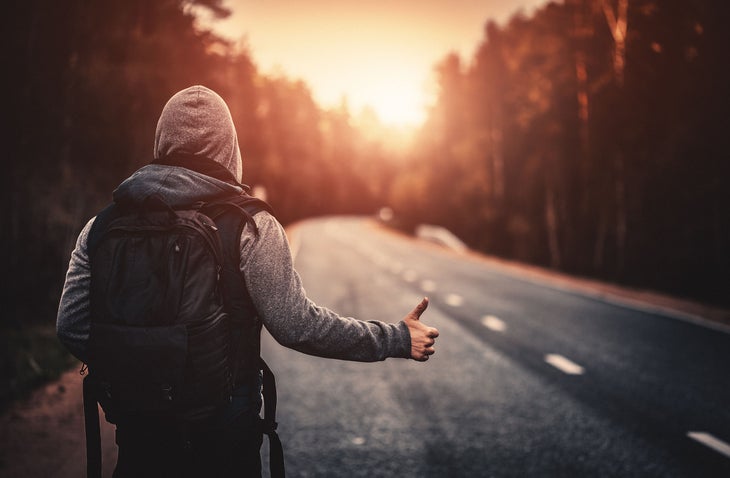 If those tactics didn't work, here are some tips to help you hitchhike while minimizing risk.
Make sure it is legal to hitchhike in your state, county, or town. I know thru-hikers who have almost been jailed for hitchhiking.
Not every road crossing is a great place to hitchhike in to town. For example, a paved road likely has more traffic than a dirt road. However, cars are unlikely to stop for you on busy highways. The easiest hitches to get are when the trail crosses a road a few miles from town. However, on remote trails like the Continental Divide Trail, you may have to hitch 30 miles or more to the nearest town. Trail resources and apps are usually a good source of information to find the best trail-road crossings for getting a ride. 
Don't hitch at night. If you think you'll reach a trailhead as the sun is setting, consider slowing down and camping a few miles before you reach the road. Hitching in the dark is nearly impossible since drivers can't see you. And you have to wonder, what type of driver picks up a hitchhiker at night?
Don't hitchhike alone. Find another thru-hiker who is also looking for a ride into town. This adds a level of safety to the trip for you

and

drivers often feel more comfortable picking up couples). Conversely, trying to hitch with more than two people can be tough. 

Wear bright clothing (preferably something that looks relatively clean). Remove sunglasses and hats, if possible. I've found drivers feel more comfortable pulling over if they can get a good look at your face. 
Keep your wallet with ID, charged phone, and personal locator device on your person at all times. When you get picked up, many drivers will ask you to put your pack in the back of the vehicle. If you're separated from your pack, you'll still want to have the essentials with you.
Pack up all your items so you are ready to go the moment a car pulls over. Drivers don't want to wait for you to get everything back in your pack. One exception: Many drivers feel more confident they are picking up a hiker (instead of an axe murderer) when they see you're carrying tools only hikers carry, such as hiking poles. You may not want to telescope or fold down your poles just yet (but consider hiding that ice ax!).
Consider covering up your trail odor by Wet Wiping off and putting on a good-smelling bug spray or sunscreen. Change into your less mud-and-pine-sap covered sleep clothes. Your driver will appreciate it.
Find a spot with high visibility and a wide shoulder. One of the most dangerous parts of hitchhiking is that it requires you to stand close to speeding cars. Protect yourself from getting clipped as you stick out your thumb.
Many hikers will use a sign that says "Hiker to Town." Some thru-hikers write this on the back of their groundsheet or sleeping pad so they can hold it up every time they hitch.  
When a car pulls over, assess the driver. If they skeeve you out for any reason–if they are visibly intoxicated, clearly leering at you, or even if you just get a bad vibe from them, it's ok to say "no."  I'll say it again because it is important: it's ALWAYS ok to say "no, "no matter what the reason! You can use the excuse that you realize you forgot a piece of gear on trail, are waiting for a friend, just got a text from someone who can pick you up, et cetera.
Turn on the tracking on your personal locator beacon. Text folks at home to let them know you are hitchhiking and when you anticipate making it to your location. (Make sure, of course, to let them know when you've arrived safely so that they don't worry.)
Be clear with your driver about where you are going. Make sure that the driver is going in the correct direction for your destination. This requires you to study maps and understand how intersecting roads connect. Otherwise, be prepared for the dreaded double hitch if a driver can only take you part of the way.
Be kind to your driver. Be prepared for weird conversations to happen. I've had drivers tell me their life story. I've had drivers go on political or religious rants. Go with the flow. If you feel uncomfortable (such as if the driver's language becomes sexual or violent), use your personal locator or text others to alert those who can help you.
When you make your destination, thank the driver and ask if you can give them a few bucks for gas. Almost all of the time, drivers decline. But that offer goes a long way toward building goodwill between townies and the hiking community. 
Before you go on your trip, I also recommend you take a self defense course or class that teaches techniques such as how to use your voice and body language to de-escalate situations. While these courses likely won't teach you exactly how to defend yourself inside of a car, they often cover general information that may help you feel more safe and confident. This is useful for hitchhiking, encountering other hikers on the trail, and life off the trail, too.
While engaging with strangers can be scary, it also can be magical to connect with others. I've had drivers buy me a slice of pie after giving me a ride, or even invite me into their homes to spend the night. I became pen pals with the older gentleman who gave me a ride on the PCT. Hitchhiking can be one of the most memorable parts of your thru-hike and is always good for a story after your trip.  
Lastly, if you live near a long trail or are dayhiking or backpacking on a long trail, consider picking up a hitch-hiking thru-hiker. As a driver, I've met fascinating people from all around the world. I get warm and tingly feelings knowing that by offering a ride, I've made life a little easier for a fellow hiker. Other than the smell, we thru-hikers are mostly harmless.
—Snorkel