My Biggest Gear Fail: I Forgot the Dang Tent Poles
With a little ingenuity, one hiker improvises shelter.
Heading out the door? Read this article on the new Outside+ app available now on iOS devices for members! Download the app.
It was a beautiful, warm evening in the Chisos Mountains in Big Bend National Park. This was the first camping trip I had been on with anyone other than my husband, Josh, in a long time, and I was thrilled at the prospect of spending some quality time outdoors with good friends at the popular Chisos Basin campground.
We had just pulled up and were eager to set up camp and watch the sun set behind the mountains. We rifled through the trunk to collect our gear, most of which Josh and I had gathered and tossed in that morning when our friend arrived at daybreak to pick us up: tents, sleeping bags, stove, camera, tripod.
Josh and I were the most experienced outdoorists in the group, having backpacked a handful of times every year for the past five years. We had been to the park the year before. We had even started a dialogue with our fellow campers in the weeks prior to make sure everyone was on the same page regarding food and gear. So we were feeling confident that the weekend would go off without a hitch.
But as I reached into my tent's stuff sack, my heart sank. Something was missing. I returned to the trunk of the car and scanned around. They weren't there. I crawled in the backseat, just to make sure. Nope. Not there, either. I rifled through bags and checked under everyone else's gear. I told myself I couldn't have done what I was afraid I had done; that would be a rookie mistake. 
But alas, I had done it: I had driven eight hours to the middle of nowhere, proud and excited to be the most experienced camper present, ready to guide my friends in the fine art of sleeping outside, and I had forgotten my tent poles. 
I did not want to sleep in the car, so I looked around to see how I could remedy my mistake. I had a tripod with telescoping legs and plenty of paracord, so I tied the pole clips at the front of the tent to the tripod using the paracord. That would provide at least a little headspace. But the mesh at the foot of the tent still drooped. So I borrowed a broken tent pole from a friend's trunk and shortened it, then stuck the ends into the stake loops on the sides of the tent, then clipped it in using the pole clip on top.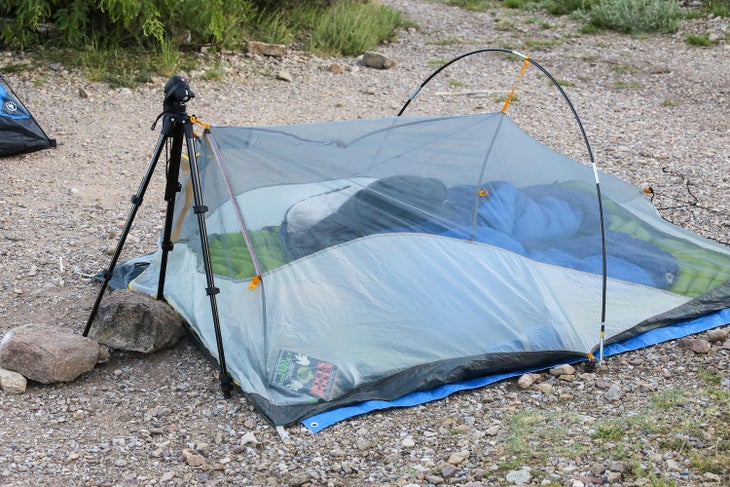 The rig worked, sort of. The already cramped two-person backpacking tent hung mere inches from our faces while we slept, sure, but when it was all (carefully) guyed out we could still crawl in and out of the single door, albeit with some extra effort. Fortunately, there was no foul weather in the forecast, so the saggy pitch didn't leave us vulnerable to rain under what would have been a very unstable fly.
Needless to say, we didn't spend much time inside the tent during the trip. No rainfly also meant no shelter from the sun. So instead, we parked our camp chairs as close to the desert scrub as we could and tried to take refuge in its shadow.
I couldn't stop thinking about how if I just would have inspected all my gear more carefully we wouldn't be in this inconvenient—if comical—position. But I'd also be lying if I said I wasn't also fairly impressed with myself: With a little resourcefulness and creativity, I had rigged a setup that was functional, if not necessarily desirable. It's a lesson that's just as important to me now as ensuring I have all the parts and pieces to all my gear. Sometimes in the outdoors, you'll make mistakes, and you'll have to rely on your ingenuity and whatever's on hand to solve them. 
To this day, my friends won't let me, the outdoor writer and blogger, live down the weekend I spent in that floppy tent. You had better believe that now, I always double check that I have my tent poles.
Gear Fail? Here's how to improvise:
Keep a repair kit handy. Stock it with items like patches, duct tape, and extra paracord. 
Get creative. Look for fallen branches to prop up tarps or tents, or rocks that can act as stakes. Other items in your pack can come in handy in a pinch, too.  
Check your gear before you go. Ensure batteries are charged, fuel cans are full, and all parts are accounted for. Always re-pack and stow your gear where it belongs as soon as you return from a trip so it's ready to go for next time.
Don't be stupid. If malfunctioning gear may put you at risk, head home.
Frustration gets you nowhere. Take a deep breath, have a snack, and make a plan for your next moves. A good attitude can make the difference between a laugh and a lesson or a miserable time.