Do I Need Microspikes, Crampons, or Snowshoes For My Winter Hike?
Stay upright no matter how icy or snowy the trail conditions get this winter. The key: carefully select what you're wearing on your feet.
Heading out the door? Read this article on the new Outside+ app available now on iOS devices for members! Download the app.
Hiking adventures don't need to go on hold when the temperature drops. But as trail conditions change in winter, hikers need to be prepared for snowy, icy, and slippery surfaces. Without the right gear, trails that are easy in the summer could become treacherous in winter. Even your grippiest hiking boots may not provide enough traction.
That's where additional traction devices like microspikes, crampons, and snowshoes come into play: They attach to your boots in order to provide extra grip while hiking on snow and ice. But not all traction devices were created equal; depending on the type of winter hiking you like to do, you may require more or less grip and mobility. Microspikes or "ice cleats," crampons, and snowshoes are the three most common types of winter hiking aids. Here's how to choose the right one for you.
Microspikes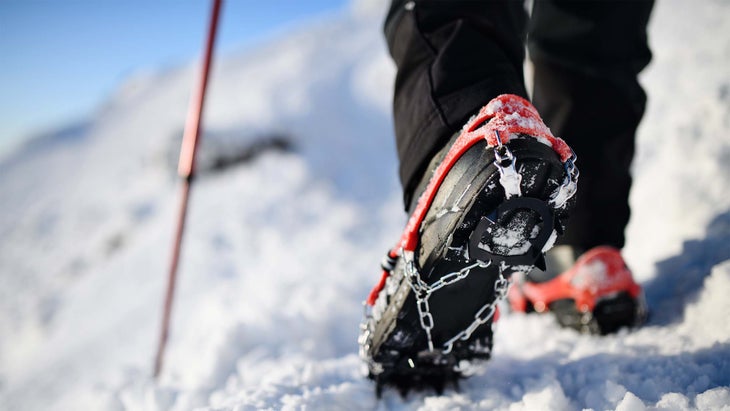 For most hikers, these miniature traction devices are the solution for winter adventures, as they're versatile, easy to use, and affordable. (Note that, while you'll hear people use the term broadly, technically "microspikes" refers to Kahtoola's version; the generic version is more properly called "ice cleats".) Composed of chains and spikes strung between a stretchy rubber frame, ice cleats are compatible with all kinds of footwear, so you can move them between pairs of boots or share them between hikers within a certain size range. For packed snow, patchy ice, and moderately-graded trails, ice cleats provide plenty of traction. Plus, they're easy to take on and off, allowing you to store them in your pack and deploy them when conditions require it. Unless you're tackling serious summits, glacial terrain, or steep icy conditions, ice cleats are a solid choice for winter traction. Some ice cleats have sharper or more points than others, so choose a pair suited for the activities you plan to do. For example, a lightweight pair with small spikes may be best for running around the neighborhood, but not enough for icy trails.
Crampons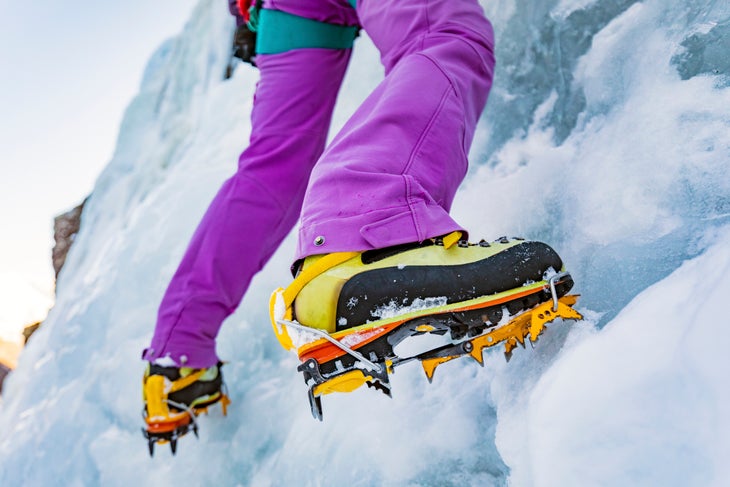 For terrain where microspikes won't cut it, opt for crampons. These rigid traction devices strap onto boots and use aggressive metal points to bite into ice. Since crampons are burlier than microspikes, they're best for steeper, icier terrain like glacier hiking and even vertical ice climbing. Mountaineers wear crampons to ascend steep snowfields. bust them out on much less than that and you may find yourself tripping over them.
What kind you get matters: Technical climbing crampons meant for scaling frozen waterfalls differ from those meant for hiking or glacier travel. They often feature longer points on the toes and must be worn with mountaineering boots instead of regular hiking boots. Crampon bindings are often more substantial than the rubber straps used to attach microspikes to footwear, making them more difficult to put on or take off mid-hike. Before purchasing, make sure crampons are compatible with the type of footwear you plan to use—when in doubt, consult a sales associate at your local gear retailer.
Snowshoes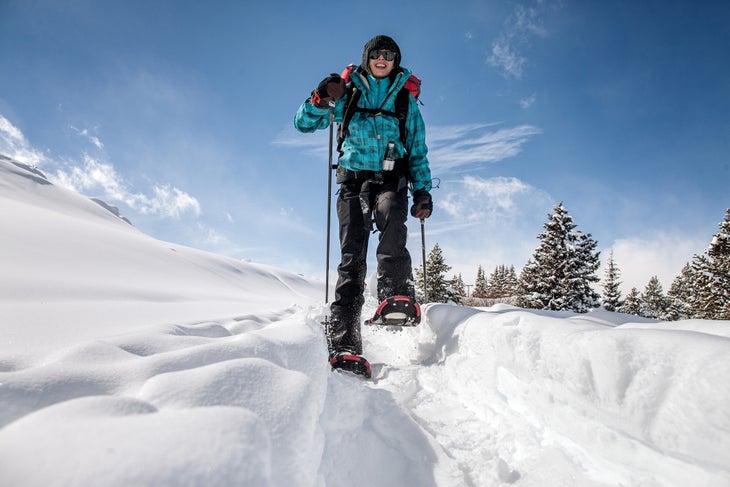 Whereas microspikes and crampons shine in icy conditions, snowshoes—as their name suggests—are made for deep snow where you'd otherwise sink. Snowshoes distribute your weight on the snow's surface, allowing you to float on top rather than postholing. Un But for trails with exposed ice or thin, packed layers of snow, snowshoes become unwieldy without offering the proper traction. Snowshoes with larger decks work well in deep, fluffy powder, whereas smaller snowshoes may be sufficient for moderately deep snow. Many snowshoes come with built-in crampons to keep you upright in mixed conditions. Unlike microspikes and crampons which are compact and can be stashed in a backpack, you'll likely want to wear snowshoes for the duration of your hike.
More winter backpacking advice: