Camping in the Rain: Tips and Gear to Keep You Dry and Comfortable
A rainy trip doesn't need to be a miserable trip.
Photo: Cavan Images via Getty
Heading out the door? Read this article on the new Outside+ app available now on iOS devices for members! Download the app.
I used to say that, given the choice, I would rather hike in the rain than camp in it. When I was on the trail, I could shrug off even pretty heavy precip. Moving at a brisk pace kept me warm, a good shell kept most of the moisture out, and the scenery and flow state I found on the trail usually distracted me from thinking about how much I hated being damp. In camp, though, I would end up getting drenched while futzing with my tent. When that was done, I was left with the choice of trying to find enough protection to cook or just scarfing my snacks and spending the evening cooped up in my (now soggy) shelter.
Making peace with the rain didn't come easily to me. I spent the front half of my twenties living in the deserts of the southwest, where the rain was predictable and mild when it came at all. But after a decade spent getting drenched across three different continents, I've learned what it takes to thrive on a rainy camping trip instead of just surviving. Believe me: If I can do it, so can you. It just takes a little know-how.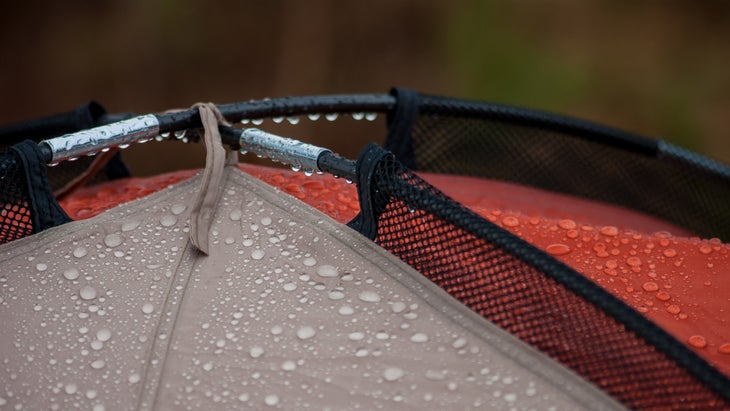 Gear and Prep
Your normal kit will do, with a few tweaks.
Clothing
Opt for quick-dry layers, and pack an extra baselayer and pair of socks somewhere they won't get wet. If it's chilly enough for insulation, I always opt for synthetic over down—even dry-treated feathers don't recover from a soaking like the human-made stuff.
A solid hardshell is a must; pick one with a stiff brim or wear a ball cap underneath to keep the moisture out of your eyes. I usually don't bother wearing rain pants—I live in Colorado, where truly biblical rainstorms are rare and the low humidity helps dry hiking pants quickly. (I also sweat like a snowman in a sauna, which quickly negates their moisture-blocking benefits.) But if constant rain is in the forecast, or I expect to be standing around in camp for some reason, I'll pack a pair. Frog Toggs are cheap and have served a generation of dirtbag hikers well. On the fence? A rain skirt is a good compromise.
Footwear
This is one situation where opting for waterproof footwear is advisable. But be mindful of the conditions on the trail: Even the most bomber membrane won't keep your feet dry if water sneaks in over the top of your shoe. Low-cut Gore-Tex hikers might work on a well-drained trail, but if the conditions look sloppy, upgrade to boots. (The exception? If you're hiking in warm enough temperatures, consider going for a lightweight, quick-drying pair of shoes instead.)
Tent
You may end up spending a lot of time in your tent, so you might as well make it comfy. Leave the minimalist shelter at home and spring for something with a little more space. Consider sizing up—bringing a 3-person shelter for your 2-person crew, for example—to give yourself a little extra living space. A roomy vestibule will give you space to stash wet gear. Some tents are also easier to set up in the rain than others—a double-wall tent with a fly-first pitch, like the Tarptent Double Rainbow, or a modern single-wall tent with good ventilation is ideal. But in the end, there's no need to buy a new tent to camp in the rain—with a little finesse, you can make any solid shelter work.
If you're hiking in a group, consider bringing a floorless pyramid shelter like the Black Diamond Megalite 4P for use as a hangout spot. While carrying an extra tent may be anathema to backpackers used to shedding every spare ounce, having an all-weather space to hang out together can do wonders for camaraderie, a lesson Backpacker's staff learned firsthand on our soggy 2016 Editors' Choice trip to Colombia.
Waterproofing
Lining your pack with a trash bag will keep your gear dry on the trail. The downside: In the wettest weather, it can be hard to fish out what you need without drenching everything else. On rainy hikes, I organize my gear into small drybags. (Sea to Summit's Ultra-Sil Drybags weigh nothing, and Hillsound's Packstacks fit neatly into a backpack; both have won Editors' Choice awards.) That way, I can access, say, my toiletries without exposing my phone charger to the elements. Pay attention to the waterproofing on your headlamp, which you'll likely need to use in the rain: Opt for one rated IPX4 or higher.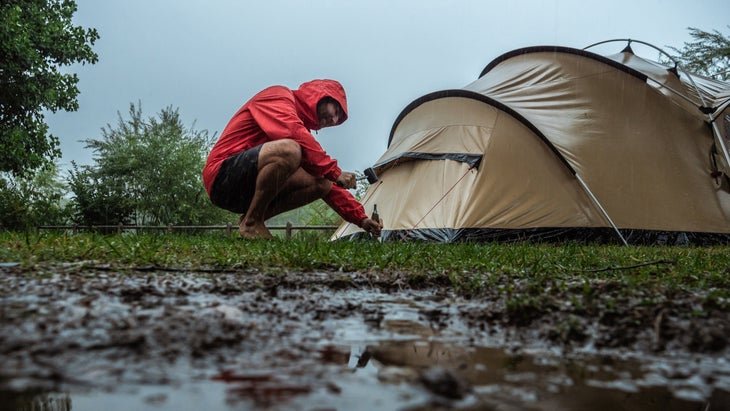 In Camp
A smooth setup will help you stay dry, cozy, and happy in the worst downpours.
Campsite Selection
Have a site (and a backup or two) in mind when you depart the trailhead—you don't want to be searching for a good spot while it's pouring. Look for good drainage and avoid low spots where water could collect. Natural shelter is a plus, but avoid standing dead trees, which can topple over in the wind.
Tent Setup
The longer it takes you to put up your shelter, the wetter you—and it—will get. Aim for efficiency: If you're not familiar with your tent, practice setting it up at home until you have the process dialed. If your tent has a fly-first pitch, use it; if not, a kitchen sponge can help you soak up whatever water snuck inside. Make sure you stake out your tent and fly well so that water rolls off rather than pooling around the edges. 
Mealtime
The dilemma: Cooking outside in the rain is miserable, but eating a cold-soaked meal when you yourself are both cold and soaked is arguably worse. The solution: Go hot and simple. Opt for dehydrated comfort food (rain is great mac and cheese weather, in my humble opinion) and pack an integrated canister stove to rehydrate it in your tent's vesti. In bear country? Don't cook near your tent. Pack a lightweight tarp to protect your kitchen area instead.