How to Fuel for Every Length of Hike, According to a Dietitian
Backcountry Foodie's Aaron Owens Mayhew explains what you should eat and when to best suit your individual body and hiking needs.
Heading out the door? Read this article on the new Outside+ app available now on iOS devices for members! Download the app.
It's all too common. You've been hiking all day and feeling strong, but then, all of a sudden, your legs turn to lead. You aren't out of shape, and it's not the elevation getting to you. You're just underfueled.
It's easy to forget to snack when you're focusing on the summit, but when you're burning extra calories carrying your pack and moving for a long time, staying fueled can prevent injury and burnout.
Your actual food intake depends on age, sex, fitness level, pack weight, and many more factors. But start with this: when you're hungry, eat. It's important to stay fed for all activity, whether you're out for a quick hike on your neighborhood trail or on your first overnight adventure. We asked registered dietician Aaron Owens Mayhew how to stay fueled for it all.
Under 3 hours
If you're hiking for less than three hours, there's no need to pack a camp stove or excess food. Owens Mayhew says the body has enough glycogen—the body's internal stash of carbohydrates—stored for one to three hours worth of intense activity. Generally speaking, hiking is considered a low to moderate intensity activity depending on the terrain and difficulty of the hike. The best thing you can do to stay fueled is eat a nutritious meal or snack no more than 60 minutes prior to hiking. Additional nutrition while hiking is not entirely necessary.
Trail tip: If you're feeling snacky, customize some trail mix that will power you the extra mile.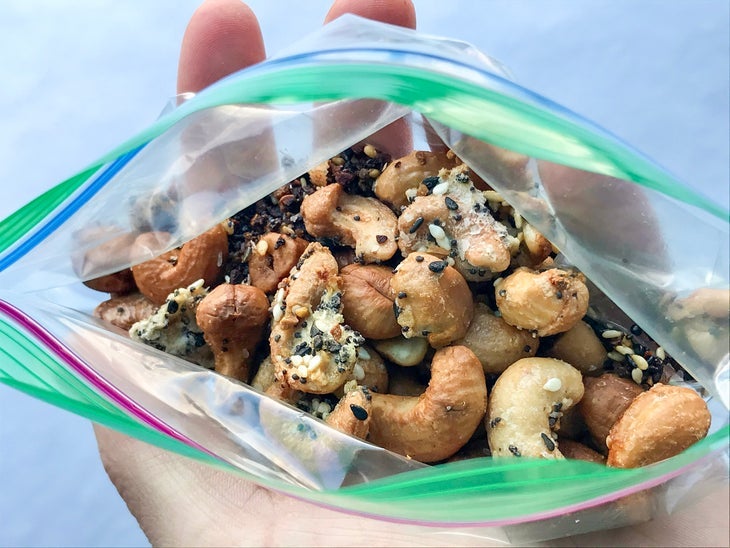 Under 12 hours
If you are moving for most of the day, you should have a consistent, steady stream of fuel throughout the hike. The goal is to stay well fueled by eating something every 60-90 minutes. By doing so, you will keep your fuel tank topped off. It's much harder to replenish glycogen stores after they've been depleted than it is to keep them topped off.
Not that hungry? Owens Mayhew says she is "a believer that eating something is better than nothing." But while a fistful of gummy worms may keep you moving, combination foods that contain fat, carbohydrates, and protein will give the body more long-lasting fuel. Those famous Snicker commercials weren't lying to us: You're not you when you're hungry. (Snickers, actually, are a dietician-approved hiking snack.)
Trail tip: Pack enough of these healthy trail snacks, packed with combination foods, for your dayhike.
Multiday
If you're hitting the trails for multiple days, you might not want to eat breakfast, lunch, and dinner on each one of them. And that's fine: Whether or not you want to eat three square meals (with snacks in the middle) or a constant stream of snacks is your personal preference. Ultimately, your goal should be to provide fuel in a way that fits your body and hiking style.
"When I was a beginner hiker, I thought the aches, pains and hunger were just part of the experience," Owens Mayhew says. "With experience, I've learned that it doesn't have to be a sufferfest, with food actually making the backcountry experience that much more epic."
If you prefer to snack all day, these snacks have to still be substantive. In order to prevent a large energy deficit, the snacks have to make up for the calories normally consumed through the three larger meals. Consistently undereating means your body is always trying to catch up instead of performing at its highest potential.
If you have been hiking for days on end and can't imagine forcing down another packaged snack, Owens Mayhew recommends drinking liquid calories. This is something she relied on this summer when her appetite abandoned her for over 300 miles of the Colorado Trail. She always stashes her backpack with a Carnation Breakfast Essentials powder, whole milk powder, and peanut butter powder concoction. "Folks can purchase meal replacement mixes commercially, but DIY mixes are significantly cheaper and taste better in my opinion," she says.
Trail tip: You can't go wrong with our top food choices for 2021.