Here's What Thru-Hikers Actually Eat in a Day
Four hikers reveal every morsel that's fueling them for thousands of miles.
Photo: Cavan Images/Cavan via Getty Images
Heading out the door? Read this article on the new Outside+ app available now on iOS devices for members! Download the app.
If you've hiked any sort of long distance, you know that there's one thing that's always top of mind: food. Eating is one of the greatest joys—and greatest challenges—of life on the trail. For thru-hikers, the challenge is even greater. One must balance preferences with nutritional value, cost, and weight. And when you're limited by what you can find at resupply stops, meals can get, well, interesting.
The web is chock full of advice on fueling for a multi-month hike, but we wanted to know what today's thru-hikers are actually chowing down on. Here's how four backpackers are eating their way through their 2023 thru-hikes.
1,000+ miles completed on the Pacific Crest Trail
"I didn't come into the trail with much knowledge or understanding of thru-hiking nutrition whatsoever, so I've been experimenting quite a bit. Sometimes this works out great. (Peanut butter M&M oatmeal? Yummy.) Other times, I've learned from my mistakes. (Peanut butter ramen sandwich—don't ask.) Regardless, the spirit of experimentation helps me keep things interesting out here, which helps with morale." 
4 packets of cold-soaked apple cinnamon oatmeal with coconut flakes
Kind Bar

Clif Bar

Trail mix (heavy on the peanut M&Ms)

Peanut butter tortilla wrap

Fritos or SunChips (crushed, eaten with a spoon out of the bag)

Assorted candies

Dried sweetened pineapple

Clif Builders Bar

More candy

Knorr Rice Sides

with dehydrated black beans and olive oil
Go-to town food: A cold kombucha 
430+ miles completed on the Continental Divide Trail
"When I go to a town with a strong grocery scene, I like to pack out as many surprising foods as possible—some heavy or perishable things I can eat in the first day or two, some unknown items I've never seen, some strange ingredients I want to try and combine. After all, if I'm going to be on trail for five months, I'm going to need variety. So, thanks to Natural Grocers in Helena, Montana, for a glorious resupply. But, really, for trail tacos."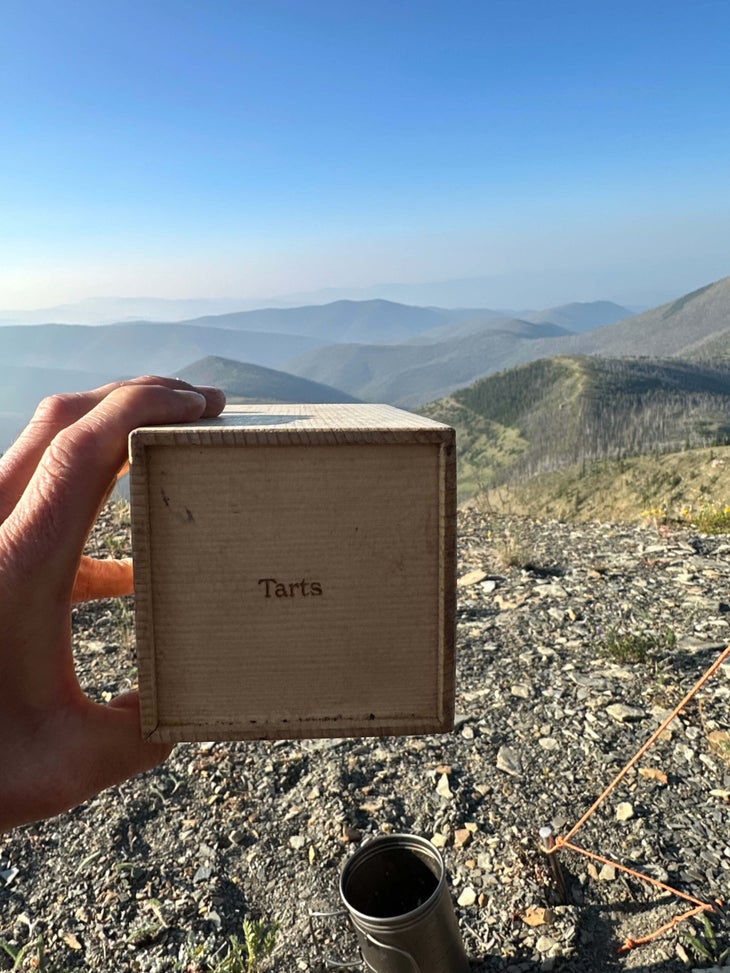 Strawberry Pop-Tarts

, frosted. There were no crumbs, because I store them in my custom Pop-Tart case. I love Pop-Tarts.
Folgers Instant Coffee

, dumped in generous amounts into boiling water.

Picky Bar All-In Almond 

An entire container of Trazza Dill Hummus

1/2 bag Zack's Lime Tortilla Chips

15 "Sweet Heat" Peanuts, Hubbard Peanut Company

1 cacao-covered cashew, a gift from a tramily member

2 squeezes from a pouch of creamy Skippy

3 dehydrated pineapple rings

Honey Mama's Blonde Truffle Bar

, limited-edition Lemon Blueberry Flavor

Gnarly Hydration Powder (Raspberry) mixed in water with two generous squeezes of caffeinated Mio (Strawberry Pineapple Smash, but it mostly all tastes the same)

Spiru-tein

Strawberry Protein Powder Meal as soon as I arrive in camp

Taco Night: Two flour tortillas with cheese melted inside on the Vargo Bot; 1 perfectly ripe avocado; 1 bag of Cilantro Lime Right Rice; 1 bag of

Wild Planet shredded beef

, sautéed on the Vargo Bot in olive oil; Fernweh Food Company's crucial

Hot Sauce Powder

A large portion of a massive Tony's chocolate bar, with hazelnut cookie inside 
Go-to town food: Pizza and salad
Xiaoling "Fruit Snack" Keller
1,200+ miles on the Appalachian Trail
"Being plant-based on this trail is incredibly tough. The biggest question is where do you get enough protein? The answer is we don't, but we try our best. We eat well in town and then pack out a package of Lightlife veggie dogs or Tofurky sausages to cook on the campfire the first night back on trail." 
2 packets of instant oatmeal
Munchies Peanut Butter Sandwich Crackers 

That's it. fruit bars

or Mott's fruit snacks 

A handful of Gardetto's Snack Mix 

A handful of potato chips 

Fritos Hot Bean Dip with Fritos Scoops 

Chocolate Raspberry Truffle Larabars 

Ramen (minus the seasoning packet because it's not vegan) with Idahoan Original Instant Mashed Potatoes and vegan Daiya Cheese Sauce 
Oreos or Mrs. Freshley's Honey Buns 
Go-to town food: Impossible Burgers with fries and a cold drink, or veggie fajitas
Lyla "Sugar" Harrod 
2,000+ miles completed on the Continental Divide Trail
"I try to only pack out foods I know I will eat. Nothing is worse than a Clif Bar hanging around the bottom of your food bag for weeks. I check in with myself before resupplying. If I found myself avoiding a specific type of food in the previous section, I think about what it provided me from a macronutrient standpoint and come up with an alternative I might like better. I don't focus on micronutrients or gut health during resupplies, so when I'm in town I do my best to eat fruits, veggies, yogurt, kombucha etc. to play catch up."
2 packets cold-soaked maple brown sugar oatmeal with dried cranberries and pecans
Caramel Almond and Sea Salt Kind bars

Nature's Bakery fig bars

Pepperoni, cheddar cheese, honey mustard pretzels, and mayo wrapped in a tortilla 

Lenny & Larry's Complete Cookies

(preferably mint chocolate chip)

Flavor Blasted Goldfish 

Haribo Sour Streamers 

Pretzel M&Ms 

Cold-soaked instant rice with taco seasoning, with a packet of buffalo chicken, bacon bits, Velveeta cheese, and crispy fried onions 
Hostess Cinnamon Streusel Coffee Cakes
Go-to town food: Bacon cheeseburger and ice cream