The 10 Rules of Solitude
Use these tips and trips to find backcountry peace and quiet, no matter where you live.
Heading out the door? Read this article on the new Outside+ app available now on iOS devices for members! Download the app.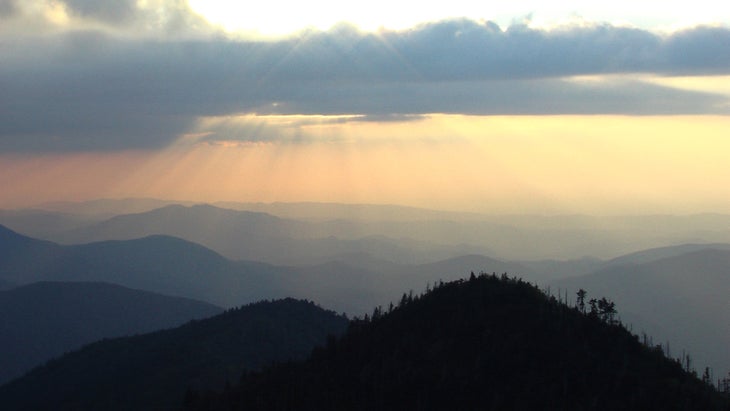 1. Hack the Permit System
Ground Zero: Great Smoky Mountains National Park, TN/NC
If you can find solitude here, you can find it anywhere. Great Smoky is the nation's most crowded park, with more than 11 million visitors last year. But escaping the masses is easier than you'd think. The secret: a real-time online reservation system. The system lets you see exactly where the crowds are on any given night—so you can go elsewhere. (And always avoid the ever-popular Appalachian Trail, which traverses the highest ridgeline across the park.)
The reservation system is easy to use: All of the available backcountry campsites show up as color-coded numbers on a map of the entire park, making it simple to plan a multi-night itinerary. Click on a red number for a hiker-only site (as opposed to hiker-plus-stock or boat-in-only) and choose your dates. Plug in payment details, and that's it. If you don't mind a little uncertainty, you can show up at the park and make same-day reservations. Then go explore Great Smoky's famed creeks, meadows, and mist-shrouded mountains. Prioritizing solitude means you won't hit the park's more popular highlights, but backcountry ranger Nick Yarnell says that's for the best. "The woods are pretty in themselves," he says. "If it's me, I'll go looking for a random campsite in the middle of nowhere. A waterfall will always draw the crowd. If you're looking for solitude, bypass the waterfall." Season Spring to late fall Permit Required ($4/person per night) for overnights
2. Leave the Trail
Ground Zero: North Cascades National Park, WA
Oldest trick in the book when it comes to finding solitude? Go off-trail. In fact, when we polled BACKPACKER editors and contributors for their top tips on the subject, this was the overwhelming consensus. Photographer Nick Lake found his piece of quiet on Easy Ridge in the North Cascades, a park where off-trail travel is common above treeline and mandatory to reach the most remote terrain. "While trails lead up to Easy Ridge from the river basin below, they're unmaintained and erratic," Lake says. "Once up on the ridge heading toward Whatcom Peak and Challenger Glacier, the trails disappear completely. I didn't see anyone else on a mid-September trip."
The nature of going cross-country, of course, is that you're not following in anyone's footsteps. But you can replicate Lake's general route by starting at the Hannegan Pass trailhead and hiking about 14 miles to Easy Ridge (via the Hannegan Pass and Chilliwack Trails, and the come-and-go path that ascends to Easy Peak before petering out altogether). Explore as far as your energy and skills allow. Once on the ridge, the objectives require technical climbing and glacier-travel gear and know-how. Within striking distance: 7,574-foot Whatcom Peak and Challenger Glacier, which leads up to 8,207-foot Mt. Challenger. Season Summer and fall Permit Required ($20 reservation fee) for overnights
Note: Before you leave any trail, there are a few things to know. First, you need to have the navigation chops. Second, always confirm that cross-country hiking is allowed. Third, even where it is allowed, understand how to minimize impact by avoiding sensitive areas (like cryptobiotic soil in the desert Southwest).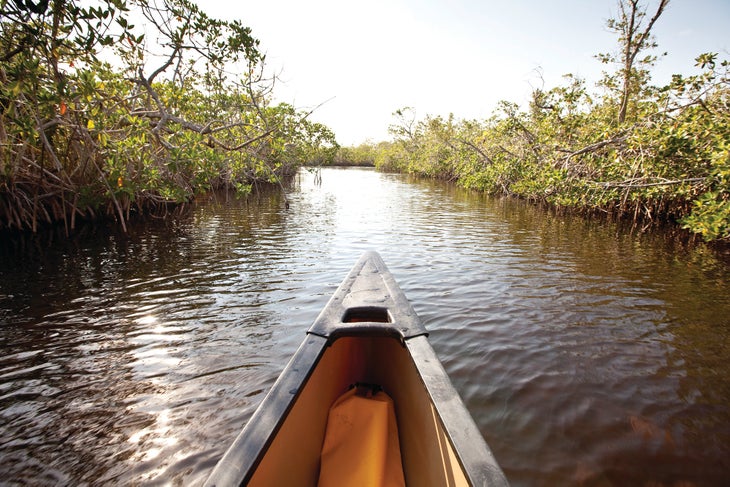 3. Paddle Away
Ground Zero: Everglades National Park, FL
In this water-riddled wilderness, finding solitude is as easy as trading boots for a paddle. Approximately 1 million people flock to the Everglades annually to see alligators, snapping turtles, osprey, storks, spoonbills, and bald eagles, but, according to park ranger Allyson Gant, it's not hard to get away from the crowds. "We have the largest designated wilderness east of the Rockies—96 percent of the park is wilderness," she says. You just need a boat to explore it.
For a beginner-friendly route, Gant recommends the Hell's Bay Canoe Trail, which twists and turns through tunnels of mangroves that deter motor boats. She saw alligators, swallow-tail kites, and a dolphin on her last trip there. From the put-in 9.5 miles north of Flamingo Marina on the main park road, paddle northwest 4 miles to the two Pearl Bay chickees—elevated 10-by-12-foot, wooden sleeping platforms with outhouses (BYO tent). Stay the night, or continue another 2 miles to the Hell's Bay chickees. But for ultimate solitude, paddle another 2.5 miles past Hell's Bay to Lane Bay and its single chickee. Rent a kayak or canoe from Flamingo Adventures (starting at $92 for two days) for this trip. For routes in the north, rent from Everglades Adventures (starting at $60 for two days; iveyhouse.com) and launch from Everglades City. Bonus: Canoe camping is like car camping; you can pack for luxury. Season December to April Permit Required for camping ($15 + $2/person per day); pick up in person no more than 24 hours before trip.
4. Camp High
Ground Zero: Weminuche Wilderness, CO
Where there are mountains, there's solitude to be found. Just climb until you find a private paradise to pitch your tent. This strategy is particularly effective in big ranges like the Rockies and Sierra Nevada, since most backpackers don't want to lug their overnight gear into the highest terrain. For ultimate solitude, look for elevated terrain that lacks a name, as photographer Grant Ordelheide did in the Weminuche Wilderness. "This spot is in a really remote basin," he says. "If it has a name, it's not on the map. But the peak behind the tent is 13,824-foot Jagged Mountain." Explore this area on a hike from Kite Lake, linking the Continental Divide and Vallecito Creek Trails before ascending into the no-trail zone, as Ordelheide did. Or approach from the Durango-Silverton Narrow Gauge Railroad's Elk Park stop (starting at $96.12). Season Summer (beware thunderstorms) and early fall Permit None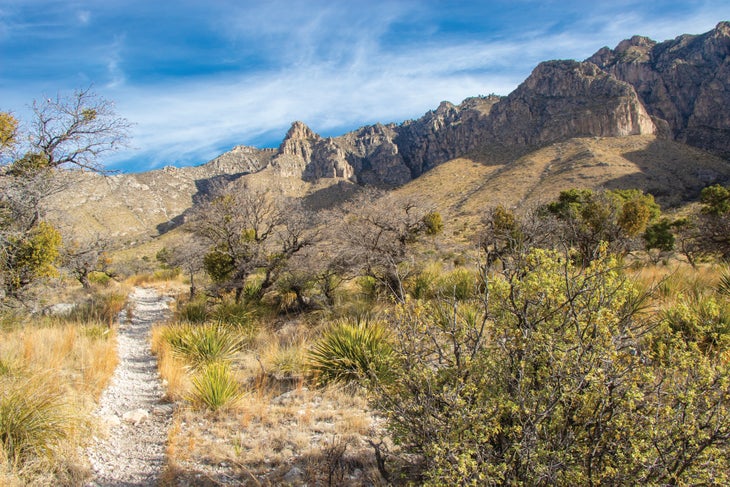 5. Aim Lower
Ground Zero: Guadalupe Mountains National Park, TX
In mountains, as in movies, there are stars, and then the supporting cast. But as every movie buff knows, supporting roles can be scene stealers. The same goes for peaks. Most hikers head to the Guadalupe Mountains to tag the park's namesake peak—at 8,749 feet, it's the tallest in Texas. But it's not the only place here with a sweet view. Instead, Supervisory Park Ranger Brian Schwieger says to head north to Dog Canyon. "It's the gateway to some beautiful areas that are unspoiled," he says. "From Lost Peak you get incredible views looking south and southwest toward the salt flats and sand dunes in the park, and you also get great panoramas of Bush Mountain, which is the second-highest peak in Texas." Tag 7,830-foot Lost Peak on a dayhike on the 6.5-mile Tejas Trail from the Dog Canyon trailhead. Alligator juniper, ponderosa pine, and chinkapin oaks line the route.
If you have time for a backcountry night or two, Schwieger says you'll find some of the best stargazing in the country on a trek to Hunter Peak. He also notes the 8,368-foot peak is where he likes to catch sunrise and sunset, and says, "You get great views of Guadalupe Peak from across the canyon." From the Pine Springs trailhead, go 3.9 miles on the Tejas and Bush Mountain Trails to camp at Pine Top, where there are eight sites tucked into the trees. From camp, it's a 1.2-mile climb to Hunter Peak (use the Bowl and Bear Canyon Trails to make it a 9.1-mile loop back to Pine Springs). Bonus: Take a side trip into The Bowl, an "island in the sky" where deciduous and coniferous trees offer a radical contrast to the surrounding desert. Season Fall through spring Permit Required (free) for overnights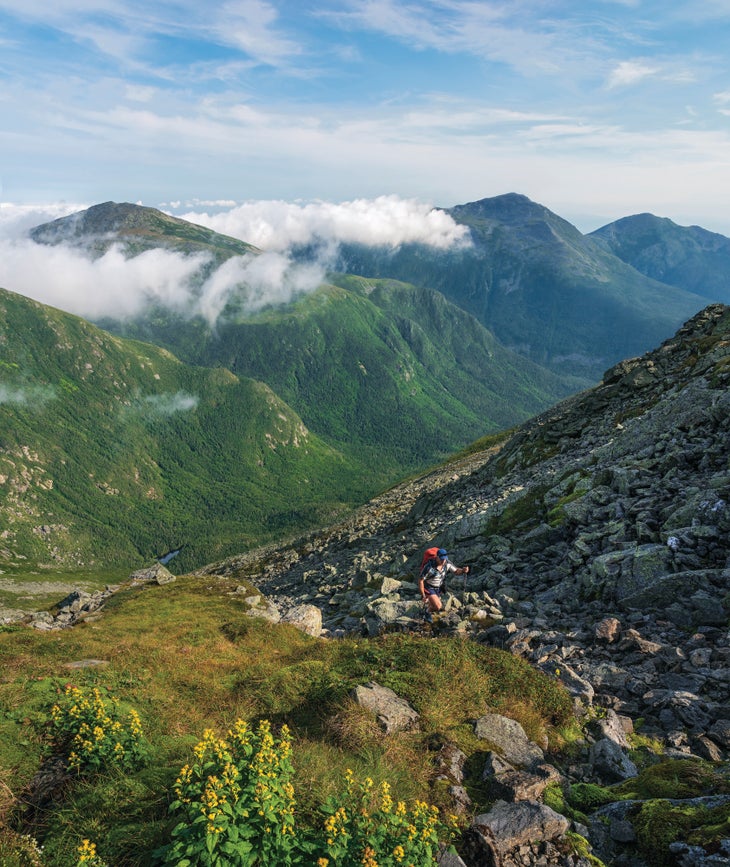 6. Target Wilderness Areas
Ground Zero: White Mountain National Forest, NH
In the West, it's easy to lose yourself in vast designated wilderness areas. In the East, such wild areas are rare, but they often hold pockets of uncommon solitude. Even on Mt. Washington, one of the country's busiest peaks, hikers who approach via the Great Gulf Wilderness will have mostly deer, moose, and black bears for company. This drainage, scooped from the northern shoulder of Washington by a glacier, encompasses Mts. Adams, Jefferson, and Madison, and is one of six designated wilderness areas scattered throughout the Whites. At 5,552 acres, it's the smallest of the six—but one of the wildest. "We manage wilderness areas differently than regular backcountry areas," says John Marunowski, a backcountry/wilderness manager in the region. Trails are much more primitive—creek crossings often have no footbridges and trail signs have no mileages.
To combine a hike in the Great Gulf with a climb of Mt. Washington, start before dawn from the Pinkham Notch AMC visitor center and ascend the popular 4.2-mile Tuckerman Ravine Trail before it gets crowded. Then get ready for an abrupt transition. From the top of Washington, the boulder-strewn Great Gulf Trail plunges 2,000 feet in the first mile, deterring all but the most resolute hikers and descending into guaranteed solitude. Pause. Pause some more. Then complete the 7.1-mile descent to NH 16 through wooded terrain, passing waterfalls, pools, and Spaulding Lake. From the trailhead at NH 16, take the shuttle (starting at $20; outdoors.org) back to Pinkham. Warning: Hiking downhill on the Great Gulf Trail in wet conditions is treacherous. Do this route in reverse for easier scrambling. (And see page 104 to read about this area's—and the country's—oldest maintained path.) Season Summer and fall Permit Required ($5/day) at some trailheads; Pinkham is free.
7. Avoid Dayhikers
Ground Zero: Baxter State Park, ME
If you want to experience Maine's most famous state park in solitude, skip Katahdin altogether and head to the park's northern section. "It's absolutely gorgeous up there, and because it's not Katahdin, the trail is less-traveled," says park naturalist Mark Edwards. He recommends the Travelers Loop, a challenging, 12.6-mile circuit that tags three peaks and gains 5,540 feet. The stats deter casual hikers, and you can guarantee backcountry solitude by booking the four-person lean-to at Upper South Branch Pond ($21; baxterstatepark.org) to spread it over two days.
Start from South Branch Pond Campground and hike 3.9 miles south along the South Branch Mountain Trail to the lean-to (reserve in advance). In the morning, take the Pogy Notch Trail north along the pond, hiking half a mile before picking up the Center Ridge Trail, which climbs steeply to 3,254-foot Peak of the Ridges. After the summit, traverse the exposed, rocky ridge known as the Little Knife Edge—a nod to the razor-backed Knife Edge on Katahdin, but with far, far fewer people. Soak up the solitude and the above-treeline views during the 2.6 miles between Traveler and North Traveler Mountains, then pick up the North Traveler Trail to hike 2.3 miles back down to South Branch Campground, where you can soak tired feet in the pond—or rent a canoe ($1) and paddle out to catch the last of the sun before hitting the road. Season Summer and early fall Permit Required (starting at $21/night + $15 for non-residents) for overnights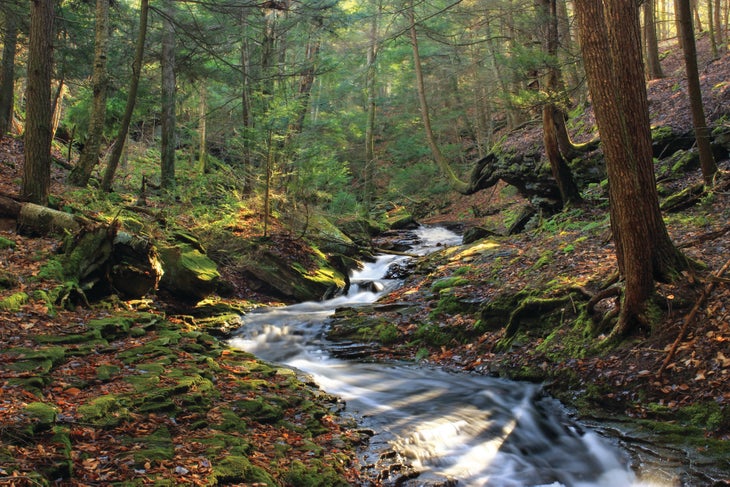 8. Upgrade Your Map
Ground Zero: Loyalsock State Forest, PA
Some parks have easy-to-navigate trail systems that lull hikers into using a rudimentary map or none at all. Bad move. Safety aside, that means you'll miss out on terrain and trail secrets only visible on good maps and USGS quads. At Loyalsock State Forest, the map available in the visitor center includes every single trail, major and minor. "It shows all of the little side trails that hook into the big ones, letting you veer off the high-traffic routes yet still hit all the highlights," says ranger Amy Sterner. For example, you can access the less busy—but still beautiful—Lee's and Rode Falls by starting at Bark Shed trailhead and following the Ketchum Run Trail 1 mile to the Loyalsock Trail. Hike another .8 mile east then northwest to 15-foot Lee's Falls, and another .8 to the pools and cliffs of Rode Falls, located in a horseshoe-shaped hollow. And take advantage of Loyalsock's liberal backpacking policy—primitive camping is allowed throughout the forest. Season Spring to fall Permit Required (free) for more than one night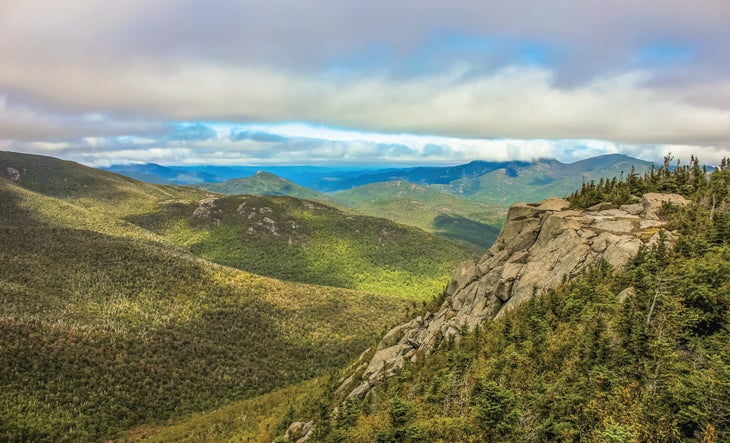 9. Hike Social Paths
Ground Zero: Adirondacks, NY
Want the solitude guaranteed by venturing off-trail, but not necessarily ready to take the navigational plunge? That's OK. There's a middle ground: social trails. You'll find a ton of these unofficial, unmaintained paths leading to "trailless" peaks in the 'Daks.
Tom Martin, regional supervisor of natural resources at New York's Department of Environmental Conservation, recommends the Dix Range, a series of five peaks strung together via an unmarked social path that culminates on the open summit of 4,857-foot Mt. Dix, in the High Peaks Wilderness. For a 15.8-mile loop, start from Elk Lake trailhead. You'll intersect the herd path leading to the summit of Macomb Mountain 2.3 miles in at the Slide Brook lean-to. Follow it 6.5 miles up and over Macomb, South Dix, Grace and Hough Peaks, and finally to Mt. Dix, where you'll have a 360-degree view that includes Mt. Marcy and the Great Range. Retrace your steps .4 mile to the outcropping known as the Beckhorn, where yellow trail markers signal the official Hunters Pass Trail, which leads about 6.6 miles back to the Elk Lake trailhead. Season Summer and fall Permit None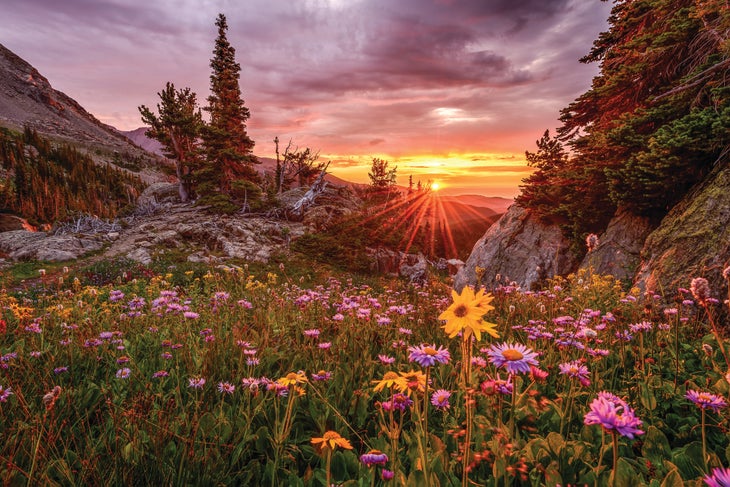 10. Keep it Secret
Ground Zero: Rocky Mountain National Park, CO
A surefire strategy when it comes to solitude? Vague directions. "It's in Wild Basin," says photographer Erik Stensland, who took this sunrise shot in Rocky Mountain National Park. Rocky was the third-most popular national park in the country last year, with 4.6 million visitors, but Stensland says there's still solitude to be found—and the best way to keep it like that is to let hikers find their own special spot.
"I took this shot on a heavily overcast morning," he says. "A crack appeared on the eastern horizon, allowing the sun to break through. There was no one else around. I actually had another photo in mind, but when I saw the sun peek through, my plans changed. I ran with my 40-pound pack for more than a mile to reach this spot. I quickly composed a few shots before the sun went behind the clouds and the light went back to gray."
Stensland says that solitude is always on his mind when he heads out. "One of the main reasons I became a landscape photographer is because of the solitude it provides," he says. "I even wrote a book about it: Whispers in the Wilderness. Solitude rewires us and allows us to live in the busy world in a more meaningful way." Season Summer and early fall Permit Required ($30 reservation fee) for overnights