10 Foolproof Tips For Camping With Kids
Camping with kids can be unpredictable and messy. But, with a lot of love (and sometimes, a little blackmail), it can be a lot more fun.
Heading out the door? Read this article on the new Outside+ app available now on iOS devices for members! Download the app.
Brush up on backpacking basics with tips, tricks, and advice from Backpacker's experts in Hiking 101. Get your family started with this story from the Backpacker archives.
After 2,000 road miles, three national parks, five campsites, and six junior ranger patches, we are finally back at home in Boulder, Colorado.
We spent most of the first half of our trip in Grand Teton, followed by a night in Yellowstone and hours on the open roads of Montana. We passed four-and-a-half days hiking and paddling through the expansive beauty of Glacier National Park, hit Yellowstone again on the way back down, and spent one final night in Grand Teton before heading home.
I no longer smell like Deet and campfire smoke, and I'm not sure how I feel about that. On the one hand, it's nice to be home—back to our dog, our house, my garden, and our friends. But on the other, I see our two weeks as a family unit in a truck and in a tent as a time capsule. It was a unique experience—hard at times but worth it overall—that's now just a collection of memories.
Now that I'm looking in the rearview mirror on this trip, I'm realizing that I learned a few lessons:
1. Not planning anything until you start driving works, but it might cost you.
We had maps and printed out emails with recommendations from a couple of friends, but otherwise, we were winging it. Relying on first-come, first-serve campsites that fill up early in the day meant we had to stay within striking distance of campgrounds we wanted. We had long drives in between Yellowstone and Glacier, so that meant spending money on motels twice, which I wasn't thrilled about. (One night was in the beautiful Old Faithful Inn after nabbing someone else's canceled reservation.) We could have camped outside the parks, but breaking down camp with kids in the morning would have meant time lost. Toward the end of the trip I thought to reserve a site at Yellowstone so we could do the big drive from Glacier and arrive at the end of the day.
2. Being competitive and anxiety-prone makes getting first-come, first-serve campsites mini sagas.
Just ask my family: I get totally insane on the drive toward a campsite. Arriving at the camp kiosk, I barely wait until the car has stopped before unbuckling and jumping out to grab the pay envelope. I mutter to myself while scanning for the best possible open site, and if another car is patrolling while we are, my heart can hardly take it. Once we nab a site, I try to recover while setting up the tent.
3. Kids can hike farther than they think they can.
Our boys, ages 6 and 10, complained while doing the first 3-mile hike of the trip: "My legs hurt!" "My shoes are heavy!" Singing songs helped, as did pulling various snacks out of my bag. A couple days later, they banged out a 6-mile hike (more snacks, more songs), and did a few more lengthy hikes throughout the trip with no problem. Camping with kids means you learn a lot more about them than you normally would around the house.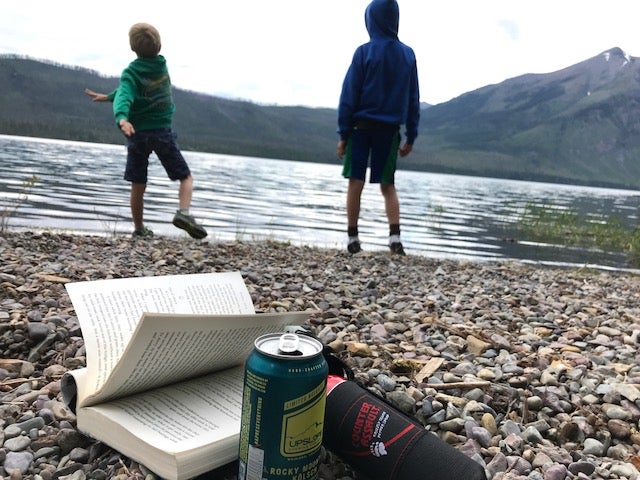 4. Don't underestimate the power of bribery (or blackmail).
My two boys can get crazy loud. Instead of constantly shushing them, my husband and I decided to have them each start at $10 to spend in each national park. We'd deduct a dollar every time they misbehaved. Worked like a charm.
5. I can go five days without a shower, and I don't need as much as I think I do.
Excluding the occasional river dip, I didn't shower for six days. This reminded me of my expedition adventure-racing days and made me feel youthful and happy. Living out of a duffle bag, I also realized I don't need as much stuff as I think I do.
6. National park rangers, and ranger programs, are indispensable resources.
Rangers helped us plan hikes and activities, and gave us valuable tips of all sorts. They also held the kids' attention when they spoke about the parks and all things nature. Every time we rolled down the back window to have my 10-year-old hand over his fourth grade "Every Kid in a Park" pass to enter a park for free, the ranger cheerily greeted him by name and thanked him for bringing his family.
7. Audiobooks are the bomb, as are comfy pads and coolers.
Audiobooks helped us pass hours on long car rides and were enriching for all the members of our family. A good cooler—we had a Yeti Tundra 65—that holds ice for days allowed us submerge ourselves in our campgrounds and not return to civilization to restock when we didn't want to. And having sleeping pads—we had two Exped Megamat Duos—that virtually self-inflate and are as comfortable as a bed, made camp set-up easy and sleeping awesome.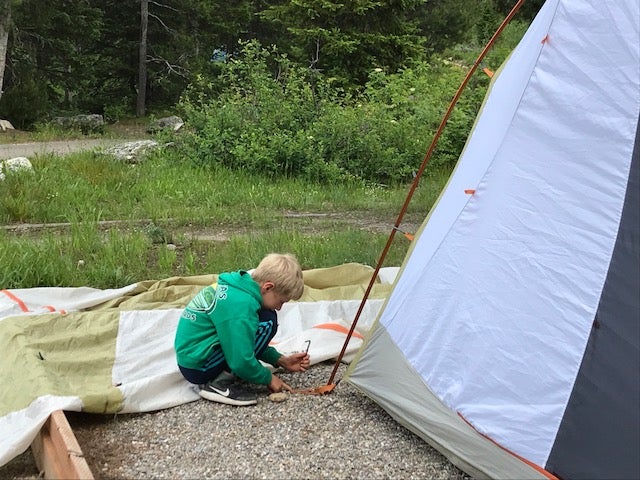 8. We got more efficient as we went.
The boys learned their campsite chores, as did my husband and I. With every campsite, the process became quicker, and packing the car also got easier.
9. Camping with kids is the ultimate bonding experience.
My boys played more creatively during this trip than ever before. They also held my hand on hikes more than they ever do at home (even my 10-year-old). The four of us giggled in the tent, had inside jokes, talked about likes and dislikes, argued and made up, got through low points, paddled boats, saw wildlife, and got some low-key family therapy without realizing it.
10. Heading home is hard when you're having fun.
I cried three times on this trip. Once when the overtired boys pushed me to my limit. Once when we were leaving the eastern side of Glacier and watching the awe-inspiring mountains fade away in the background. And once when we pulled out of the last campground and I realized we'd be back in our beds that night.
Lesson learned: There's no better way to learn about your family than to go camping with your kids.