Here's What's in a Calendar-Year Triple Crowner's Pack
When you're hiking 8,000 miles in a single year, your gear needs to work. This is what Sammy Potter and Jackson Parell, the youngest hikers ever to finish the Triple Crown in a calendar year, brought.
Heading out the door? Read this article on the new Outside+ app available now on iOS devices for members! Download the app.
Editor's Note: Together, the Appalachian Trail, the Pacific Crest Trail, and the Continental Divide Trail make up the Triple Crown of hiking; to complete them all in a lifetime is to join an elite group of hiking superstars. And to hike all three in a year? It's almost unthinkable.
In 2021, 21-year-old Sammy Potter and Jackson Parell set out to join them. Potter, a former Backpacker intern, and Parell set out on January on a mission to hike the Calendar-Year Triple Crown (CYTC), an 8,000-mile feat that's only been accomplished by a handful of elite hikers. Two hundred and ninety-five days later, the pair finished, joining the ranks of thru-hiking icons like Heather "Anish" Anderson and Flyin' Brian Robinson. We chronicled their trip in our podcast Impossible Odds; here, in an essay from midway through their hike, the pair explain their packing strategy.—Zoe Gates 
The Calendar Year Triple Crown is hard to pull off even when everything goes right, and gear is one of the things that will make or break our attempt. While most average thru-hikers try to go pretty light already, we're going to be spending 300-plus days on the trail, so a light pack is especially important for us to protect joints and muscles from overuse, move quickly, and, you know, actually enjoy the scenery (shoulders aching day after day definitely puts a damper on the fun). 
Our overall aim is to bring as little as possible without sacrificing too much comfort. We really think carefully about each and every item in our packs. How does Item X contribute to our hike, and how much will it weigh us down? Both of our backgrounds studying economics serendipitously helped in this area—while prepping for the CYTC, we actually had a spreadsheet where we ranked each item on the "utils" it added versus subtracted. (If you're confused and don't know what a "util" is, you're probably not as big a dork as we are-the point is, we nerded and stressed the heck out about what's in our Gossamer Gear Mariposa 60L packs.
That said, we of course have our "luxury items" that we couldn't bring ourselves to go without, no matter how much we tried. For me, that's a small flag from my home state of Maine and a Lego figure of Buzz Lightyear (my trail name is Buzz). Extra grams, but hey, they make me smile.
Finally, it's worth mentioning that our gear is always evolving: When you're hiking 8,000 miles through all four seasons, the conditions and terrain are going to demand that you switch out your gear from time to  time. At the beginning of this hike, I thought I would inch closer and closer to a "final" pack list: a mythical, perfect assortment of items that wouldn't change once I reached it. But no matter how many alterations I make, a month later, I discover that certain items that were once lifesavers are no longer necessary, and find something else to put in its place. Good examples of transitory pack items this year have been traction (Kahtoola Microspikes), bear spray (UDAP GRIZZGUARD, surprisingly only about 7.9 ounces), heavy duty mittens (Outdoor Research Alti GORE-TEX) and our stove (MSR Pocket Rocket).
MVP: Sock Liners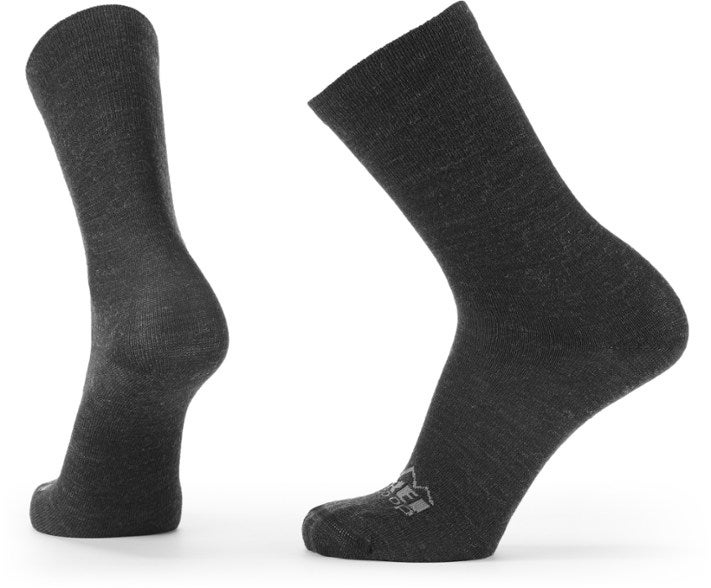 Our tents (L.L. Bean Microlight UL 1-person tents), quilts, and layers have been nothing less than instrumental to our hike thus far, but in the end, thru hikers' best friends are their feet. And if you don't treat your best friends well, they're going to hold a grudge down the road (or trail). I learned this lesson the hard way on the PCT when I decided to get rid of my sock liners and alternate between two pairs of socks for 5- to 10-day stretches of trail.
It started out fine, and I applauded myself for saving the extra ounces in my pack. But a few days later, I started to notice small abrasions and red marks near my toes. These only grew as the days went on, and began causing me more pain than I could handle without two Ibuprofen a day and a break every hour. I was just barely bailed out of this situation with the help of a doctor in the area who prescribed me some meds.
After that, I'll never leave my sock liners at home again. Now I carry 3 pairs of socks (two Darn Tough pairs and 1 Smartwool) and 3 pairs of sock liners (REI co-op merino wool liner crew) at all times. A couple extra ounces is a lot better than walking on knives all day or ending up with an infection thanks to dirty socks.
Cook System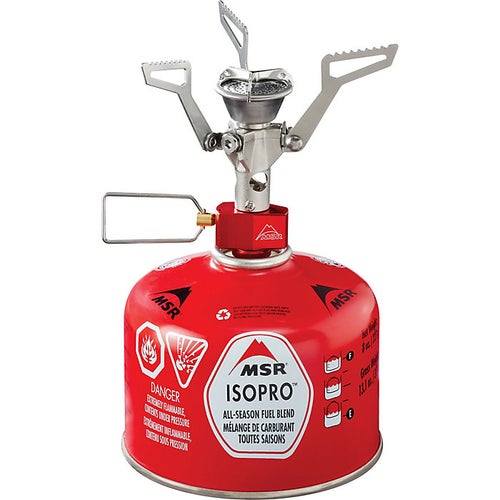 During the winter, we carried an MSR Pocket Rocket stove, MSR canister fuel, a small pot (GSI Pinnacle Cookset Soloist, and a few BIC lighters—they have a way of not working when you need them to). Having a warm meal in the morning and the evening felt necessary with the sub-freezing temperatures, and gave us something to look forward to on cold and wet days. But when the weather got warmer in May and June, we decided to nix the stove. We'll bring it back once the weather gets colder in mid/late September, but all summer, we've been cold-soaking oatmeal, rice, and quinoa for dinners and breakfasts.
Sleep System
We knew staying warm at night through the winter would be critical to our success. We used Thermarest neoair Xlite sleeping pads, Sea-to-Summit Ascent Down 0°F sleeping bags, and liners outside our bags (Cocoon Merino Wool mummy liner). We also shared a two person tent (Nemo Hornet 2P) to conserve extra heat. Yeah, two 21-year-old guys inside a small tent made for some interesting smells, but we stayed warm. Since June, we've switched to our own L.L. Bean Microlight UL tents and 35 degree quilts. With Fall approaching, we'll soon be switching back to our old setup. I called our two-person tent "the sauna", because it would seriously heat up in there.
Layering System
Obviously, our clothing has changed with the weather, but these reliable pieces kept us moving.
Winter
Top: base layer (L.L. Bean Cresta Wool Midweight 250 Base Layer), mid layer (L.L. Bean Katahdin Fleece pullover), puffy (L.L. Bean  ultralight 850 down jacket hooded), shell (L.L. Bean pathfinder Gore-Tex shell jacket)  and extra base layer for sleeping.
Bottom: compression shorts (Under Armour), base layer, wind pants/shell (L.L. Bean Trail Model Rain Pants), and extra base layer for sleeping.
Summer
Top: moisture-friendly tshirt, base layer, puffy, shell. 
Bottom: compression shorts , shorts (L.L. Bean Traverse Crag Belted Shorts), wind pants and shell.
Want to hear more about Sammy and Jackson's attempt at the Calendar-Year Triple Crown? Look out for Backpacker's new podcast, Impossible Odds, premiering next month, and follow along as they hike through the seasons.