Long Covid Is Keeping Hikers Off the Trail for Months
Lingering COVID symptoms—such as fatigue and shortness of breath—can make it hard to hit the trails, even months after getting sick.
Heading out the door? Read this article on the new Outside+ app available now on iOS devices for members! Download the app.
This July, Dani Mortell went on a 30-minute, 0.7-mile hike with 95 feet of elevation gain, and it was perhaps one of the most significant hikes of her life. It was her first time back on the trail after contracting Covid-19 over a year prior. Since May 2020, Mortell has dealt with waves of intense fatigue, shortness of breath, sporadic heart rate issues and palpitations, and muscle aches, sometimes so severe that it feels like she is developing Covid again. Mortell is a Covid-19 long-hauler.
Defining exactly what long Covid (also known as post-Covid syndrome or long-haul Covid-19) is can be tricky, says emergency medicine physician Drew Reiter. The Centers for Disease Control defines long Covid as Covid symptoms that persist or recur four or more weeks from the initial infection. Symptoms and their intensities vary for each Covid long-hauler. At this point, there is not much knowledge of how it exists or who is vulnerable to developing these lingering symptoms. Reiter says further investigations are needed to understand who could develop long Covid. For those who have it, however, the impact on their ability to return to life as usual is undeniable.
"I just know that if I pass some invisible threshold, then I'll be paying for it later," Mortell says. "I'm trying to monitor and manage my energy levels. What concerns me is if I do too much, it will cause me to crash, and then I'll be in bed for a week."
The Covid-19 virus can cause lung tissue damage or chronic lung inflammation, which is a part of what leads to long Covid. Reiter says that this tissue damage can be the source of a persistent cough, shortness of breath, and fatigue in long Covid, but the lungs aren't the only organ affected in the long term. If long Covid means ongoing inflammation or tissue damage, then it will require a long period of recovery. It is similar to when we injure a muscle or break a bone; it takes a lot of strength and endurance just to get back to our pre-injury baseline.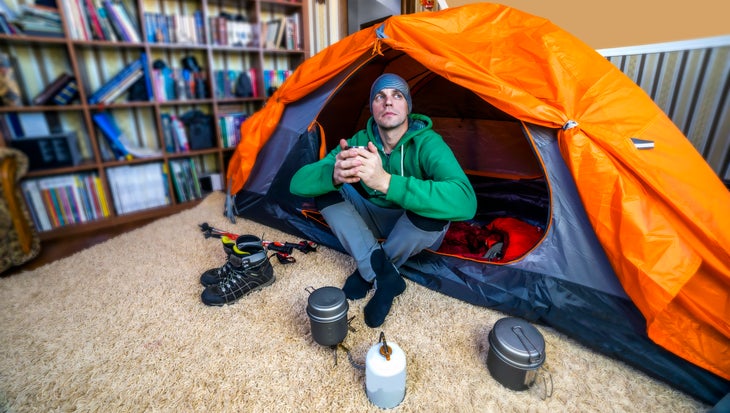 Covid-19 survivors of all ages, fitness levels, and disease severities are experiencing persistent Covid symptoms. People with mild Covid cases that required no respiratory support or hospital care still developed lingering symptoms, according to researcher Shin Jie Yong. In his paper "Long COVID or post-COVID-19 syndrome: putative pathophysiology, risk factors, and treatments," he outlined what rehabilitation can look like for long COVID patients:
"Rehabilitation includes breathing exercises that aim to control slow, deep breaths to strengthen respiratory muscles' efficiency, especially the diaphragm," he wrote. "The breath should be inhaled through the nose, expanding the abdominal region, and exhaled via the mouth. Such light aerobic and breathing exercises should be performed daily in 5-10 minute sessions throughout the day. Complementary behavioural modification and psychological support may also help improve survivors' well-being and mental health."
The virus can affect the heart, brain, and immune system as a whole, and you can experience changes with any of these if you are among the 10% to 20% that develop long Covid, according to the World Health Organization. This is less than ideal for those who choose to live active lives.
"Practically speaking, these symptoms could influence your job, daily routine, and other facets of your life," Reiter says. "Focusing on lung health, long Covid could limit your exercise regimen or your ability to be outside and participate in outdoor activities. I could also foresee these alterations then leading to frustration, affecting our mental health and well-being."
Long Covid patients are experiencing symptoms as medical experts are concurrently deciphering their causes and effects. Mortell says that developing long Covid has not only been a physical battle, but also a mental battle.
"It is hard when you start comparing things," Mortell says. "It's like a decision every day. Am I going to think about the negatives, or am I going to focus on what I can do to help my body right now? Some days I'll think, 'This time last year, I was climbing Mount Whitney. Now I can't even like walk three blocks.'"
Reiter has some suggestions for those who are trying to be active while living with long Covid:
Scale back and ease into exercise/activity.
Utilize short time periods of exercise and gradually increase time and intensity as you are able. Hikers might need to start by walking around their neighborhood or at a local park before they try a more difficult trail at elevation or with a steep grade. This will require some intention and take patience, as every person may progress at different speeds. This also could lend opportunities to discover new methods of exercise to help regain stamina.
Social support can help long Covid patients' mental health. Be vocal about these symptoms and connect with others who may be experiencing similar situations.
Get vaccinated—even if you've had Covid, reinfection is possible, though rare. Get your flu shot too.