How to Get Fit for Hiking Fast
Ramp up your speed for hiking, trail running, and reaching the views faster with this all-in-one cardio and stabilizing workout.
Heading out the door? Read this article on the new Outside+ app available now on iOS devices for members! Download the app.
You don't need to hike longer to go faster. Short, 15- to 20-minute workouts with only 5 to 10 minutes of sprint time is enough to see major gains in as little as two weeks. Add speed intervals into your cardio, no matter what it is, two to three times a week to reap major speed rewards.
The Expert: Physiologist and Corrective Exercise Specialist Robyn Fog is an invisible-disabilities advocate, retired professional athlete, and owner of Hypermobility Exercise Solutions in Evergreen, Colorado, with a focus on injury mitigation and sport-specific training.
Fartleks
Swedish for "speed play," fartleks were originally used to stave off boredom and spark joy for cross-country runners while training. When mixed with short speed intervals as opposed to long intervals, they become a fun way to ramp up your cardio fitness and speed.
Warm up for 5 to 10 minutes (hiking, gym cardio, running, etc.). Then do random speed and rest intervals of varying length for 5 to 10 minutes. Finish off with another 5 to 10 minutes of cool down at about the same pace as your warm up. This workout should take about 15 to 30 minutes total including warmup and cooldown.
Keep the speed and rest intervals between 10 and 30 seconds.
During the speed intervals, "redline" your efforts. You should only be able to speak one or two words before needing to catch your breath.
The rest time does not need to equal the speed interval length, but should still be less than 30 seconds.
Example: After warming up, sprint for 30 seconds, rest for 20, sprint for 15, rest for 30, sprint for 10, rest for 10, sprint for 25, and rest for 20, etc.
A fartlek app or random interval timer app can help you keep your sprints random and fun.
Cardio Variations
Although fartleks are awesome, some people love structure. Here are some other effective variations to try during the speed interval portion of your workout. All intervals are (work:rest).
(30 seconds:30 seconds) for 5 to 8 minutes
(40 seconds:20 seconds) for 5 minutes
(20 seconds:10 seconds) for 8 minutes
(1 min:3 to 4 min) for 6 to 9 minutes
Pick out recurring landmarks on your run—telephone poles, fire hydrants, mail boxes—and alternate between speed/rest as you pass them.
Points for Perfect Posture
The more well-aligned your body is during movement, the longer you will be able to efficiently move at faster speeds. It's like keeping the wheels in alignment on your car. Do these three exercises two to three times a week to minimize your injury risk and maximize your cardio gains.

Hip Socket Rotations
Stabilize and strengthen your deep hip rotators to prevent knee injuries and hip pain.
Reps: 10 each (The foot pointing up and then down is 1 rep each)
Sets: 2 to 3
Lie on your side with your bottom knee bent and your head supported on your hand or a pillow.
Extend your top leg straight and flex your foot (pull your toes toward your knee).
Rotate your entire leg in your hip socket like a broomstick on its end. Rotate from the hip as far as you can, first pointing your toes up to the ceiling and then down to the floor. Don't roll your hips back and forth; they should be stacked and locked in place.
Glute Step-Ups
People often push from their downhill foot and quads, especially on hills, which tends to close off the front of their bodies and lead to overly tight hip flexors and chest muscles. Extending your spine, hinging at your hips, and activating your glutes will create more power and allow better alignment during movement.
Reps: Alternate 8 to 10 each side
Sets: 2 to 3 (Start without weight and work up to pack weight with either dumbbells or an increasingly loaded backpack.)
Place one foot on a 6- to 12-inch-high step.
Shift your weight forward, press your heel down, and pull back slightly—you should feel a tug in your glutes.
On an exhale, continue to contract your glutes to "pull" yourself up onto the step and come up to full balance. Do not push off the floor with your other foot. It should feel like coming up from a single-leg squat and be pretty difficult. Keep your knee in line with your second and third toes as you stand up, and make sure your foot points forward and doesn't turn out.
Return both feet to the floor slowly and alternate your leading leg with each step.
Cobras
You need strong spine-stabilizing muscles to maintain good alignment. Try this traditional exercise with a twist that further reduces injury risk.
Reps: 10 to 12
Sets: 2 to 3 (Start without weight and gradually work up to two 5- to 8-pound dumbbells over the course of a month.)
Lie on your stomach with your hands by your sides, palms face-down.
Tuck your toes under and actively press them into the floor for the whole set. You should feel your glutes and lower back activate. This will ensure your back is fully engaged and prevent any harmful strain in your lower spine.
As you exhale, lift your chest and arms up off the floor by pulling up through your entire spine. Look at the floor and keep your neck long. Keep your toes pressed down and relax your entire upper body to return to the starting position.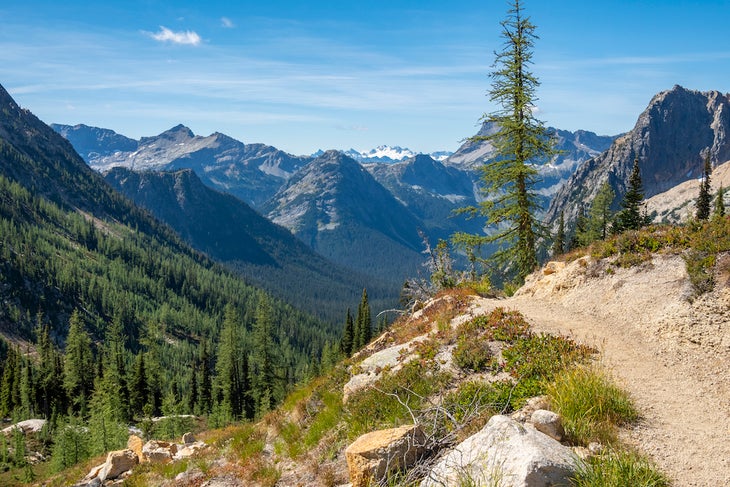 A Running Start
By Kristin Smith
Washington's North Cascades are notorious for a deep and late-melting snowpack. But there's one south-facing trail on Mt. Baker Highway that melts out earlier than the rest: Excelsior Ridge. It's about 4,000 feet of elevation gain for 4 miles of screaming switchbacks, making it the early season backpacking trip from hell. But I'd been training for a series of 5k races for six months, and I was confident I could make it to the high country. My climb started in dense woods just above the glacial-turquoise Nooksack River and headed steeply uphill from the parking lot.
My overnight pack was fully loaded—there was still snow higher on the mountain, after all, and the temperature would plunge on the ridge. But I felt strong as the switchbacks began. A couple miles in, I took a break. Though I was breathing hard, my legs still felt strong, and I wasn't struggling; running six days a week plus strength training was paying off on the trail. I didn't linger long. I was eager to enjoy the views that were my motivation for slogging uphill.
After 3.5 miles of upward progress, I broke out of the trees. Rolling ridgelines spread out all around me, draped with snow between scattered patches of wind-sculpted evergreens. At my feet, tiny green glacier lily shoots poked up between the snow patches. Mt. Baker filled the skyline. I pitched my tent with the volcano framed in the door. No, I didn't enjoy all of my six-days-a-week runs, but this hike made it all worthwhile.