How Do I Train for a Thru-hike?
Prepare for the long haul with advice from Appalachian Trail speed record-holder Jennifer Pharr Davis.
Heading out the door? Read this article on the new Outside+ app available now on iOS devices for members! Download the app.
Question: What's the best way to train for a long trail?
I saw Wild this past week. What's the best way to train to hike the Pacific Crest Trail? –Darius Sayers, via Facebook
Answer: Appalachian Trail speed record holder Jennifer Pharr Davis weighs in.
If anyone knows how to train for a thru-hike, it's Jennifer Pharr Davis. She's hiked 12,000 miles on six continents, including the PCT and Appalachian Trail. In 2011, she set the current AT speed record with a time of 46 days, 11 hours, and 20 minutes.
"Most people spend too much time online researching gear and reading blogs, but not actually enough time training with their gear and preparing mentally," she says. A good training regimen should prepare your body, your mind and your gear.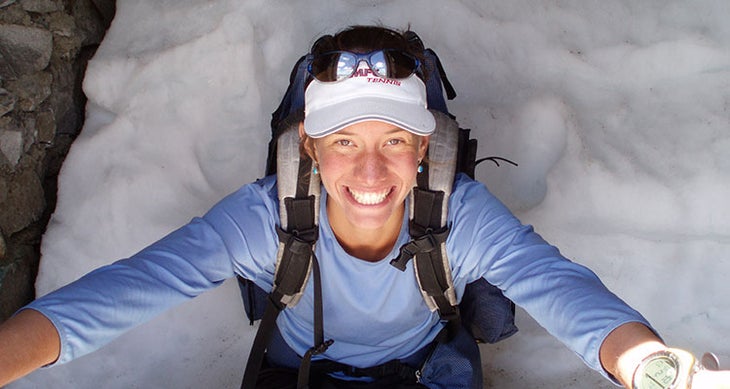 Prepare Your Body.
Get Fit
There is no escaping the need for physical training, and Davis suggests beginning with a cardio routine and weight lifting. For every one day of strength training, you should complete two days of cardio, giving yourself one or two days off per week. The goal is to get your body moving and comfortable being active.
Add Weight
"Once you feel comfortable and fit, it's crucial to add weight to some of your cardio exercise," Davis says. This simulates the 30-40 pound pack you'll be carrying on the trail. Davis suggests adding a weighted pack to your exercises two to three times per week. She often takes her two-year-old daughter on walks or hikes and wears her pack in her living room to do step-ups with onto a low wooden box for 45 minutes while she watches TV.
Practice the Uphill
For the last step in a training routine, you must add elevation gain. If you live in a mountainous area, get out and hike. Otherwise, try heading to an office building or stadium and climb the steps continuously (don't forget a weighted pack).
Stay Limber
Davis also suggests practicing yoga to strengthen your core. "We are often put in awkward jerking positions on the trail," she explains. "Having a strong core and increased flexibility allows you to better deal with these situations, making you less prone to injury."
Prepare your mind
The wisdom of others
For Davis, mental and emotional training is even more important than the physical training. "Most thru-hikers don't get off trail for physical reasons," she explains. "More people are mentally unprepared for what a thru-hike really entails." Watch documentaries and read books written by people who have hiked the specific trail you are training for to get a better, more realistic view of the trail. You can also tailor this information by looking for someone with a similar background and physical abilities to you. And don't underestimate the power of contacting former thru-hikers via phone or email. Many are happy to help mentor an aspiring hiker.
Practice
Try to spend anywhere from a weekend to a week on your target trail. If that isn't possible, find a trail that simulates the terrain you'll face on your thru-hike. Doing at least one or two of these trips is important to help test and prepare your gear, test your physicality and strength, and put you in the correct mindset for thru-hiking.
"When I do shakedown hikes, or even when I train, I come up with little phrases that I know keep me motivated and moving forward," Davis explains. "On the true trail, when something is tough, or it's a hard day, I use them to keep me mentally sharp and strong."
Prepare your gear
Yeah, you do still need to do this at some point, just don't let it dominate your preparation. Check the conditions of the trail you plan to thru-hike and read reviews from others as well. Check out our AT gear list; both the PCTA and the ATC also provide information on their websites about appropriate gear and clothing.
"Don't just research online," Davis cautions. "Make sure you head out to your local gear retailer and speak with specialists." Once you've accumulated all of the necessary gear and clothing, bring the most important pieces (tent, sleeping bag, pack, cooking equipment) on your shakedown hikes.