8 Creative Ways to Build Hiking Fitness This Winter
Start spring in better shape than ever by working on your weaknesses.
Photo: Junior Asiama / 500px via Getty
Heading out the door? Read this article on the new Outside+ app available now on iOS devices for members! Download the app.
Winter settles in quickly in the northern states. And once the snow comes, it's usually here to stay—until June or July in the higher elevations. Sure, there's skiing and snowshoeing. But the colder months are also a great time to mix it up by changing your workout routine and shoring up your weaknesses. Try these eight ideas to ratchet up your hiking fitness before spring.
Create a plan, or at least get a buddy
Whether it's mapping out exactly what you plan to do each week, or simply finding a friend that you can work out with regularly, a plan or buddy can help you stay accountable. If you aren't the planning type, it can be helpful to at least set monthly goals. This could be anything from working out a certain number of times to trying a new activity—whatever will motivate you and set you up for success.
Take a class
Don't limit your cross training to running on the treadmill. Taking a class can be a good way to try something new, or get a different work out. Yoga and Pilates are great ways to stay limber and strong during the winter, and a spin class can help you build up cardiovascular endurance.
If you're more adventurous, try Pure Barre. Not just for those with dance experience, Pure Barre is a low impact, full-body workout that concentrates on tiny movements, alternating strength and stretching.
Join an indoor sports team
An indoor soccer, hockey, or basketball league can be a great way to keep up your cardio and fitness level in the winter without the grind of gym time. Some leagues require you to have a whole team organized, but others will assign you to a team if necessary. Some community centers also have drop-in games that you can join.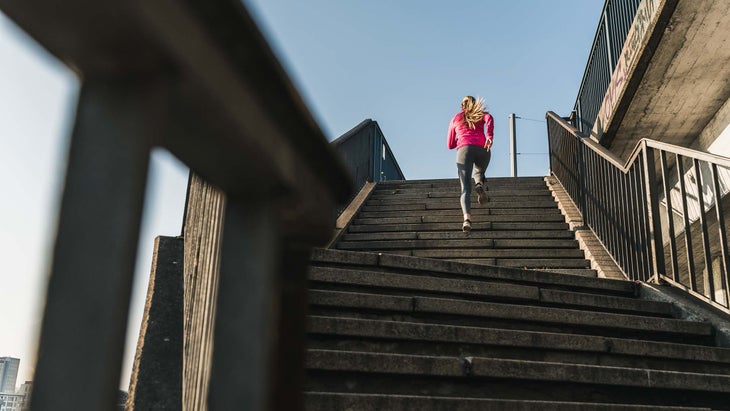 Run stairs
Find the biggest building in your town or city and run the steps a couple days a week. This is probably one of the best ways to simulate hiking up a steep mountain trail, and will keep your cardio and your quads in shape. If you don't live near a city with a tall building, hit the stair stepper at the gym, or find a nearby mall with two levels.
Go swimming
Hiking puts a lot of strain on your lower body, but doesn't do much for your arms, chest, or back. Fill in the gaps in your routine this winter by finding an indoor lap pool. If you aren't used to swimming, it will likely feel hard. Take it slow. Start with just a lap or two, and then take a break for as long as you were swimming. Try different strokes (backstroke, breaststroke, butterfly, sidestroke) if you start to get bored or too tired with one style.
Jump on a trampoline
Yes, you read that right. Jumping on a trampoline can improve your leg and ankle strength and your balance, all while tricking your brain into thinking you are just "having fun." It's low-impact, too. A small, one-person trampoline (available online or in most sporting-goods stores) will fit in your living room. Set it up and bounce away while you watch Netflix.
Go rock climbing
A little bit of rock climbing skill can open up mountain routes from simple scrambles to technical ascents. Brush up this winter at an indoor climbing gym, or find some dry rock outdoors and wait for a sunny day. Besides being an intense and varied workout, there's a mental component to finding the best path up the wall that transfers over to trip planning and navigation.
Work on your weaknesses with a personal trainer
Don't let a quad strain or other weakness get you down during the season. Instead, block out some time to rehab sore joints and muscles with a personal trainer over the winter. When the warm weather rolls around, you'll be unstoppable.
Abbie Mood is a Colorado-based writer and editor who covers topics from education to the outdoors. She spends her winters trying not to go stir crazy until the snow melts and she can go hiking with her dogs again.