Backpacking 101: How to Get Started
Take these 21 trail tips to heart, and you're virtually guaranteed a good hike.
Heading out the door? Read this article on the new Outside+ app available now on iOS devices for members! Download the app.
So much goes into a great backpacking trip—preparing food, getting gear, getting in shape—that it's no surprise that newbies sometimes feel apprehensive about jumping in. Never fear: Read these 21 tips on hiking for beginners, and you'll have a solid base to start hitting the trail.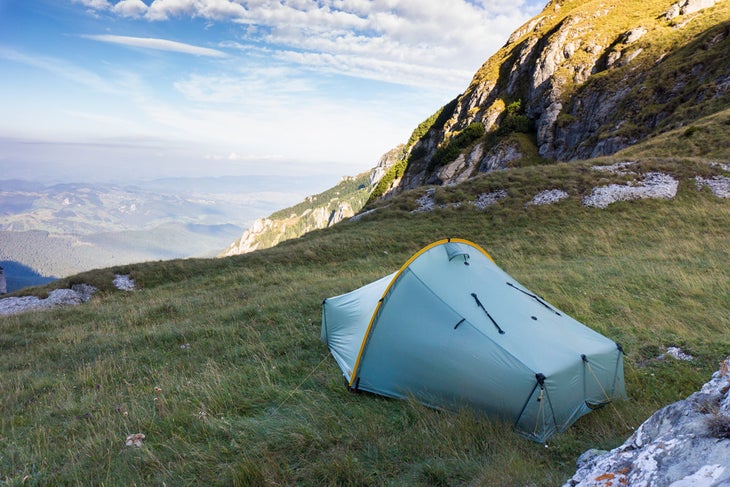 Be stunned by the beautiful vista, not an uncrossable river. An hour of guidebook research and a phone call to the rangers can make all your surprises happy ones.
Choose a destination within driving distance, so you can reschedule if bad weather threatens.
Stick to well-marked routes with easy terrain, established campsites, and plentiful water.
Plan on hiking no more than 5 to 7 miles a day.
Learn when the bugs are biting, if you need permits, what weather to expect, and where you can find a post-trip beer.
Let someone at home know your plans, and stick to your route so you'll be easy to find if necessary.
Resource: The Basic Essentials of Backpacking, by Harry Roberts
Pick the Best Backpacking Gear
Thanks to today's lightweight equipment, a backpack loaded with all your weekend supplies should weigh less than 35 pounds.
Rent a tent. Many outfitters rent shelter, packs, and other gear. It cuts initial costs and lets you experiment before buying.
Pamper your feet. Prevent blisters and other foot woes by getting lightweight boots that are slightly larger than your street shoes and matching them with wool hiking socks.
Pare your threads. Pack clothes for a 24-hour period, on trail and in camp, and wear the same stuff all weekend. Throw in extra socks to keep your feet happy.
Cook like a pro. Get a lightweight canister stove and one or two standard fuel canisters for a long weekend.
Sleep like a baby. Bed down on a sleeping pad that's 1 1/2 to 2 1/2 inches thick, and with dimensions that don't leave your limbs dangling off the sides. Likewise your bag should match your frame–try it in the store–and should be rated at least 10°F warmer than the temperatures you expect.
Go a little luxe. It's not a monastery out there. Sneak a luxury item into your pack: a deck of cards, a Lexan bottle of vino, a good book, or camera gear.
Prepare Your Backpacking Meals
Fine dining is simply a matter of smart menu planning: Use quick-cooking ingredients from your pantry and do prep work at home.
Write out a menu for the whole trip, and don't put off shopping until the last moment. Here's a sample menu for two people on a 3-day trip.
2 breakfasts: 4 packs of instant oatmeal; cold cereal with powdered milk
3 lunches: turkey sandwiches; PB and J; salami and cheese on a bagel
2 dinners: angel hair pasta with pesto sauce and sliced red peppers; burritos made from dehydrated beans, tortillas, cheese, and salsa
Snacks: Trail mix, dried fruit, energy bars, chocolate, and cookies
At home, repackage food and spices, leaving behind bulky, heavy containers.
Experiment with freeze-dried. Dehydrated food is fast, easy, and better than you think. One of our favorites: Mary Janes Farm.
Leave beer behind, but don't forsake other liquid vices. Bring your favorite dark roast and a lightweight filter for breakfast, plus an after-dinner something to toast your successful adventure.
Resource: More Backcountry Cooking by Dorcas S. Miller
Get Fit for Backpacking
If you can hike for a few hours, you can backpack for a weekend. But a little training will make the second day feel as good as the first.
Hike yourself into shape: The best way to train for any sport is to do it. Carry a full pack on your routine dayhikes–it's also a great way to test your gear.
Master the mountains: There's a reason hikers flock to alpine country. It's beautiful up there. Strengthen your hill-climbing muscles (quads, hamstrings, and calves) with regular workouts on a stairclimber.
Develop Backpacking Skills
Don't get caught with your pants down and no shovel. Learn how to dig a cathole and other essential skills, like pitching your tent and lighting your stove.
Read the directions. Ignore the neighbors and give your gear a test run in the backyard: Pitch your tent, light your stove, use your water filter.
Lose the bathroom anxiety. Never gone anywhere without modern plumbing? Don't fret. Pooping in the outdoors is as natural as walking, and many backcountry campsites have outhouses.
Learn good manners. Think of camping like being a guest in someone else's house: Don't mess it up. Camp on bare ground or rock, don't do dishes in the creek, and leave plants and animals alone. For more tips, check out Leave No Trace.
Find yourself. You'll never get lost if you stay attuned to your surroundings from the beginning. Locate yourself on a map, then stay oriented as you hike.
Resource: Camping & Wilderness Survival by Paul Tawrell ($25)
Return to the Backpacking 101 home page.