Backpacker Bible: Stay Dry
Learn how to cope with relentless rain, and you can experience some of the Earth's holiest places–Alaska! Patagonia!–in comfort.
Heading out the door? Read this article on the new Outside+ app available now on iOS devices for members! Download the app.
On the Trail 
Rest when the rain stops. Forget your schedule; in extended bad weather, take advantage of dry spells to eat.
Hike wet, camp dry. During days and days of constant rain, you're going to get wet, but your body heat will keep you warm while you're moving (if not, you need to stop and make camp). Divide your clothes into "sacrifice" layers and "sacred" layers, advises Judd Rogers, a NOLS instructor who once experienced 60 days of rain on a 75-day semester course in Chilean Patagonia. Hike in your sacrifice layers and store them wet, in your vestibule. Keep your sacred layers dry. Always.
Avoid raising your arms. In a downpour, water will enter at your cuffs and seep up your sleeves. Use trekking poles? Shorten the length to minimize wrist exposure. In the worst conditions, consider hiking in a paddle jacket. The neoprene cuffs and secure wrist enclosures help keep water out.
Use waterproof stuffsacks or line your pack with trash compactor bags. Pack covers reduce water weight absorbed by your pack, but tend to flap in the wind and snag if you're bushwhacking.
Wear neoprene socks and gloves. Rogers uses plastic boots—which absorb no water—to avoid chronically soggy feet. 
In Camp
Choose a double-wall tent (best at reducing condensation) with at least one large vestibule.
Make sure seams are taped, and seam-seal any that show wear. Check for UV damage to your tent fly, says Rogers, by trying to suck air through it. If you can, replace it.
Avoid pitching your tent in a depression or where water might collect. Even if your tent floor doesn't leak, the floorless vestibule will be over a puddle. Also: Keep the inner tent dry by pitching it in a sheltered area without staking it, then drape the fly over and move the tent as needed to level ground.
Tighten sagging rainflies; you want a taut pitch that separates fly and tent, which increases air circulation and reduces condensation. Use an adjustable trucker's hitch so you can easily retighten guylines (page 46). And pack gear you leave in the tent in waterproof stuffsacks, if you won't be there to protect it.
If you must cook in your vestibule, ventilate it well.
Rogers warms up with Super Cocoa: 4 tablespoons cocoa; 2 tablespoons each of powdered milk, brown sugar, and peanut butter; and 1 ounce of cheese. Add hot water to taste.
Cover Up 
MontBell U.L. Trekking Umbrella An umbrella affords a few square feet of sanity during ceaseless downpours, whether it's for eating, map reading, or just snapping a picture. And hiking with an umbrella (when there's no wind) upgrades your view. Bonus: This one is so light it hardly needs justification ($39; 4.5.; montbell.us).
Rig a Kitchen Tarp
It's more comfortable than vestibule cooking, and in bear country, you want to keep food away from your tent anyway. An A-frame (left) affords maximum weather protection, while a lean-to affords more headroom and a better view. No trees? Use trekking poles guyed out in two directions for stability.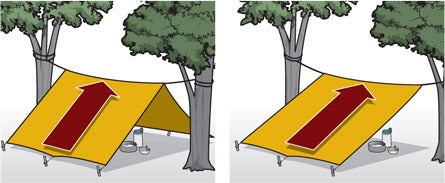 Thou Shalt Not: Overheat
When waterproof/breathable shells get steamy, dial down your pace, or wear the jacket like a vest: Stick your arms through the pit zips and tuck the sleeves into pockets.