Backpacker Bible: Go Higher
Once you've been to the mountaintop, few other experiences will compare. For soul-cleansing, skill-building, life-affirming thrills, put a big one on your bucket list.
Heading out the door? Read this article on the new Outside+ app available now on iOS devices for members! Download the app.
Use Crampons 
These spikes are your ticket to alpine travel in slick ice and snow, but they can also be your undoing if inexperience trips you up. This can happen to beginners who don't adjust their footsteps to get all of the spikes in contact with the snow. Flex your ankle as needed to position your entire foot flat on the ground (above), and don't move one foot until the other foot and your ice axe are secure.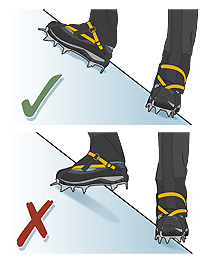 Learn to Self-Belay
On steep snow, use an ice axe to prevent a slip from turning into a slide. With both feet secure, jam the axe's spike and shaft straight down into the snow. Keep your uphill hand on the axe as you take a step. Remove the axe and repeat. Slipped? Keep one hand on the axe head and grab the shaft near the surface of the snow with the other, so your weight pulls against the securely buried shaft. 
Thou Shalt Not: Step on the rope. 
Not only can you trip up yourself and your partners, you might dangerously damage the rope. Don't let slack develop between you and the climber ahead.
Master the Self-Arrest
» While walking, hold the axe head with the adze forward and the pick facing back. This lets you shift directly into a self-arrest without changing your hand position.

» If you fall, quickly maneuver out of these incorrect positions. A) Head uphill, on your back: Roll toward the pick and flip yourself over. Do not roll toward the spike, which can catch and cartwheel you.

B) Head downhill, facedown: Reach forward (downhill) and to the side. Your pick should be at a 45-degree angle from your head, so you don't slide into your axe. Plant the pick, and it will serve as a pivot so you can swing your legs around and get them downhill. Now you're in self-arrest position. C) Head downhill, on your back: Raise your torso, like you're doing a sit-up, and plant the pick near your thigh. Again, use it like a pivot. Swing your legs downhill while rolling your chest toward the pick to get into the correct position over the axe.

» In self-arrest position, you're facing the snow, head uphill. Hold the axe diagonally across your chest—one hand on the head, the other low on the shaft—with the pick oriented toward the snow and the adze in the gap formed by your neck and shoulder. Use your weight to drive the pick in. Keep your head down, facing the snow, and the shaft close to your chest to achieve maximum force.

» If you're wearing crampons and sliding fast, avoid catching a spike, which can spin you. Once you've slowed in self-arrest position, kick crampons in aggressively, digging secure "buckets."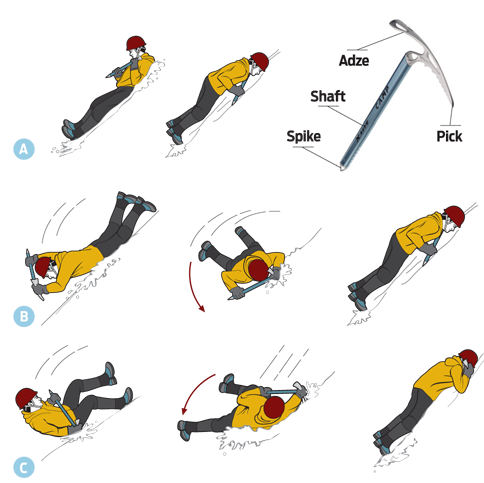 The Promised Land: Bucket List Trips
The Starter: Mt. Shasta
The class 3 route up Avalanche Gulch delivers big-mountain terrain without crevasse danger—perfect for novices with basic crampon and ice-axe skills. Best plan: Camp at Helen Lake, a plateau above 10,000 feet, and climb to the 14,162-foot summit early in the morning, before snow softens. Target May to July for low avalanche risk, before rock fall becomes a serious hazard. Contact (530) 926-4511
The Classic: Mt. Rainier
Nothing in the Lower 48 compares to this 14,411-foot massif. It has 25 glaciers, vertical relief of more than 12,000 feet, and is so accessible you can scale it in a weekend. Best plan: Go in July for long days, reliably sunny weather, and the year's most stable snowpack. Graduated from the Cleaver? Try the Emmons (hard) or Kautz (harder) Glacier routes. Contact nps.gov/mora 
The Epic: Gannett Peak
Wyoming's highpoint is the most remote in the Lower 48—just reaching it entails a superb wilderness adventure. Approach from the west for a 40-miler from Elkhart Park to Titcomb Basin and over Dinwoody Pass. The ascent up the Gooseneck Route is straightforward in good conditions (midsummer is usually ideal), but snow-travel skills are required. Contact (307) 367-4326 Trip ID 1379409