Backpacker Bible: Get Out More
Have you ever heard anyone wish he spent less time outdoors?
Heading out the door? Read this article on the new Outside+ app available now on iOS devices for members! Download the app.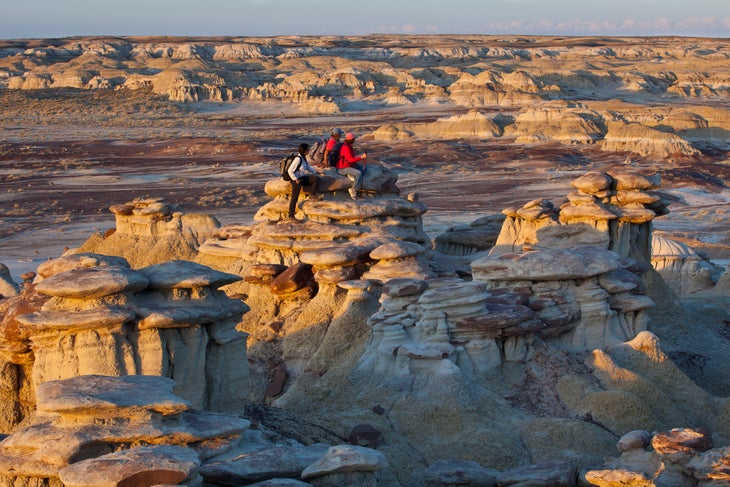 Create Opportunities
Give yourself extra time. For example, get a jump start on a weekend trip by leaving work at noon on Friday. At the beginning of the week, prioritize your tasks so nothing essential is left undone on Friday morning. Do casual Fridays fly at the office? Wear your trail clothes to work. Not only will you be ready to go, but you'll recruit colleagues to your cause: Hey Joe, how far is the trailhead? Shouldn't you hit the road?
Join Others
Make plans to hike with one or more friends. Put a date, time, and place on the calendar—and an obligation to meet others there—and you're less likely to skip it. No readily accessible hiking partners? Join scheduled group hikes organized by regional members of meetup.com and the Sierra Club. Or go to backpacker.com/community. Join the forums, go to your region, and look for (or post) a message seeking hiking partners.
Organize Your Gear
» Store everything in one place: a closet, the garage, under the bed. Keep your pack loaded with basics: stove, headlamp, etc.

» Label storage bins. Put stickers on the ends facing out, so it's easy to grab and return gear at a glance.

» Stack vertically. In most cases, this makes the most efficient use of space. Lightweight items like sleeping bags should go high, where they're easy to take down and put back. Bulky gear, like packs and boots, can go down low.

» Plan a menu. Store a weekend's worth of dehydrated and nonperishable food with your gear as well. No time to shop for a last-minute getaway? No problem.
True Believer: Randy Propster
BACKPACKER's Get Out More Tour Ambassador has literally made a career out of helping hikers hit the trail more often, while simultaneously increasing his own backcountry time. He spends nine months a year on the road, traveling the country and holding free clinics at outdoor shops, where he offers step-by-step advice on trip planning, gear management, safety issues, and more. His three key tips:
» Prioritize. If you only go for a Saturday hike "if you have time," it's easy to miss the opportunity. Put your trip on the calendar, and mow the lawn "if you have time."

» Think local. Life-list destinations make for amazing vacations, but don't let big-trip dreaming displace midweek dayhikes and short weekend getaways.

» Pack a go-bag. Have a trail-ready kit assembled so when the opportunity presents itself you can get out quickly.