Backpacker Bible: Camp Well
Who says spiritual travelers must shun earthly comforts? You just worked all day to reach a magnificent high-country cirque. Now create a campsite to match.
Heading out the door? Read this article on the new Outside+ app available now on iOS devices for members! Download the app.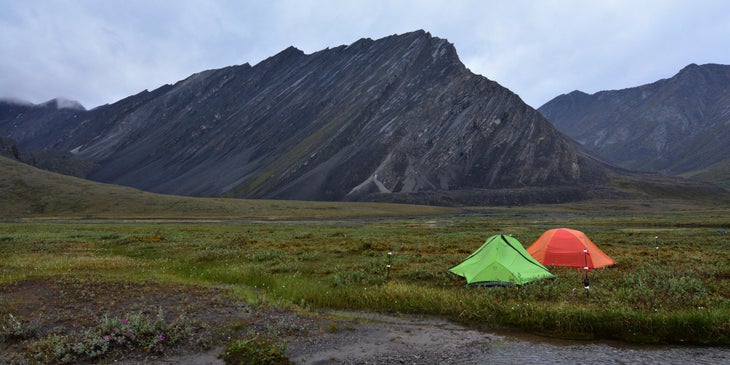 True Believer: Mark Jenkins
Look at his résumé, and it appears our longtime contributor prefers trips on which suffering is the main goal. During more than three decades of expeditions, he has routinely put himself at risk for frostbite, altitude sickness, infections, trench foot, hypothermia, torn muscles, broken bones, insect-borne diseases, and more. He's a glutton for punishment, no doubt, but he won't suffer a poorly chosen campsite. Here's how he describes his approach:
» Take time. When I reach the day's general destination, I drop my pack and make a comprehensive search for the perfect campsite. I give myself at least 15 minutes and move in an outward spiral. Even if it's dark, take the time. Even if it's storming, take the time. The morning is what matters.

» Go high. Always try to put your tent on a ridge or at least up in the alpine zone. Yes, it's windier up there, but spectacular views are the main reason I go into the mountains in the first place. Besides, there are good reasons for placing a camp high: 1) The wind washes the bugs away; 2) wind reduces condensation in the tent; 3) cold air rolls downhill at night, so valley bottoms are often dank and wet; 4) a high camp gets the earliest sun. (Stormy? See below for tips on a sheltered, low-impact site below treeline.)

» Prep your site. Search for the most level tent spot; I also remove all rocks, sticks, pine cones, etc. (and put them back upon leaving). In snow, I'm known for being anal about shoveling until the tent platform is perfectly level. Every minute spent preparing the campsite is rewarded with hours of good sleep.

» Face the sun. If the wind direction will allow it, I always place my tent with a door or window facing east, so the first rays of the sun come directly inside the tent.
Upgrade Your Slumber
A good sleeping pad makes all the difference.
Fine Dining
You've found the perfect campsite. Here's how to equip it with the perfect kitchen.
» Search out a site with natural windbreaks, like boulders or stumps, that shelter your stove for faster cooking.

» Collect the water you'll need, and gather your ingredients close at hand. Avoid getting up and down repeatedly, risking a spill.

» In snow, build a kitchen: Dig a hole three to four feet deep, with a large enough diameter to accommodate your group. Leave an uncut snow block in the center, to serve as a table, and cut benches around the side for sitting. Place your stove on a square of aluminum-wrapped cardboard to prevent it from melting your table. Cut a stairwell for a five-star setup.
See the Heavens Shine
When I first started backpacking, like most people, I slept in a tent. Unlike most people, after my first trip I signed up for a semester with the National Outdoor Leadership School. I wanted to push myself, absorb the wilderness through my skin. With NOLS, I confronted new and strange decisions, like how many socks you really need for 28 days (three pairs). Most confounding, on our second week my trip-mates posed a question I'd never considered: Inside or out? Initially I was confused, but then it dawned on me: They meant outside the tent.
At first it was hard: The wind blew through my bag. I awoke covered with frost. The moon's glare kept me tossing. But I adapted and learned some tricks to stay comfortable. Soon, the rewards outweighed the challenges. I loved the smell of sagebrush surrounding me as I nestled where a tent would never fit, the constellations I befriended, the romance of meteors and moon shadows. Sleeping out helped me forge a closer connection to the land, plus it shaved minutes off my camp routine. And because sleeping outside offered privacy in the midst of a group—I could seek out quiet spots away from others and camp chatter—bedtime was when I would reflect on the lessons I'd learned. I became a regular.
Eventually the semester ended. Backcountry nights became rare. The peer pressure changed: My new backpacking boyfriend was bug-averse. And without the wilderness immersion, I lost the habit. But when conditions are right, the wild lures me out again and that connection I once had—to my best self and to the land—comes roaring back. I remember: This is how it should be. I should sleep outside more often.

And that boyfriend? He came around. One night, as we lay tentless in a Tahoe forest watching the Perseids rain shooting stars, he slipped a ring on my finger and proposed. Perfect. If we'd been under nylon, we'd have missed the celestial fireworks. And every future night under-the-stars would remind me of this one, just as this one reminded me of all the ones before.
Follow these tips and go tentless in comfort:

» Use training wheels. Bring a shelter with you, just in case. Still nervous? Set it up for a midnight bailout option.

» Choose the right season. Pick mild, dry, and skeeter-free conditions for your first attempts.

» Cover up. Use a ground cloth to help cut wind and keep dew and frost from collecting on your bag (lay it loosely on top, so it doesn't become a condensation trap). Sleep on the edges of meadows, not in them, to avoid excessive dew.

» Shake out your bag before climbing in. Avoid bedtime surprises like scorpions and warmth-seeking snakes.

—Rachel Zurer