A Guide to Gear Closet Spring Cleaning
Ditching the baggage and streamlining your life can be easier said than done.
Photo: Aleutie/ iStock / Getty Images Plus via Getty Images
Heading out the door? Read this article on the new Outside+ app available now on iOS devices for members! Download the app.
When I decided to clean out my gear closet this spring, I discovered a secret. A big one—one that all those pro-exercise doctors and health agencies aren't telling us: Hiking isn't a miracle remedy. It's a potentially lethal gateway drug. 
Here's how it goes. First, you think it might be nice to walk up a mountain or two. You get a backpack. Then maybe some boots or trekking poles. Soon, you start to think you might like to go farther (backpacking) or faster (trail running)—or on two wheels or in a boat or via roller skates or maybe even while fishing. Before you know it, you have to buy an avalanche beacon, shovel, and probe just to open the door to your gear closet. Catastrophic slides: likely. Chance of burial upon opening: 100 percent. Like I said. Lethal. 
After six years as a van-dwelling professional gear reviewer and over a decade as a multisport dabbler, I maxed out my gear closet years ago. I tried a "one-in, one-out policy." I tried reading about minimalism. I even tried quitting a sport or two just to simplify things. But the pile kept growing. I had to buy a storage unit to contain the overflow. 
Then, one day this spring, I spent 30 minutes suspended off the floor, stemming between a bike rack and a tower of camping food containers while digging for one of my three camp stoves. That's when I was struck by a realization. And also by a pile of skis. 
"Is it stupid that we live in a car but pay rent for our gear?" I asked my partner when I extricated myself from the skis.

"Yes," he said. 
So, with new resolve, we set aside an afternoon. We'd take everything out of the unit. We'd coldly evaluate our gear, piece by piece. We'd eliminate everything that wasn't absolutely necessary.  
"Does this jacket still fit you?"

"Donate." 
"Do you still want your high school cross-country uniform?" 
"Chuck it." 
"What about this broken bike rack?"

"Dumpster!" 
We were on a roll. For the first few minutes, we were throwing stuff out left and right, laughing with the endorphin high that came with glimpses of our imagined freedom.

Then things got hard. 
"I'll probably patch this tent eventually, right?" I said, holding up a mangled fly."If we ever have guests, we'll need all these camp chairs."

"Score! We can still eat these NutriGrain bars! I thought the label said 2012 but it actually says 2015!" 
After a few hours of hard work, we put everything back in the storage unit and stood for a moment, staring at it. My partner seemed pretty proud of our handiwork, but I was crestfallen; it didn't look any different. 
Gear, it turns out, isn't just stuff. Each piece is filled with memories and the promise of future adventures, and it's harder to part with than I ever imagined. It took us three more attempts—each more painful than the last—to finally whittle down the heap. But today, I'm proud to say we're no longer paying rent for a bunch of stuff we don't need. Instead, the excess has gone to people who can actually use it. And we're able to grab what we need and hit the road without spending hours sifting through perilous piles. 
Here's what we learned.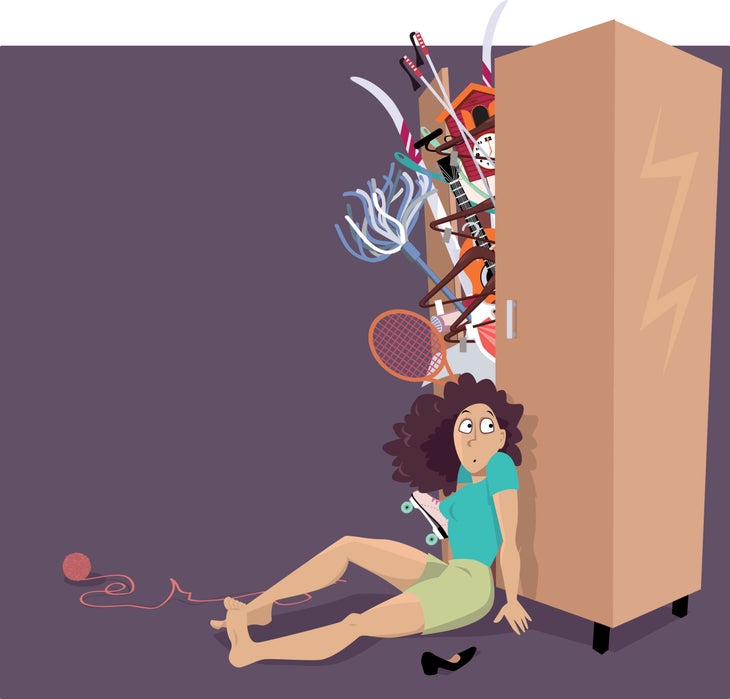 How to (Actually) Clean Out Your Gear Closet

Block off an entire day. Pick a weekend with nice weather, and make sure neither you or your partner, kids, or other gear-hoarding accomplices don't have any scheduling conflicts. 
Identify new homes for your gear. Locate your local outdoor consignment shop, or make a list of nonprofits and other groups that accept used gear.  
Make a list. Dump everything out on a tarp. Then, before you start picking things up, glance over your pile as detachedly as possible. Make a list of all the things you haven't used in the last year—and don't have concrete plans to use in the coming year. These things need to go. 
Apply trail philosophy. As thru-hikers say, "We carry our fears on our backs." Translation: The things we actually need tend to be fewer than the things we're afraid we might need. Three water filters in case one breaks? Keep your favorite; ditch the rest. 
Stop the wishful thinking. Keeping those decade-old skis because you're wistfully hoping to get back on the slopes is like keeping your high-school jeans with the hope that they'll one day fit you again. Let it go, and accept your life as it is now.
Realize you pay rent for everything you own. So that extra tent is only taking up a few square feet of your apartment. Well, how much is your rent for that apartment? Are you paying $10 a month for the square footage under that tent? Don't fall for the fallacy of "sunk cost"—just because you've paid for something doesn't mean you're not still paying for it. 
Give up the gifts. We have extra emotional attachment to things that loved ones gave us, or things that accompanied us on important trips. Realize that no loved one would want their gift to cause you anxiety or inconvenience. Plus, you can toss something without tossing your gratitude or memories. 
Channel Marie Kondo. At the end of the day, any item you keep is an item you're spending mental energy looking at, thinking about, or moving around your house. If that thing genuinely makes your life better (i.e. "sparks joy") keep it. If you're on the fence? Better to let it go.