9 Things You Need To Know About National Park Photography Rules
Are your photos legal? Do you need a permit? We talked to lawyers and rangers to get the real scoop on national park photography rules.
Heading out the door? Read this article on the new Outside+ app available now on iOS devices for members! Download the app.
Eager to improve your photography skills? Join Backpacker's Outdoor Photography online course with Professional Photographer Adam Barker
Make sure you know the rules before taking photos in national parks (or other public lands). Photo by Anita Ritenour / Flickr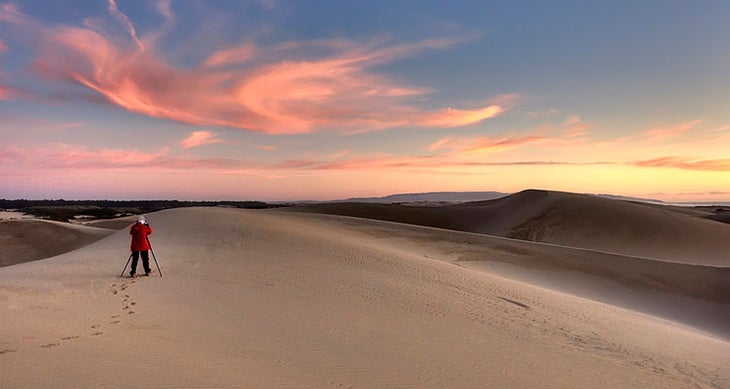 Picture this: You're in Logan Pass in Glacier National Park, one of the most scenic places in the US, and of course, you're snapping some pictures. Who wouldn't be? You don't even have a tripod—just yourself and two friends with DSLR's and telephoto lenses. A ranger starts following you, chasing you down, asking why and what you're taking pictures of.
"What am I taking pictures of? Look around!"

Logan Pass in Glacier National Park. Photo by Ryan Mitchell / Flickr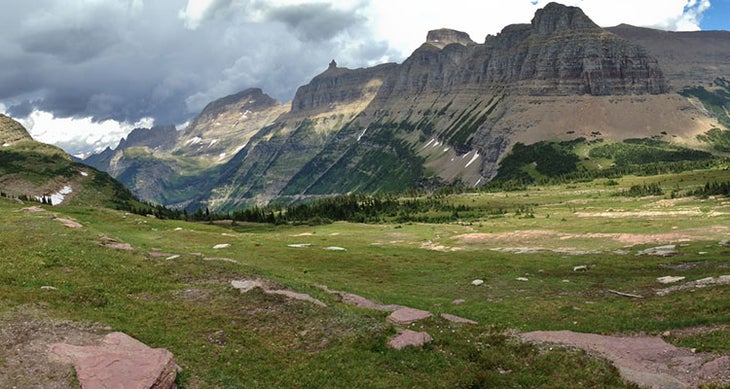 In 2013, this happened to Ian Shive, a Los Angeles-based nature and conservation photographer. Sure, Shive is a professional, but that day he was just doing what he loves—exploring the outdoors and capturing nature. Did he need a permit?
The answer can be pretty confusing. To clarify, we spoke with attorney Carolyn Wright (photoattorney.com), who specializes in photography law, and Lee Dickinson, a park service employee who worked on the Department of Interior (DOI) regulations for commercial filming and still photography. (Reminder: the DOI includes the National Park Service, Bureau of Land Management, and US Fish and Wildlife Services). Read on for the major points that you need to know about national park photography rules.
1. Most still photography doesn't need a permit
According to Dickinson, a photographer will need a permit if the activity involves a model, set, or prop (see below for more on that), is in a closed area, or if the activity needs to be monitored by an agency. "If the photographer is mirroring what most visitors do," says Dickinson, "in all likelihood they're okay without a permit. They just have to obey the same rules as the visitors."
2. Tripods are allowed.
Just the act of using a tripod (or large lenses or time-lapse accessories) doesn't by itself mean you need a permit—these accessories don't count as props in most situations. According to Dickinson, "Generally, additional equipment does not trigger the need for a permit. It is the eventual use of the film that triggers the permit requirements."
3. You need a permit to use "props" or "sets."
Props and sets include any items constructed or placed on the land for filming or photography, such as backdrops, generators, microphones, stages, lighting banks, camera trackers, etc. As stated in Public Law 106-206, "sets and props also include trained animals and inanimate objects, such as camping equipment, campfires, wagons, and so forth, when used to stage a specific scene."
4. You need a permit to use a model.
A model is a person or object that serves as the subject of filming or still photography for the purpose to promoting the sales or use of a product or service; this can include people, animals, and inanimate objects (such as clothing, food, or beverage). For example, if a solo photographer is on public lands to shoot a solo model's clothing, that is considered commercial photography, and she'd need a permit.
5. All commercial filming needs a permit.
Commercial filming, according to the law, is recording of a moving image for a market audience with the intent of generating income. Commercial filming activities may include the advertisement of a product or service, or the use of actors, models, sets, or props.
Personal filming is allowed—if you are simply filming from your campsite using a time lapse or whatever other tool you decide, you do not need a permit if you do not intend to sell that film or use it in any commercial way.
6. If you do need a permit, request early.
"The earlier the better, though the NPS does not accept applications further out than one year," Dickinson says, who notes that applications are on a first-come, first-serve basis, and the agency will work with you if someone else has already requested the area you want on the same date. Permits can range from $50 a day for a small still photography shoot to $750 a day for a large film shoot.
If you are looking to have your wedding, engagement, or other special occasion photos done in a park, Dickinson recommends checking with the park itself in regards to a permit. Some parks get so many requests that scheduling comes into play, and the location of the request would also matter in deciding if a permit is required.
7. Wilderness areas have their own rules.
In Wilderness Areas, the normal regulations still apply, but so does the Wilderness Act. The act restricts the amount of commercial activity in a wilderness area, so if you want to film or shoot here commercially, there will be an additional level of review that goes along with a request for a permit.
8. Unfortunately, the rules are subject to interpretation
"We try to ensure that our parks and areas apply the regulations in as constant a fashion as possible," Dickinson says. However, interpretations can vary. Wright, the lawyer, recommends taking along a copy of the applicable rules, just in case you get stopped by a ranger. "Many rangers will see a large lens or tripod and assume that your video recording or photography is for commercial purposes," says Wright. If a ranger does give you a fine, you have the right to file an appeal. If you're in a situation where you do need a permit and don't have one, there is a possibility of a warning or a ticket (up to $5,000 and/or 6 months in jail in most national parks, in the worst cases).
9. It's OK to sell us your photos.
Maybe you get lucky and end up getting a photo printed in BACKPACKER. Do you need a permit then? Dickinson says no. "Generally, a photo that runs in Backpacker would not have required a permit to shoot unless it involved a model, set, or prop," she says. The same applies to someone who makes their own greeting cards with photos from public lands or other similar hobbies. "The permit requirement for still photography is based on the activity that is taking place on federal lands, as opposed to what is going to be done with the photo once it is complete."
Bottom line
Nothing in these rules is absolute. As Dickinson says, "there is some latitude on the part of the park in enforcing regulation." But in general, you do not need a permit for still photography or personal filming; you do need a permit for commercial filming and still photography that uses models, props, or sets. If you are still concerned or confused, call your local agency before you head out.
http://www.mytopo.com/previews/digital/15-0407-6037-02R.pdf