14 Camping Skills All Backpackers Should Know
Heading out the door? Read this article on the new Outside+ app available now on iOS devices for members! Download the app.
Congrats on another successful day of hiking! (Of course, you followed these tips for leaving the house and hitting the trails, so you haven't had any snafus yet.) Keep that momentum going with these solutions to common campsite troubles.
1. Fix a tent pole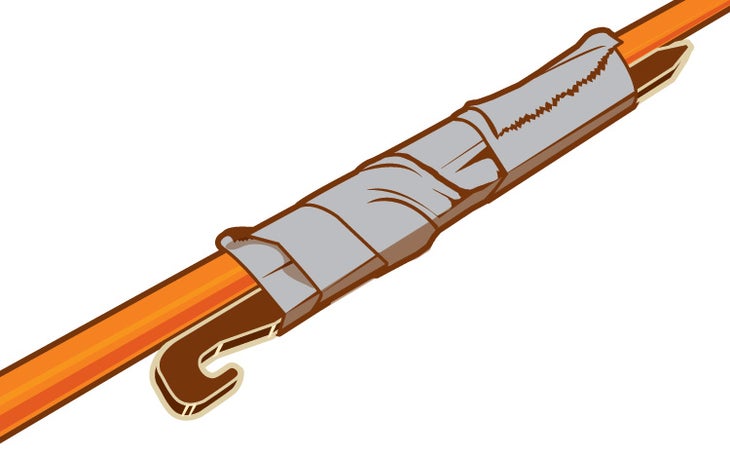 They don't snap often, but when they do—whooee, that can ruin your trip. To get through the night, find the tube-shaped splint that probably came with your tent (you packed it, right?), slide it over the break, and duct-tape it like mad. No splint? Duct-tape a tent stake to the break, behind the most likely stress point.
2. Do your business
Find a spot (bonus points if it's scenic; you'll be spending some time there) at least 200 feet from water, trails, and camp. Dig a hole in the soil at least 6 inches deep and 4 inches wide. (Snow? Find the ground first.) Do your thing, fill in the hole, and cover it with branches or rocks. Pack out TP (double-bagged) or use natural stuff.
We asked: What's the best natural TP?
You said:
Leaves: 60%
Snow: 25%
Smooth Rocks: 13%
Sticks: 2%
Are you in an area that requires WAG bags? Here's our tutorial for eco-friendly, efficient backcountry poops.
3. Set up your kitchen
Find a flat spot 200 feet from your tent and clear away any dry grass or leaves. Place cookware, dishes, and utensils to one side and ingredients to the other, all within arm's reach. The idea is to stay put once you start cooking, to reduce the risk of knocking over the stove or kicking dirt into your dinner.
4. Wash dishes the easy way
Easy Boil water in your pot, scrub your spork with pine needles or sand, then fling the bilge in a wide arc, 200 feet from water sources. (LNT overachiever? Mmm, gray­water—drink up.)
Easier Rehydrate your dinner in a disposable bag and eat out of it. You only need to clean your spork! Pack out the empty bag, or repurpose it as your new trash bag.
5. Choose a campsite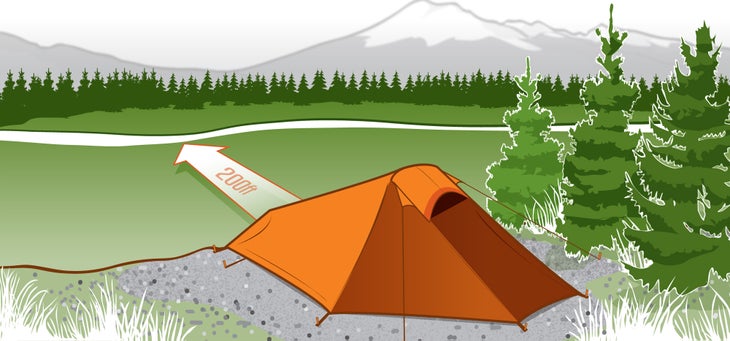 Not sure what to look for? Your humble abode for the night should contain these elements:
Flat, tent-size platform
Durable surface
High ground (cold air collects in valley bottoms, and small rises drain well in case of rain)
At least 200 feet from water and trails
Sheltered from wind
No standing dead trees around
Instagrammable tent-door views (optional)
6. Learn from the pros
Whether you're new to backpacking or want to perfect your technique, it pays to learn from the experts. We partnered with the Colorado Outward Bound School to create an online course packed with essential tips, including gear selection, trip planning, packing, navigation, cooking, camping, first aid, and more. Available to all Outside+ members.
7. Start a fire
Check local regulations first. Good to go? Build a teepee of finger-width sticks around a triangular frame, then light a small pile of tinder within. Blow lightly to keep oxygen flowing, and add thicker sticks when the little guys ignite. (Get more tips with our guide to fire.)
8. Sleep warmer
Cold Stoke your own fire with campsite jumping jacks, high knees, or sit-ups. Better yet, cozy up with a high-calorie bedtime snack. Aim for fats and/or protein, which takes the body longer to digest.
Colder Layer up. Then fill your Nalgene with boiling water, wrap it in an insulating layer, and snuggle with it inside your sleeping bag. Or spoon your hiking partner.
9. Tie a bowline knot
It's self-tightening, and it creates a stable loop at the end of a rope, perfect for tying bear bags and lowering packs. It's also a good way to impress your friends. Here's your step-by-step guide:
10. Pack a tent
Roll it or stuff it—it doesn't matter. But always let it hang to dry when you get home.
11. Sleep under the stars
Cowboy camping isn't as scary as you might think; just know how to do it right. Avoid low spots where condensation collects. And pitch your shelter just in case; you'll be glad it's there if the weather turns or you get cold.
12. Make 5-minute pizza
Lay pieces of overlapping pepperoni to cover the bottom of a nonstick frying pan. Top with shredded cheese and rehydrated veggies. Cook until cheese melts, then flip the whole thing and brown a few minutes. Place on top of a warmed individual pita (or tortilla). Eat with two hands.
13. Make next-level s'mores
There's more to life than simple graham crackers and Hershey's. Mix and match from the following ingredients to level up your campfire dessert game.
Base: honey, cinnamon, or chocolate graham crackers; shortbread cookies; Girl Scout Thin Mints; waffle cookies; chocolate-chip cookies; Peanut Butter Pop Tarts (don't knock it before you try it).
Chocolate: dark chocolate; white chocolate; Reese's peanut butter cups; mint chocolate; Nutella; fun-size Snickers (cut in half lengthwise for easier melting).
Extras: plain or flavored marshmallows; peanut butter & jelly; fresh banana slices; dulce de leche; toasted coconut flakes; cinnamon; potato chips.
Also, don't knock it until you try it: cheesy s'mores.
14. Pitch a tent in any weather
Rainy Keep the tent body as dry as possible by throwing the fly over it before pitching. If it's a freestanding tent, set up in a sheltered area (under a tarp, in thick trees), then move it to your campsite.
Windy Orient the tent so the narrowest and/or lowest end faces into the wind. Stake down the corners first to keep the tent from blowing away while you add the poles; pile your packs inside to weigh it down while you fine-tune the pitch. Use all guylines for stability.
Snowy Stamp out a platform with skis or snowshoes, then let it sinter 30 minutes or until the ground is hard. To pitch your tent, make deadmen anchors by tying guylines to skis, poles, sticks, or snow-filled stuffsacks, then burying them in the snow or under a rock. Pro tip: Tie a slip-knot around a rock and bury it. Now you can pull the cord without digging out the rock.
Meet the Experts
Sarah Ebright, operations manager and guide for St. Elias Alpine Guides in Alaska
Marco Johnson, senior faculty with the National Outdoor Leadership School, based in Wyoming
Patrice and Justin La Vigne, gear testers and recent thru-hikers of New Zealand's 1,864-mile Te Araroa
Katie Yakubowski, instructor and guide for the Appalachian Mountain Club in Maine