The Best Hikes in Torrey Pines State Natural Reserve
Home to the rarest pine trees in the country plus one of the last salt marshes in southern California, this wilderness refuge amidst an urban sea is a paradise for hikers.
Photo: Mark Johnson/500px Prime via Getty Images
Heading out the door? Read this article on the new Outside+ app available now on iOS devices for members! Download the app.
Torrey Pines has a bit of everything Southern California is known for–sandy ocean beaches, windswept cliffs–plus a few it isn't, like the picturesque bit critically endangered Torrey pine that now grows only in this park and on Santa Rosa Island. Add in spring wildflower displays, fall and winter morning gatherings of California quail, and a headland of ravine-riven cliffs thrusting out into the Pacific, and this is one park no California hiker will want to miss.
Best Trail in Torrey Pines for Plant Lovers: Guy Fleming Trail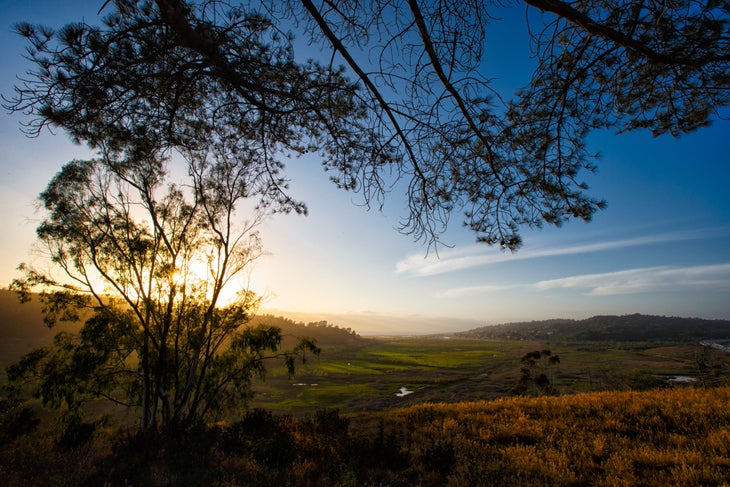 Length: .6 miles

Elevation gain: 155 feet

Trail type:loop

Difficulty: easy
Take in nearly all the habitats present in Torrey Pines on this smooth, easy loop. From headlands of gnarled pine sculpted by the ocean winds to the brackish wetland where rare least terns and California clapper rails flit over the water, this path winds through wildflowers, cacti, and even ferns.
Best Ocean Trail in Torrey Pines: Beach Trail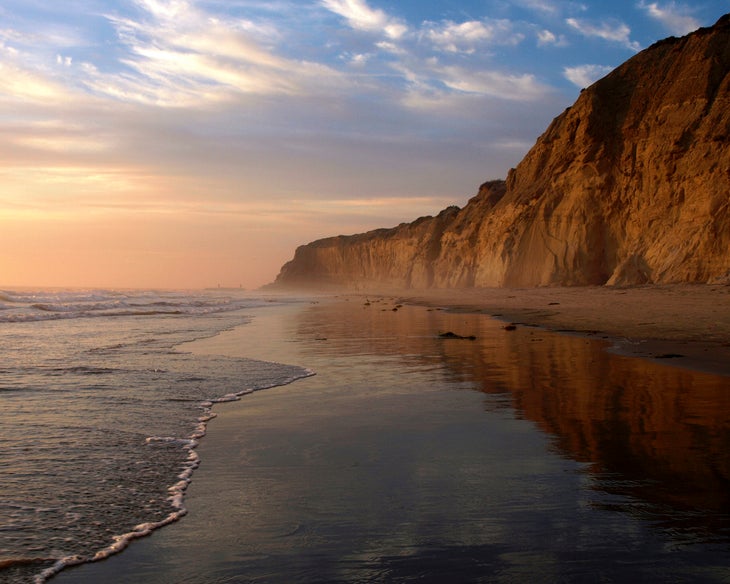 Beach at Torrey Pines State Natural Reserve (Photo: Rui Jin/500px via Getty Images)
Length: 1.5 miles

Elevation gain: 299 feet

Trail type: out-and-back

Difficulty: moderate
This path clambers down the sandstone headlands to the beach itself, finishing with a precipitous set of stairs. Take a dip in the water or just gaze out at the ocean while you dig your toes in the sand. At low tide, you can follow the beach all the way back to the parking lot; at high tide, head back up the hill to the top of the bluff.
Best Trail in Torrey Pines for Torrey Pines: Parry Grove Trail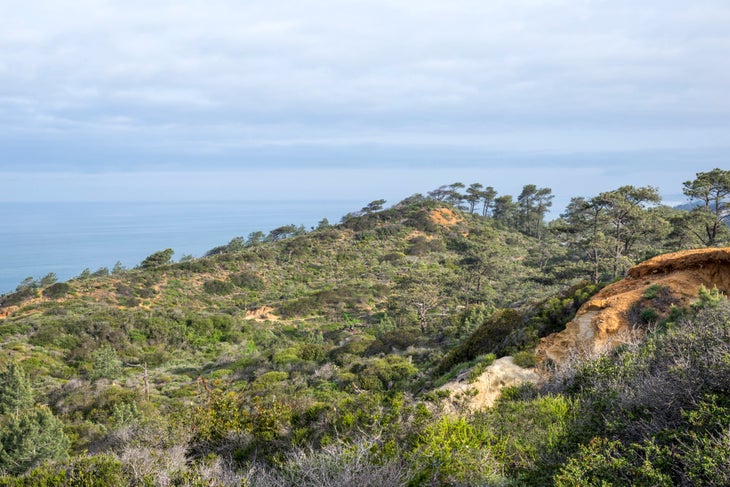 Length: 1 mile

Elevation gain: 133 feet

Trail type: loop

Difficulty: easy
Get the best look anywhere at Torrey pines on this one-mile loop. Named for Charles Parry, the first person to document the Torrey pine, the path winds through a native garden and chaparral as well as the pines. Bonus: Keep a lookout for lizards and rabbits beside the trail, plus the little mounds made by ground bees.
Best Hike for Rocks in Torrey Pines: Razor Point Trail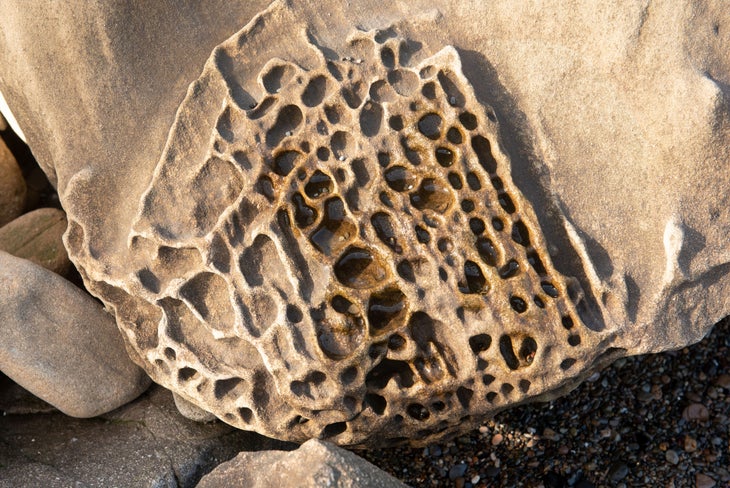 Length: 1.2 miles

Elevation gain: 302 feet

Trail type: out-and-back

Difficulty: easy
Sandstone gorges, wildflowers, and ocean views: What more could you want out of a mile-long hike? The best geology of the Razor Point Trail comes with a dip into an eroded cleft in the sandstone, where a kind of weathering called tafoni (the result of a complex set of processes including salt weathering and cycling soaking and drying) peppers the rock with tiny indents. In the spring, bursts of pale flowers top the yucca alongside the trail.
Best Trail for Park Views in Torrey Pines:
Broken Hill Trail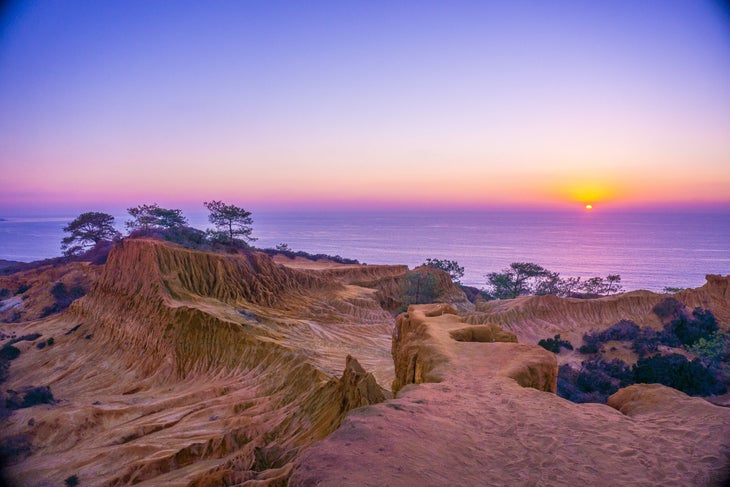 Length: 2.6 miles

Elevation gain: 428 feet

Trail type: out-and-back

Difficulty: moderate
Wind through chaparral and sagebrush as you move between viewpoints on the longest trail in the preserve. Climbing to various high points that look out on the pines, the Pacific, and the wondrously eroded sandstone cliffs of the preserve, this trail is well worth the extra climbing. Watch for quail in the fall and winter.
Best Ocean Panorama in Torrey Pines: High Point Trail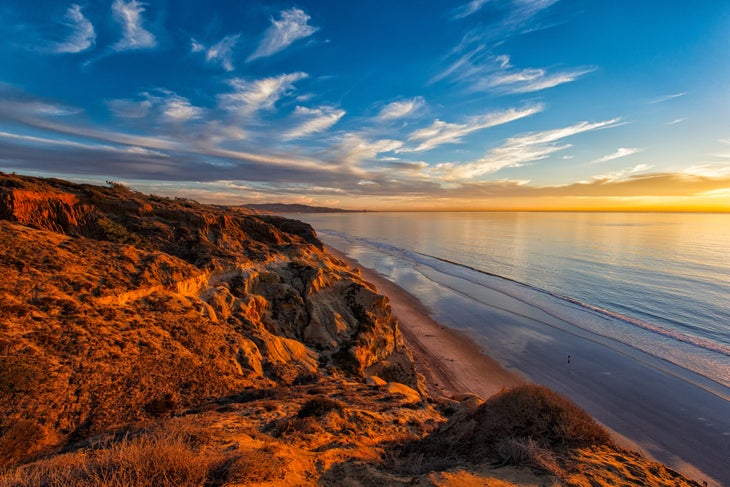 Length: 300 yards

Trail type: out-and-back

Difficulty: moderate
This is barely a trail, but we'll include it for completeness's sake: Short but steep, this set of stairs climbs to the highest point in Torrey Pines Preserve for views of the park's wetland lagoon, the inland hills, and, of course, the ocean. Finish your park day off with this hike to catch the sunset as it sinks into the sea. 
When to Visit Torrey Pines State Natural Reserve
You can hike at Torrey Pines year-round. Summer is the best time for beach visits, especially if you're planning to take a dip. Spring has the best wildflowers, ranging from yucca to lupines and poppies. In fall and winter California quail can often be spotted in the mornings, and you're less likely to share the trails with crowds. 
What are Torrey Pines?
The rarest pine on the continent, Torrey pines are found in only two places: Santa Rosa Island and the bluffs of northern San Diego. The two populations are actually different enough to be considered separate subspecies, and are generally thought to be relicts of an ancient, much-larger pine forest. In the coastal winds they usually grow to about 25 feet, with broad root systems that keep them in place on the sandy bluffs. They have 8-  to 12-inch-long needles that grow in bunches of five. When the coastal fog sweeps in these needles are key to a process called "fog drip", where the needles gather moisture from the surrounding cloud and "rain" on the ground below; Studies have shown that Torrey pines generate more water from this process than any other pine species. Today's small pine population is threatened by air pollution, fire, and bark beetles.
Ocean Safety at Torrey Pines Natural Reserve
Before heading down the Beach Trail for a swim, check water quality with San Diego County. Don't turn your back on the ocean in case of sudden large waves, and if you see the water suddenly begin to retreat head to high ground, that's a sign of impending tsunami. If you're swimming offshore and get caught in a riptide pulling you out to sea, swim parallel to the shore until free of the current then head diagonally towards the beach. If you bring your kids down to the water, keep an eye on them when playing in the wet strip of sand between the water and the high tide line, as "inshore holes" (trenches or holes in nearshore sand that can be up to waist-deep on an adult) are common.