The Best Trails in Phoenix for All Types of Hikers
From city-based summits to long desert trails, here are the best local hikes in Phoenix.
Photo: Jeremy Janus/iStock via Getty Images
Heading out the door? Read this article on the new Outside+ app available now on iOS devices for members! Download the app.
Don't let the temps (or rattlesnakes or scorpions) scare you: Phoenix's local hikes are as hot as its summer heatwaves. The area, an urban island surrounded by wilderness, epic peaks, and the beauty of the Sonoran Desert, is one of the best cities for hikers in the country. 
The ancestral lands of the Akimel O'odham tribe and the Hohokam people offer a rich history anda  wide array of routes for all backcountry adventurer, from rugged backpackers looking for a multi-day trek to dayhikers wanting to escape the city for a quick morning or afternoon trip. Choose from backyard trails in the Phoenix Mountains Preserve, well-known classics like Camelback Mountain, or lesser-known treks through the Superstition Mountains. 
Best Dayhikes Near Phoenix
We promise you this: You won't get bored trail hopping in Phoenix's nearby mountains and wilderness areas.
Best Dayhikes Near the City
Camelback Mountain via Echo Canyon Trail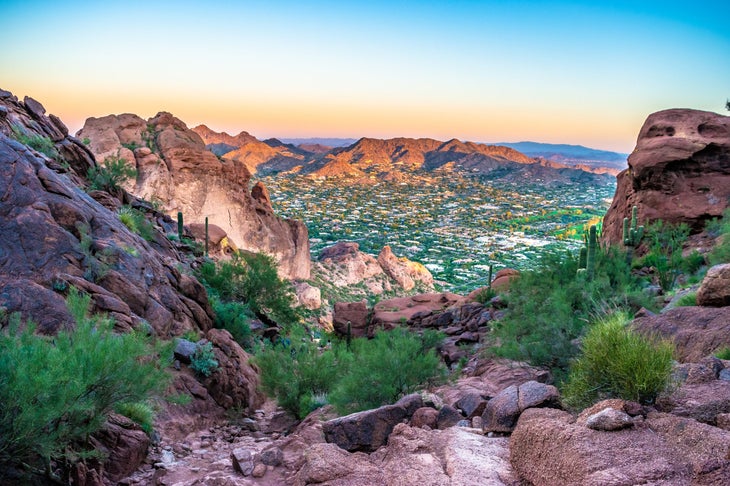 Distance from Phoenix: 19 minutes
Elevation Gain: 1,241 feet
Summit the city's tallest mountain, all before lunch. This popular route up Camelback Mountain is a must-do no matter if you're a local or tourist. You'll get a glimpse of panoramic views of downtown Phoenix and the surrounding suburbs the entire way. But the real stunner comes after you finish a steep scramble in the last half-mile to the top: 360-degree views of Piestewa Peak to the north, South Mountains Park to the south, and downtown Phoenix directly below. Also into rock climbing? This trail is perfect for that too, with popular routes including Monk's Chin on Praying Monk spire and Up Shift, a V3 on Chipmunk Boulder.
Piestewa Peak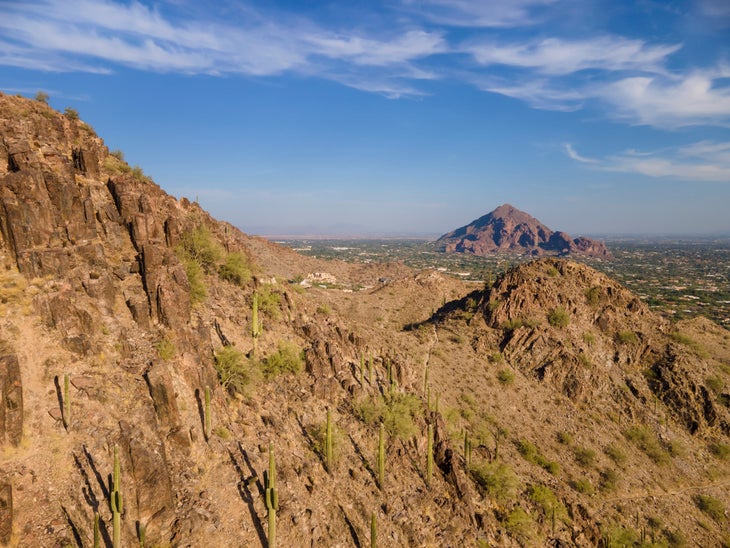 Distance from Phoenix: 19 minutes
Elevation Gain: 1,122 feet
The steep hike to Piestewa Peak is worth the struggle to the top. Native saguaro cactus–of all shapes and sizes–sprinkle the landscape, and views along this trail are particularly stunning at sunrise and sunset, when the deep orange, red, and pinkish rays accent the dusty desert mountains. At the summit, take a break on the craggy peak overlooking the city and surrounding mountain ranges before retracing your steps. Heads up: Expect crowds on this trail (and for good reason with those views).
Dobbins Lookout via Holbert Trail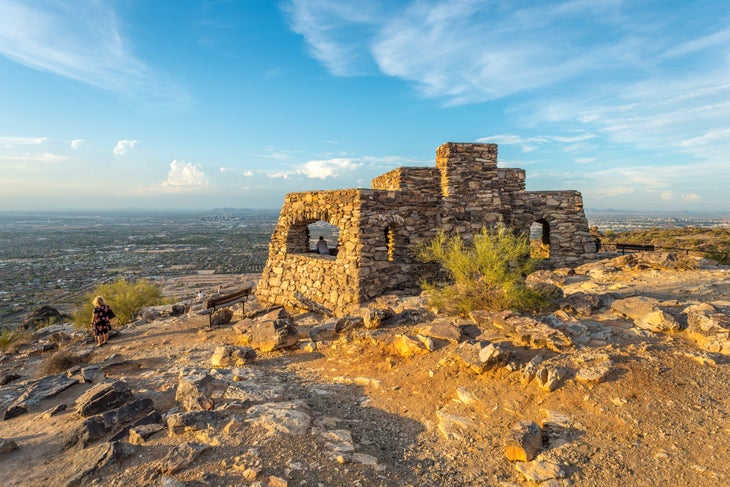 Distance from Phoenix: 35 minutes
Elevation Gain: 1,120 feet
The views at the top of this trail? Epic. Dobbin's Lookout sits at the highest point in South Mountain Park – one of the largest managed city parks in the nation, spanning three mountain ranges – at 2,330 feet. The trail's elevation soars within the last mile of the hike, so be prepared for a tough finish before reaching the lookout tower at the top. Hikers should also keep their eyes peeled for native chuckawalla lizards. The brown or dark gray reptiles can grow up to 18" long and are often found basking in the sun on rocks along the trail. But don't worry, even though they might look scary, they aren't venomous or harmful to humans.
South Mountain National Trail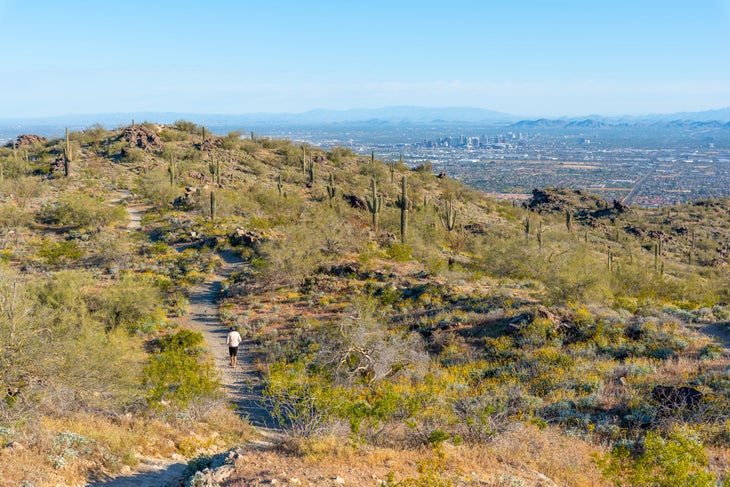 Distance from Phoenix: 30 minutes
Elevation Gain: 3,026 feet
Trail Type: Point to point
If the Holbert Trail is a hike into the sky, this is a trek across it. The South Mountain National Trail stretches through the entire 16,000-acre park and intersects with many spur trails along the way. Take these spurs to explore abandoned gold mines, ancient petroglyphs, and spectacular rock formations, or just head straight down the ridgeline catching views of Maricopa Peak, the Estrella Mountains, and Ma Ha Tuak Range across the Phoenix foreground. If you're looking for a long trail just outside of city limits, this is your pick.
Best Dayhikes Outside of the City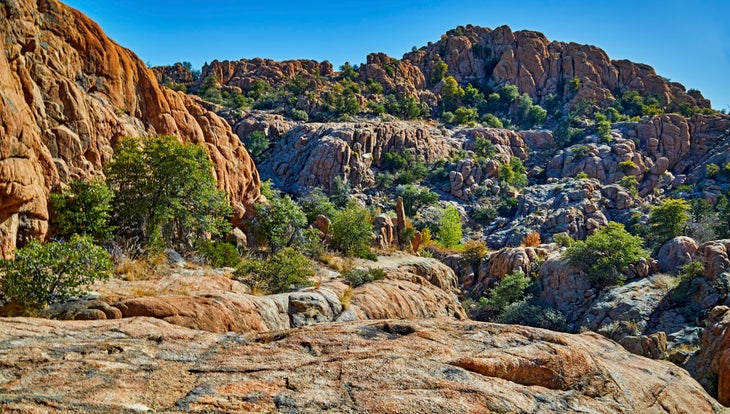 Distance from Phoenix: 48 minutes
Elevation Gain: 1,755 feet
This boulder-filled beauty makes for a great Grand Canyon training climb. Expect to see wildflowers, desert scrub, and juniper trees covering the landscape here. To get to the very top, you'll have to scramble up rocks with moderate exposure. Your reward at the top: unobstructed views of Prescott Peak, Granite Basin lake, and countless miles of ponderosa-pine spotted desert land. Retrace your steps back down, carefully navigating back down the rocky and sandy terrain. Want to loop around the base of the mountain instead of summiting? Check out the Granite Mountain Loop Trail. 
Devil's Bridge Trail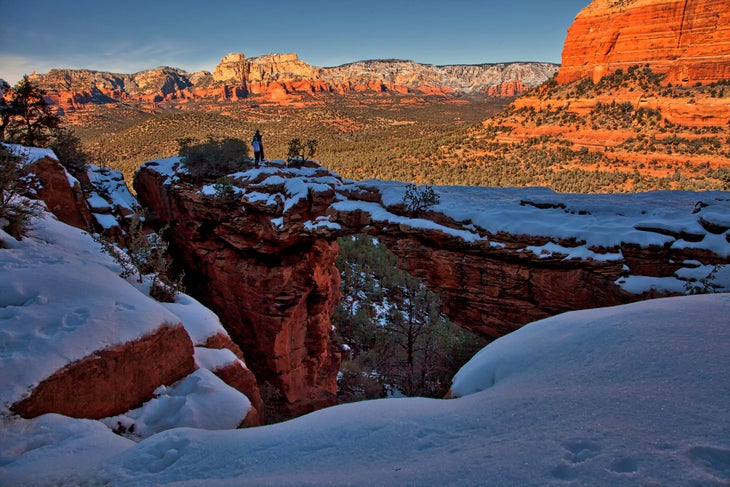 Distance from Phoenix: 2 hours 55 minutes
Trail Type: Out and back
Difficulty: Moderate
Devil's Bridge – the largest natural sandstone arch in the Coconino National Forest–is totally worth the trip. Rusty-red dirt trails give way to impressive views of colorfully-layered mountain faces blanketed at the base with pines. The trail's namesake, a vibrant red-orange archway, towers 54 feet tall, 5 feet wide, and 45 feet long. Brave hikers can walk out to the middle of the arch for a spectacular photo-op.
Best Dayhikes in the Superstition Mountains
There's a reason why the Superstition Mountains are the best-known mountains in Arizona. Peep these trails, located in the Tonto National Forest, for proof.
Peralta Canyon Trail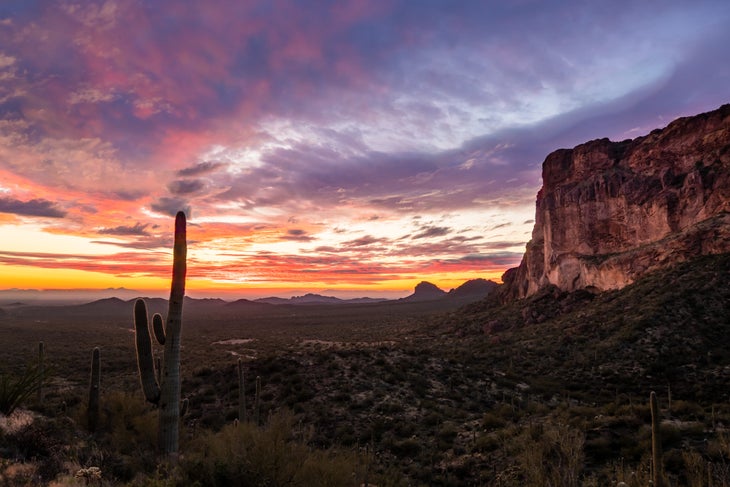 Distance from Phoenix: 1 hour 40 minutes
Elevation Gain: 1,388 feet
Peralta Canyon Trail offers some of the best views of Weaver's Needle, a stunning 1,000-foot rock spire shooting out of the desert floor. But that's not the only beauty you'll see on this hike. The entire 4.6 miles are full of artistic rock formations and jagged terrain carved by Mother Nature herself. This trail is fully exposed to the sun, so pack lots of sunscreen and water for the trek.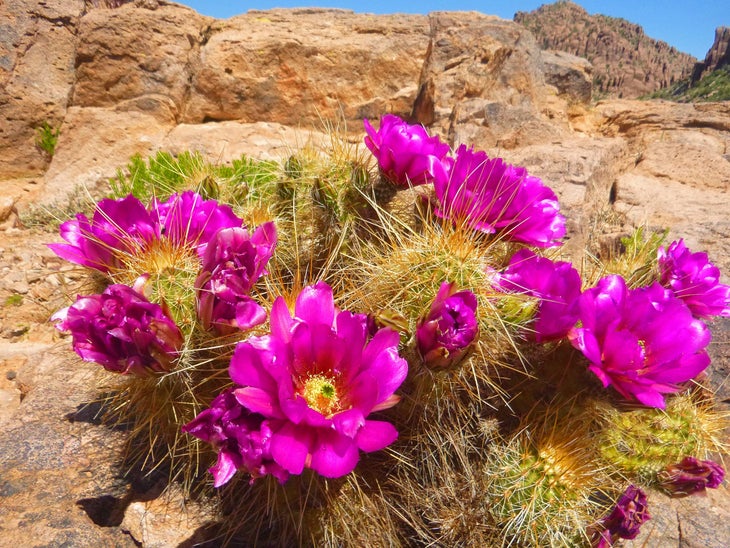 Distance from Phoenix: 56 minutes
Trail Type: Loop
Difficulty: Moderate
Looking for the best of Arizona hiking without the physical exhaustion? Well, here's your trail. The Garden Valley Loop removes the physical challenge of elevation gain without sacrificing the views. Many locals say this hike encompasses the best of the Superstition Mountains: narrow canyons, colorful rock formations, mountain vistas, and desert wildflowers in peak bloom come March. Have kids? This trail is also suitable for adventurous children who can handle the distance.
Battleship Mountain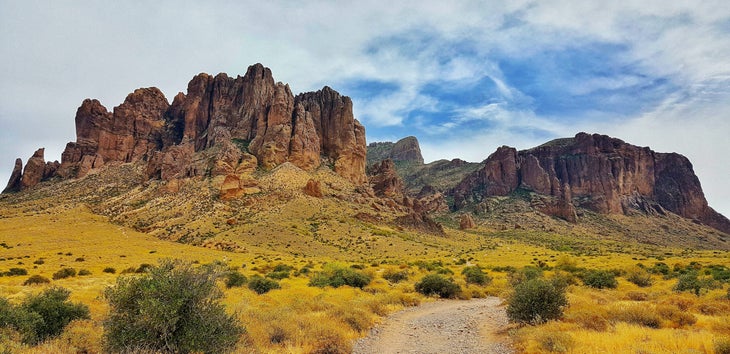 Distance from Phoenix: 1 hour 10 minutes
Elevation Gain: 1,306 feet
Difficulty: Very difficult
Known as "Arizona's Angels Landing" for its exposed ridgeline summit that has hikers flirting with danger, Battleship Mountain is not for the faint of heart. Follow the cairn-marked path through saguaro cacti-spotted terrain for a smooth four miles to start your hike. The further you travel, the more technical the trail gets. A daredevil climb up the spine of Battleship Mountain leads you to the summit with views of Geronimo Head, Malapais Mountain, and the Superstition wilderness. Keep in mind: this demanding day hike requires above-average rock scrambling skills, and takes most hikers around 7 hours to complete.
Best Dayhikes for Families Near Phoenix
Make your next adventure an entire family affair. Phoenix is surrounded with nature worth exploring no matter if you're a young 'un or just a kid at heart.
Desert Botanical Garden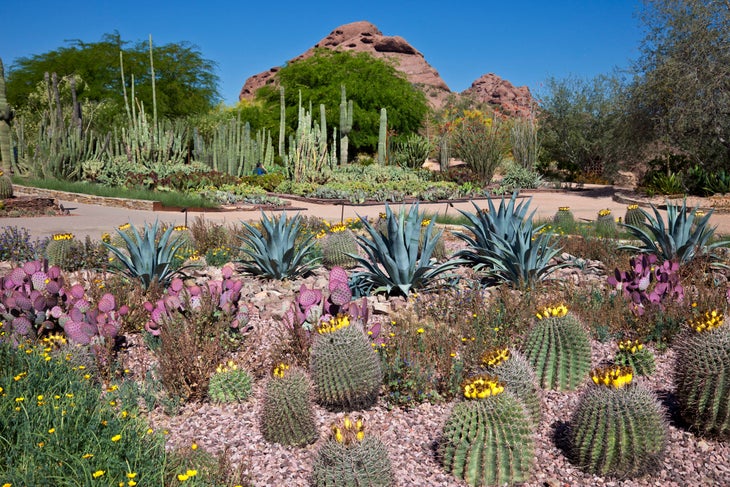 Distance from Phoenix: 18 minutes
Trail Type: Various loops
Explore a living museum that protects and celebrates Arizona's vast and beautiful native plant life. Five different interpretive loops, all of which are ADA-accessible, show off more than 50,000 plants and over 4,000 different species. On the Plants & People Loop (0.3 miles), learn about how the native peoples – including the Tohono O'odham, Western Apache, and Hohokam – use the region's plants for food, building, and medicine. Or walk through an explosion of desert wildflowers and blooming cactus (which peak in mid-March to late April) on the Desert Wildflower Loop Trail (0.3 miles).
McDowell Mountain North Trail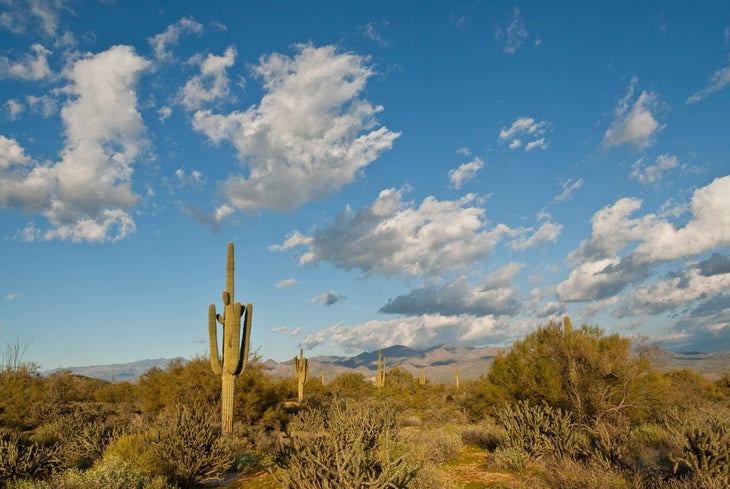 Distance from Phoenix: 18 minutes
Cactus hunt and wildlife watch with the family at McDowell Mountain Regional Park. This flat, 3-mile loop passes some of the largest multi-armed saguaro cacti in the region, some of which are over 100 years old. Pick up a guided trail map at the registration desk to learn about native species, local plants, and geographic facts at 34 interpretive stops along the trail. But don't forget to look up: you won't want to miss out on the impressive views of the Mazatzal Mountains and the Four Peaks Wilderness in the distance.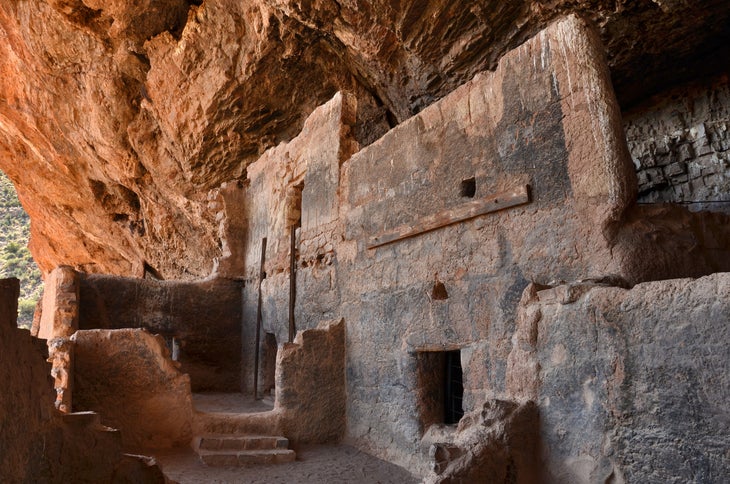 Distance from Phoenix: 1 hour 50 minutes
Elevation Gain: Up to 698 ft
For thousands of years indigenous peoples called the Tonto Basin home. The Tonto National Monument protects two Salado-style cliff dwellings – the Upper and Lower Cliff Dwellings – for their architectural marvel and historic importance. The "Santos," a prehistoric culture who inhabited the area between A.D. 1250 and A.D. 1450 built the structures using a mix of stone, adobe, and wood. The paved, interpretive Lower Cliff Dwelling Trail (0.7 miles) and a more rugged Upper Cliff Dwelling Trail (2.4 miles) lead hikers to the remaining structures. 
Best Backpacking Trips Near Phoenix
Take a long-haul hike (or two) across Phoenix's iconic Sonoran desert landscape.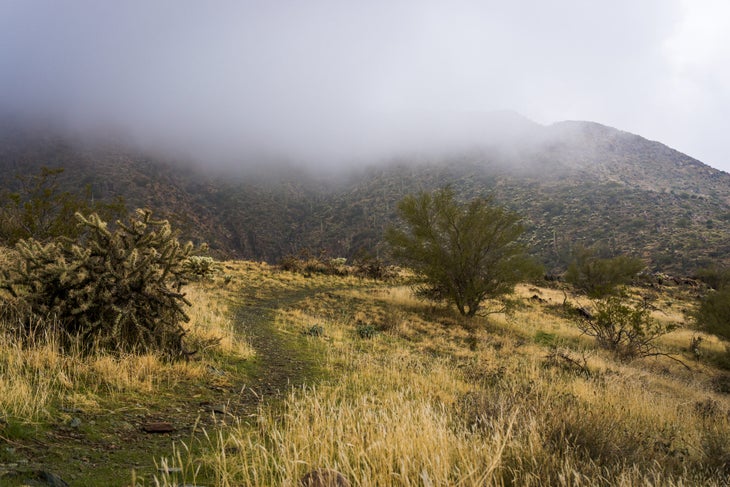 Distance from Phoenix: 2 hours 40 minutes
Elevation Gain: 2,907 feet
Trail Type: Point to Point
Cross vast and exposed desert filled with Sonoran vegetation like yucca, mesquite, prickly pear, saguaro, and barrel cacti on this near-Phoenix backpacking classic. Along the way, pass through Reavis Ranch, known for its historic orchard planted back in 1847 by Elisha Reavis, known to some as "The Hermit of Superstition Mountains." That's right: first-come, first-serve apple picking every fall. 
Highline National Recreation Trail
Distance from Phoenix: 1 hour 45 minutes
Elevation Gain: 10,516 feet
Trail Type: Point to point
Difficulty: Very difficult
On this lesser-known cousin to the Arizona Trail, you'll never end your trip disappointed…just tired. Gain some serious elevation–over 8,500 feet–as you ascend through ponderosa pines, alongside alligator juniper and ferns, and among a plethora of wildflowers. This biodiverse trail is so lush, you may even forget you're in the desert region of the U.S. Plan for at least 3-5 days to complete this rigorous hike, and note that campsites are plentiful at most water sources including Tonto Creek, Bonita Creek, Bray Creek, and Webber Creek.
Phoenix Local Tips
Weather and Packing
Bring sunscreen. Lots of sunscreen. Temperatures peak at around 105-degrees in summer and drop to the high 60s in the winter. Even with the daytime heat, you'll want to pack plenty of layers as the desert dips down to slightly below freezing on its coldest nights. And no matter how long your hike, bring plenty of water (it's recommended to drink 1 liter of water for every 2 hours of hiking).
Gear Shops
Stock up on gear at Just Roughin' It Adventure Company, a local shop in Scottsdale run by former Grand Canyon, Havasupai, and Superstition Wilderness guides. You can also find an REI near South Mountain Park and Preserve just south of the city.
Food and Drink Stops
The best way to cool down from the Arizona heat? A cold drink. Favorite local watering holes include Saddle Mountain Brewing (great food), Arizona Wilderness DTPHX (great beer garden), and The Little Woody (great dive). For food, a must-visit is the Fry Bread House, originally opened in the early 90s by a member of the Tohono O'odham Nation, and today, run by an all-Native staff. Their fry bread – is served both savory and sweet, and you really can't go wrong with anything on the menu here.