Essential Knives for your Adventures
Ergonomic grips, stylish finishes, and reliable cuts are all here with these knives.
Heading out the door? Read this article on the new Outside+ app available now on iOS devices for members! Download the app.
Gear Aid Kotu Tonto Knife
Most durable knife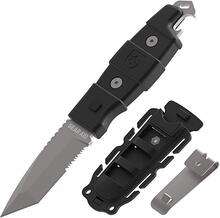 OUR TAKE 
This knife punches way above its price tag. It has a tapered tip that helps with making holes, a serrated edge, a glass breaker on the handle, and a bottle opener. Most budget knives are nickel-plated and don't last very long, but the titanium coating on this one has held up to six months of use. We used its 3-inch blade to cut kindling and never had an issue with durability. Find it here.
TRAIL CRED 
"I love the locking sheath," one tester says. "I tumbled down a hill in North Carolina's Smoky Mountains and lost just about everything in the yard sale except my knife." 
SOG PowerPint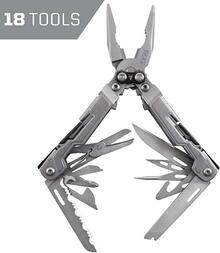 OUR TAKE 
Ounce for ounce, the PowerPint is one of the most useful tools we've tested. It stuffs 18 functions into a package that weighs less than this magazine, and pairs them with smart design: locking mechanisms for each individual tool and access to the file, can opener, screwdrivers, saw, and blades without opening the pliers. Testers also praised the PowerPint's strength. "I put a lot of pressure on the pliers while I was repairing a stove, but they held up," one reports. Buy it today.
TRAIL CRED 
"This tool has the smoothest action I've ever seen," one tester says. "While fashioning a hasty fishhook out of barbed wire, I was able to open, operate, and close the pliers with just one hand, while I held the rod with the other."
Kershaw Atmos 4307
Lightest knife

OUR TAKE When a knife this light hangs tough for a 2,650-mile thru-hike, it's a keeper. Our tester used the Atmos almost every day on the Pacific Crest Trail. Credit the locking mechanism, which uses a thin strip of steel riveted to the interior of the handle; it keeps the 3-inch blade stable when open, but without the bulk and weight of traditional liner construction. The handle, made with fiberglass, cloth, and carbon-fiber composite, also shaves weight while remaining tough and easy to handle. Get this here.
TRAIL CRED "The steel blade kept its edge for a long time before it needed sharpening," our thru-hiking tester says, "even after I used it to cut slits in my shoes to relieve hot spots."
Outdoor Element Firebiner
Best gadget
OUR TAKE 
Backpackers like carabiners. Backpackers love carabiners that make fire. The stainless-steel Firebiner will bring out your inner caveman: It has a built-in spark wheel with a 2,000-strike capability. It also has a flathead screwdriver and bottle opener, plus a safety blade in a notch that cuts through cord and fishing line. The biner isn't rated for climbing, but can easily support a full multiday pack. Buy it here.
TRAIL CRED 
"The Firebiner is basically foolproof, and it always throws a spark with the first spin," one tester says. "It's easier than most dedicated firestarters I've used."