Best Axes and Saws
Multi-tools come in all shapes and sizes, from pocketknives to, well, Transformers (if you believe in intergalactic shape-changing alien robots). It's great to have a one-tool-solves-all device handy on the trail and at camp, for quick repairs, jury-rigging shelter, and any other needs you have in the field. One excellent camping-themed combo we've seen is the axe-plus-saw, which lets you use one, single tool to collect and trim firewood, clear downed trees or branches from the trail or 4WD roads, and even do yardwork without having to keep going back to the toolshed for just the right implement. Plus, the weight savings of having to carry only one tool instead of two (or more) are notable in already laden packs.
Heading out the door? Read this article on the new Outside+ app available now on iOS devices for members! Download the app.
Best Axe-Saw Combo
Zippo Axe-Saw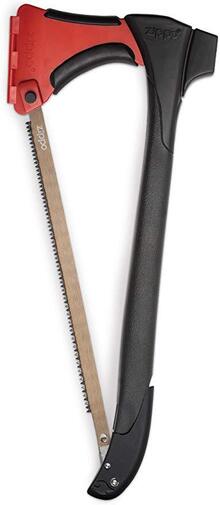 Zippo's AxeSaw is a stealthy rig that looks like your standard tree saw—until you realize two angles of the right triangle, in fact, form an 18-inch-handled axe. Once you get the hang of switching between tools, you can go from saw to axe, and then back, in a quick half-minute per changeover. The 15-inch, sharp-tined saw blade stores easily in the axe handle, while the axe blade itself is enclosed in a protective sheath that also doubles as a blade-insertion point, with a quick-release snap-down cam for tacking down the other side of the blade; you also get a tent-stake mallet on the back of the axe handle. You'll get a little rattle with the saw blade when it's stored in the handle while you're in axe/hammer mode, but overall the AxeSaw cut through thick limbs quickly, and the 5-inch 420 stainless-steel axe head has an effective edge for hatchet work. The AxeSaw also feels well balanced in each of the three modes. Buy here!
Most Portable
Off-Grid Tools Survival Axe Elite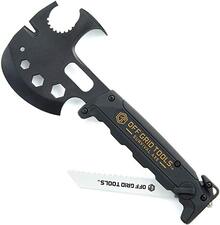 This unique combination tool, made in the USA, offers a hatchet, hammer/nail claw/pry bar, a 6-inch saw blade, 4 hex-bolt sockets (fitting 8 sizes), and a hardened-steel glass breaker and seat-belt cutter for car-entrapment emergencies. It's a portable, easily stowable size—11.5 inches long, and weighing 1.6 pounds—that fits just as well in your car as in your backpack, with key tools for any exigency in the outdoors or while road-tripping. Think of the Off Grid Survival Axe as a giant pocketknife for backpacking and travel: It does everything pretty dang well—and will do a lot of things. For around-camp use, quick repairs, cutting kindling, and emergencies, you won't be disappointed. Get it here!
Best Budget Axe-Saw
Yes4All Outdoor Camping Axe with Saw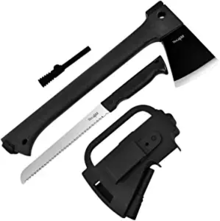 This affordably priced Yes4All Camping Axe with Saw is a solid bet for quick-and-simple, light- or medium-duty sawing and chopping jobs in the woods. The tool is built with fire-starting in mind—you get a 3-inch, 420 stainless-steel axe head, a 12-inch saw knife, and a molded carrying case/fire-starter combo. You won't be cutting up big logs with this or taking down large branches, but for gathering kindling and smaller sticks—or for times when you want to go light—Yes4All's combo-tool ticks all the right boxes. Find this here!