Zion National Park Considers Limiting Visitors, and Other Parks May Follow Suit
Faced with rising visitation and shrinking resources, the National Park Service is weighing the idea of requiring reservations at its most popular spots.
Heading out the door? Read this article on the new Outside+ app available now on iOS devices for members! Download the app.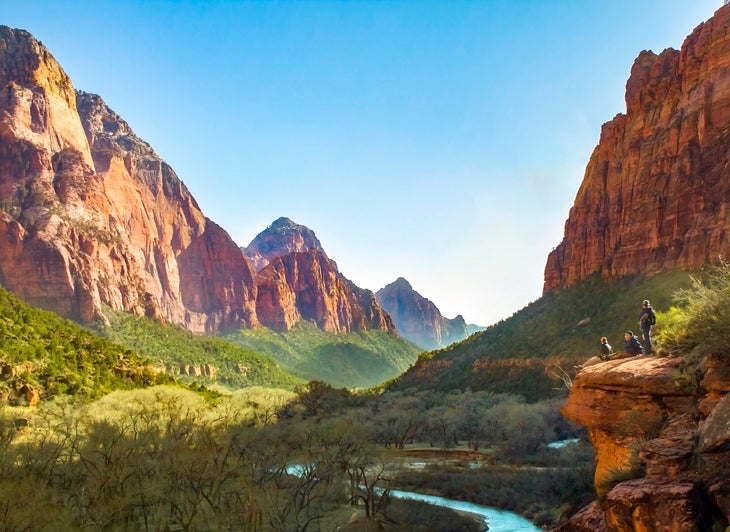 Zion National Park has a visitor problem. The canyon saw over 4.5 million tourists in 2017 and just doesn't have the resources to keep up with demand.
Now, due to increasing visitor usage, Zion is one of several U.S. National Parks considering implementing a reservation system to keep the crowds at bay.
According to John Marciano, Zion's public information officer, the park is in the process of developing a visitor management plan due to the unique challenges it faces. The park's most popular trailheads are all within the 6-mile corridor of Zion Canyon, and there's frequently a two-hour wait to get into the park. Emergency calls have multiplied, and the park says that increased congestion on park roads has increased response times. Traffic often spills out onto the roads of nearby Springdale.
"We want to find a balance between protecting the resource and maintaining a quality visitor experience," says Marciano.
Deciding what that balance looks like has been far from simple, requiring policymakers to weigh the interests of businesses, politicians, residents, and park staff. Public Employees for Environmental Responsibility, which represents U.S. park rangers and other land managers, has come out in favor of putting visitation limits in place across the NPS.
If the park implements a visitor reservation system, all visitors will need to secure reservations in order to enter the park, according to Marciano. In addition to an entrance reservation, it's possible that visitors will need to procure permits for popular hikes like Angel's Landing and the Narrows.
The explosive growth in national park visitation isn't showing any signs of slowing down. Since the 1950s, the biggest parks in the system have gone from hosting about 300,000 people a year to about 5,000,000. While a reservation system would ultimately deny access to public lands, advocates say it's necessary to preserve the visitor experience and protect environmentally sensitive areas. Human waste, which doesn't readily decompose in arid climates like Zion's, is a smelly problem and occasional health risk. In addition to the park's 69 miles of official paths, hikers have trampled 30 miles of social trails into Zion's delicate soil, killing vegetation in the process.
Zion may not be the only popular park to start requiring reservations soon. Muir Woods now requires all visitors to obtain a permit to park in the monument. A proposal to enforce a visitor cap at Arches National Park has pitted the park service against Utah Governor Gary Herbert, who argues that it could harm local economies. Meanwhile, other parks that are seeing the same type of growth, like Yosemite, Yellowstone, Glacier, and the Grand Canyon are watching Zion to determine how to manage their own visitors.
Visitors will have a chance to comment on Zion's preferred plan when officials finish drafting the proposed rules, which Marciano expects to happen soon. The park hopes to make a final decision this fall.