Why did the coyote take the subway?
Ask Mikel Uribetxeberria--this Spanish photographer gets wild with urban environments
Heading out the door? Read this article on the new Outside+ app available now on iOS devices for members! Download the app.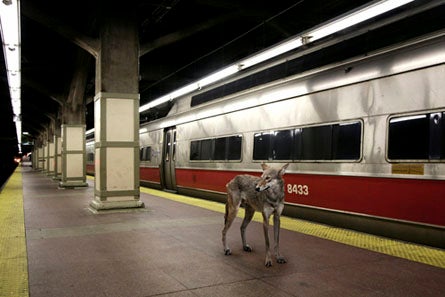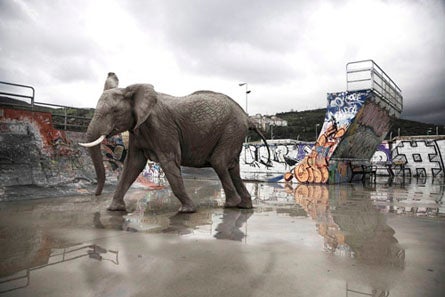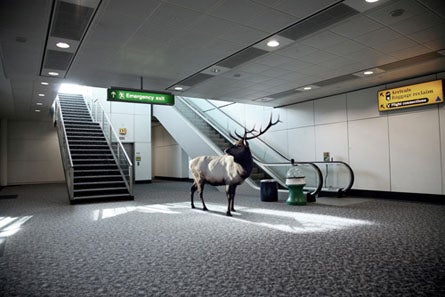 Everybody knows the answer to the age-old question 'why did the chicken cross the road,' but can you answer:
-Why did the fox check into a seedy motel room?
-What made the coyote miss his G-train to Brooklyn?
-How did the elephant get away with graffiti?
Before you let these wildlife brain-busters get your head in a tangle, just take a look at the work of photographer Mikel Uribetxeberria from the Basque country of Azkoitia, Spain. His new photo set, entitled "Animalia," takes all sorts of wildlife and places them in human and otherwise sterile, urban environments, like airports, subway terminals, and even laundry rooms. The photos remind us just how far our society is removed from the rest of the natural world, but it also reinforces the timeless beauty of our animal friends.
Uribettxeberria commented on his art process, as well as the quick response he's received, courtesy of the Internet.
"The Animalia series has been so successful, so fast. The images are made with two photos, one of the place, which is mine, and one of the animal, [which are] photos from Flickr," he said via e-mail.
We've posted some "Animalia" images below, but if you need more to satisfy your animal urges, visit ink to Uribettxeberria's site here. 
–Matt Draper