New Hampshire Hiker Sets Epic, 576-Summit Speed Record on White Mountains Grid
On July 7th, Philip Carcia set a new FKT for a punishing, obscure challenge: 48 peaks over 4,000 feet, summited every month of the year.
Heading out the door? Read this article on the new Outside+ app available now on iOS devices for members! Download the app.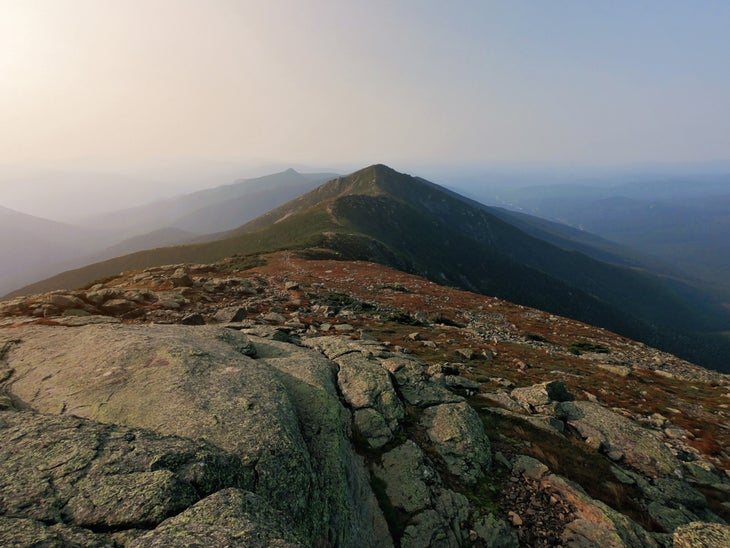 For the past 11 months or so, hiking has been Philip Carcia's full-time job. Well, hiking, driving to and from trailheads, and picking up hours at his actual job, scrubbing toilets and answering phones at a New Hampshire hiker's hostel.
Over 319 days, Carcia, 35, clocked an average of 40 to 80 miles and 20 to 30,000 feet of gain per week, plus 10 to 20 hours a week in the car, all on very little sleep. His journey culminated on July 7th, when Carcia set a new fastest known time on "the Grid" of the White Mountains.
The Grid is an obscure peakbagging challenge for the most hardcore New England hikers: top all 48 New Hampshire 4,000-footers in every month of the calendar year. There's no imposed time limit on an official Grid finish (the rules are laid out on the challenge's website, 48×12.com). Fewer than 100 hikers have completed it, and many have spread it out over a number of years. But for Carcia, simply hiking the Grid wasn't radical enough. So he took it a step further: all 48 peaks, every month of the year, within one year.
The so-called single-year Grid has seen one finisher before. In 2016, Vermonter Sue Johnston summitted her 576th and final 4,000-footer 11 months and 16 days after starting. Carcia completed his Grid about five weeks faster.
"I have a deep and profound love for these mountains, and I just got to the point where I wanted to step up and test myself, prove myself, and take part in something that I saw as cutting-edge," he says. "The single-year Grid offered everything I was looking for. It was the longest, most-continuous project I could find."
Carcia's year of hiking included repeats of accomplishments that would be life-list hiking achievements for many—10 single-day traverses of the Presidential Range (a 23-mile haul over some of New England's tallest peaks), and two White Mountain Direttissimas (summiting all 48 4,000-foot peaks in a single push; Carcia did so most recently in just under a week).
Growing up in Massachusetts, Carcia visited the White Mountains often as a teenager. He fell in love with their granite ridges and weathered historic trails. The summer after his father died, in 2015, Carcia drove north from his hometown and, living out of his truck, ticked off the 48 high peaks in three weeks. 
But the single-year Grid still posed challenges. Though smaller in stature than their western counterparts, the Whites have a reputation as an especially rugged and unforgiving range. Mt. Washington alone has claimed the lives of over 150 hikers over the past two centuries.
"In the Whites, the weather is so unpredictable, they've got a tumultuous mood. All bets are off up here," says Carcia.
Deaths in the Whites are not uncommon. Washington is often hailed as "home of the world's worst weather." Its unpredictability—paired with its popularity among amateur hikers from Boston and beyond—makes it dangerous territory. The winter after his three-week push to complete the 4,000-footers, Carcia returned to do them again in the snow, twice. He was ready to go for it.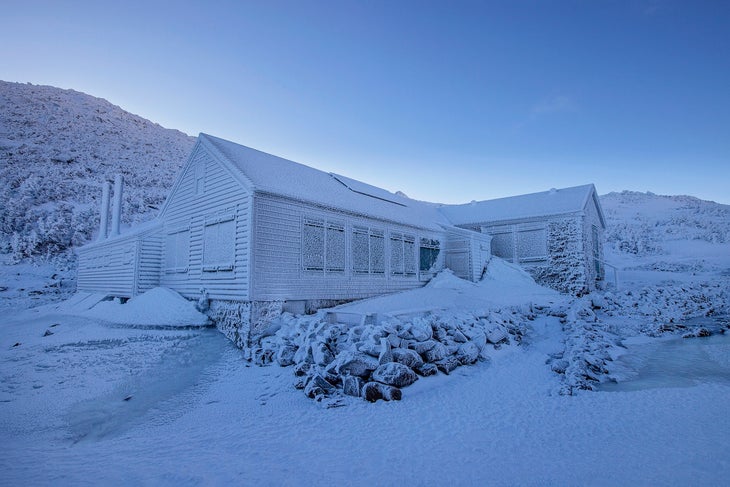 An AMC structure in the Presidential Range covered in snow. Courtesy of Philip Carcia.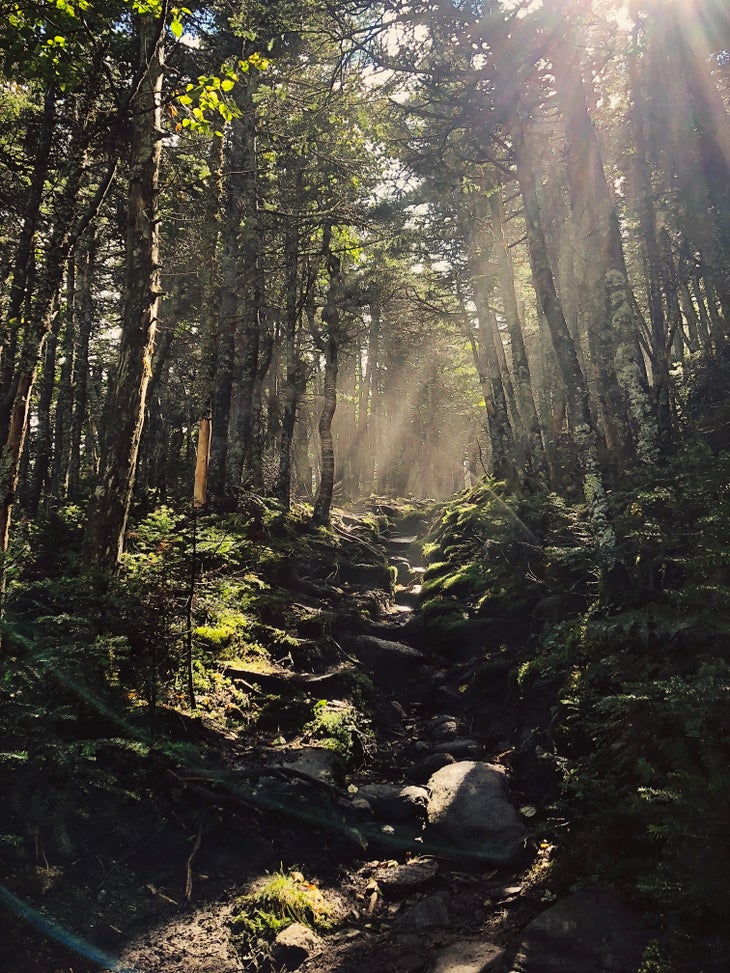 Misty trees on Mr. Moriah. Courtesy of Philip Carcia.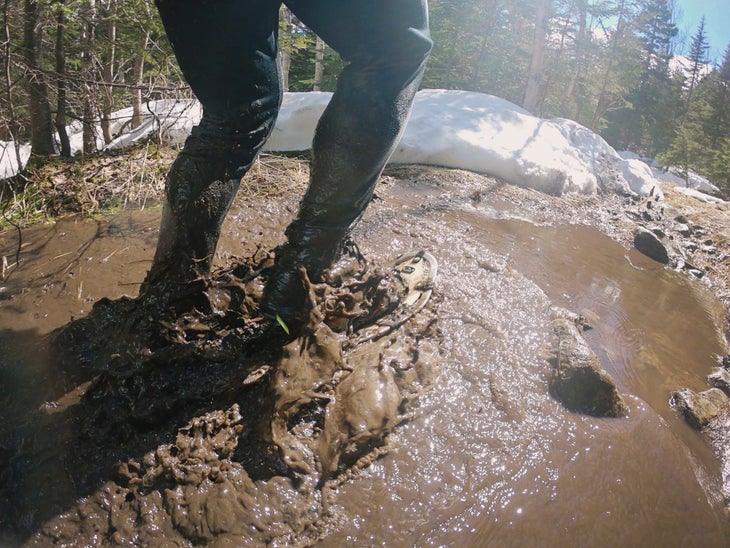 Springtime mud on Mt. Isolation. Courtesy of Philip Carcia.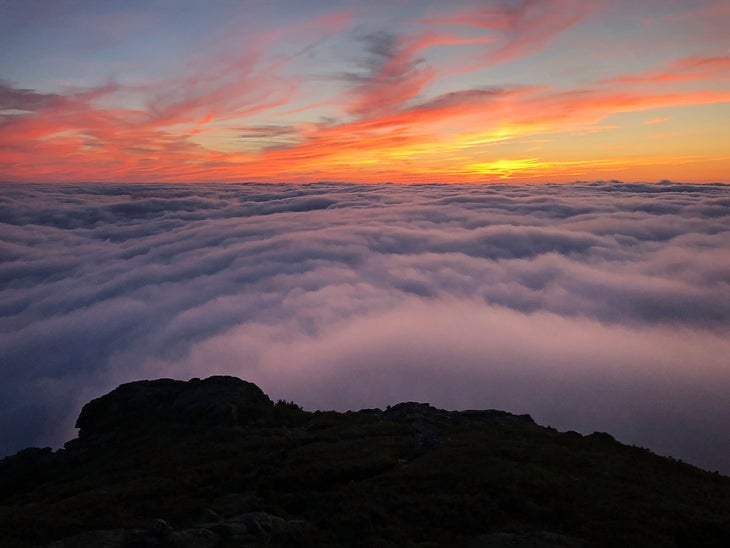 Sunset over the Great Gulf Wilderness. Courtesy of Philip Carcia.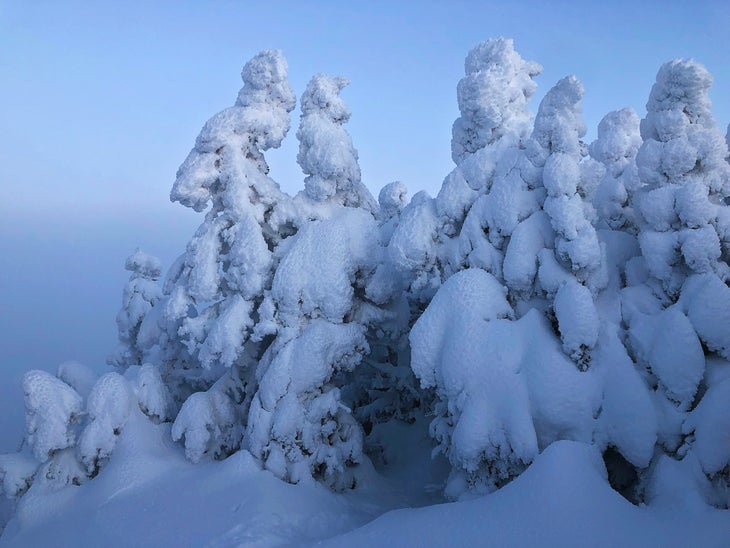 Summit snow on Mt. Cabot. Courtesy of Philip Carcia. 
Nap time on Franconia Ridge. Courtesy of Philip Carcia.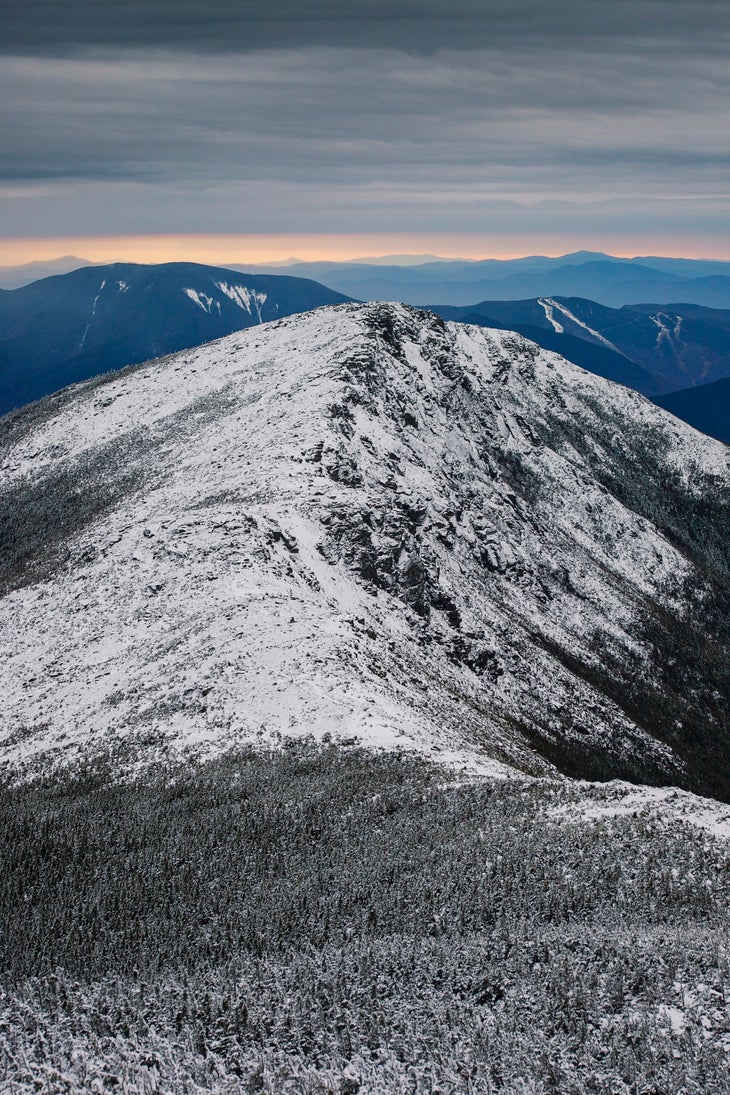 Bondcliff dusted with snow. Courtesy of Philip Carcia.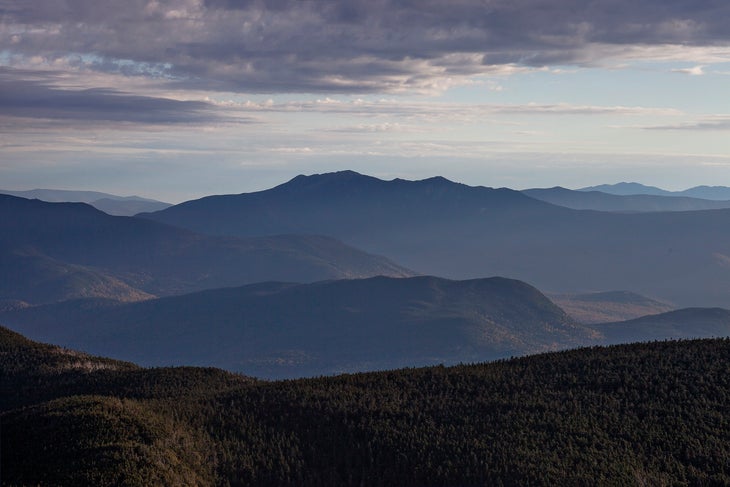 Views over Franconia. Courtesy of Philip Carcia.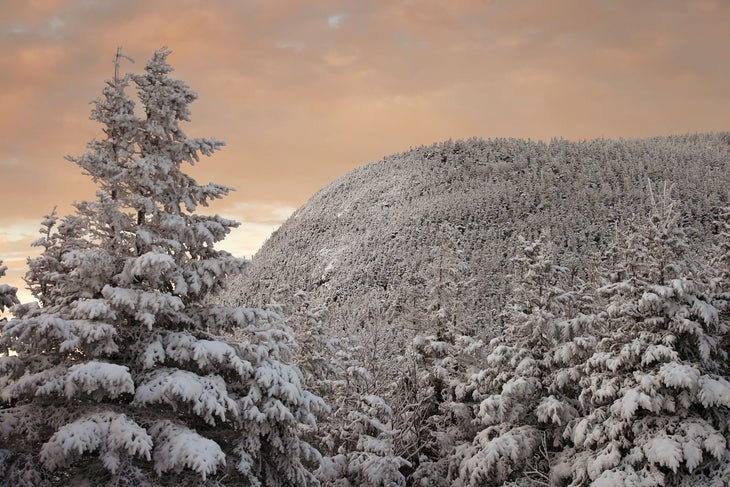 Mt. Galehead in winter. Courtesy of Philip Carcia.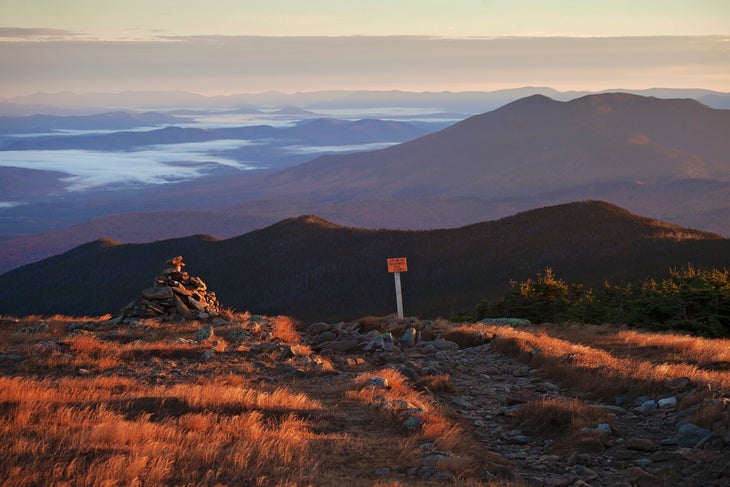 The summit of Mt. Moosilauke, the final peak of Carcia's single-year Grid. Courtesy of Philip Carcia.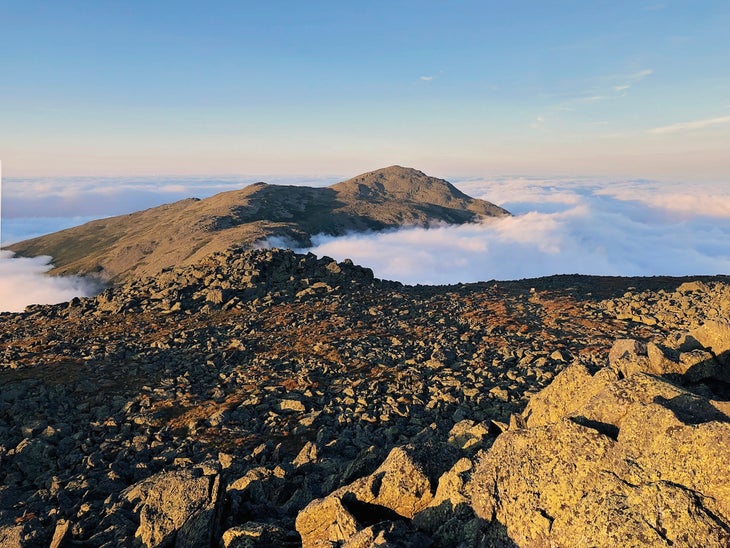 An undercast day in the White Mountains. Courtesy of Philip Carcia.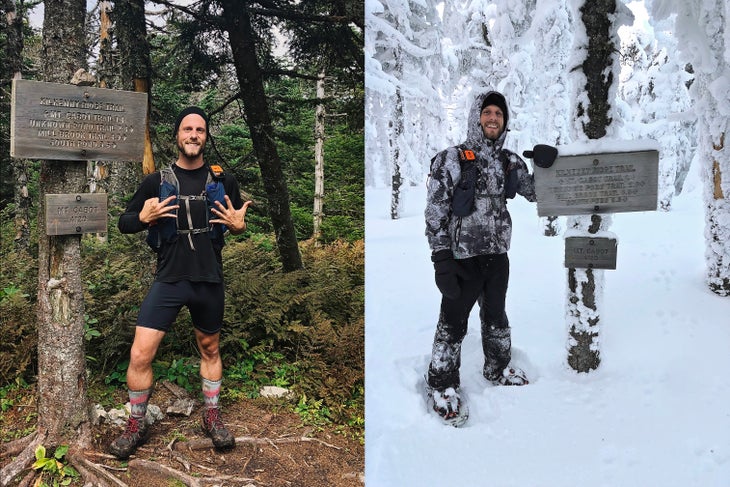 Carcia through the seasons. Courtesy of Philip Carcia. 
To complete such a series of hikes—and on a series of monthly deadlines—takes planning and a ferocious commitment to the project. Over the course of those 319 days, Carcia says, any semblance of a personal life went out the window. He began to think of the single-year Grid like less of a project, and more of a "life practice." He obsessed over weather forecasts and maps, and slapped together PB & Js at midnight before setting out on alpine starts hours later. Carcia had to prioritize big-ticket hikes early each month to ensure he didn't miss crucial weather windows. When he wasn't working at the hostel, he was climbing or resting and planning the next attack.
While isolating, Carcia says the Grid allowed him to get to know his beloved mountains on a truly intimate level. 
"They didn't feel like the same mountains every month for 12 months," he says. "They felt truly different." He saw each peak at its very best and very worst—from glorious bluebird falls days and through the frigid gray winter.
Carcia, who has thru-hiked both the AT and PCT, likened his Grid experience to that of a thru-hike, though he slept at home most nights. "It felt like one continuous, flowing journey," he said. And like any long journey, it had its ups and downs. "I celebrated and also loathed every peak on this list at some point."
There were days when he wasn't sure he would finish. One storm late in the month could throw the whole project off. Carcia operated on a tight budget, working hard to hold down a job, and dealing with copious amounts of snow throughout the winter. When the government shut down in December, he faced unplowed roads to trailheads. 
But in early July, Carcia embarked on his final push—a 6-day, 17-hour Direttissima that would land him on Mt. Moosilauke on his 319th day of hiking, becoming the first finisher of a sub-11 month Grid (Carcia also believes he is the first person to successfully complete the Direttissima twice).
"Life, it seems, has come full circle," he wrote on Instagram days after finishing. "To the countless people who believed in this project from the beginning, I bow to you in gratitude…I hope I was the kind of ambassador to these mountains that made you all proud."
Now, Carcia is slowly settling back into everyday life. In many ways, he says, the journey isn't over.
"It doesn't feel like life is the same," he says of finishing. "Life is a little bit newer and fresher."