White House Declares Bears Ears and Gold Butte National Monuments
Protects 1.65 million acres, including Native American archeological and sacred sites.
Heading out the door? Read this article on the new Outside+ app available now on iOS devices for members! Download the app.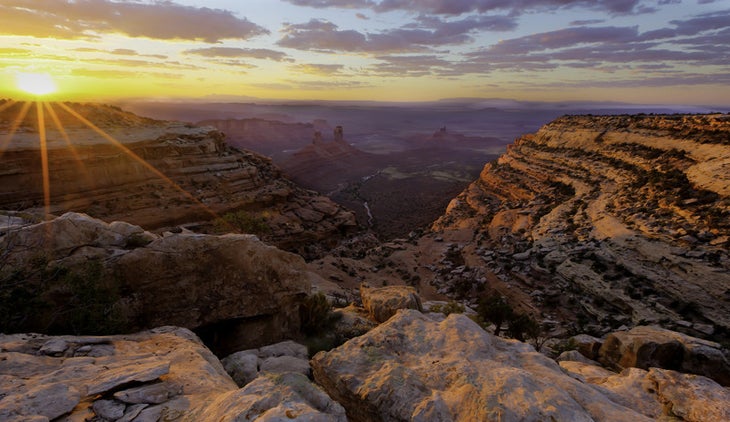 The White House declared two new national monuments in Utah and Nevada on Wednesday, setting aside 1.65 million acres of desert that includes landscapes sacred to several Native American groups, ancient rock art, and rare species' habitat.
In a statement, President Obama said that he was establishing Bears Ears and Gold Butte National Monuments "to protect some of our country's most important cultural treasures."
"Today's actions will help protect this cultural legacy and will ensure that future generations are able to enjoy and appreciate these scenic and historic landscapes," he wrote.
The bigger of the two monuments is Bears Ears, a 1.35-million-acre expanse of steep canyons and towering sandstone buttes in southeastern Utah. Proposed in 2015 by a coalition of five tribes—the Navajo, Hopi, Zuni, Ute Mountain Ute, and Uintah and Ouray Ute—Bears Ears features an estimated 250,000 archeological sites, including cliff dwellings, rock art, and burial grounds. Tribal groups will take an active role in administering the monument, with members serving on the newly-formed Bears Ears Commission.
In a statement posted on its Facebook page, the Navajo Nation Council praised the decision.
"This is a historic victory for tribes and this is an initiative that the Navajo Nation Council has supported through resolution, lobbying efforts, and numerous meetings that were held, and we are grateful that our voices were heard," said LoRenzo Bates, the Council's speaker.
Bears Ears is also home to Indian Creek, a climbing area widely considered to be one of the best in the world for practicing traditional climbing.
The smaller of the two monuments, Gold Butte, spans about 300,000 acres in southern Nevada that, in addition to archeological sites, are home to dinosaur tracks, and an abandoned boomtown from the early 1900s, as well as habitat occupied by the threatened Mojave desert tortoise.
While both monuments enjoyed wide support from Native American groups and conservationists, they weren't without opposition. In response to the campaign to name Bears Ears a national monument, Rep. Rob Bishop (R-UT) introduced a competing plan in July that would have protected parts of the area while opening others up to development; Congress adjourned without moving the proposal forward.
Gold Butte and the lands adjacent to it were at the center of the standoff between rancher Cliven Bundy and federal agents in 2014. The Bureau of Land Management stopped patrolling the area for more than a year afterward, and scientists under contract with the agency halted their field research after reporting shots fired at them.