White House Orders Review of National Monuments
Executive order could be first step to undoing protections for Bears Ears, other sites.
Heading out the door? Read this article on the new Outside+ app available now on iOS devices for members! Download the app.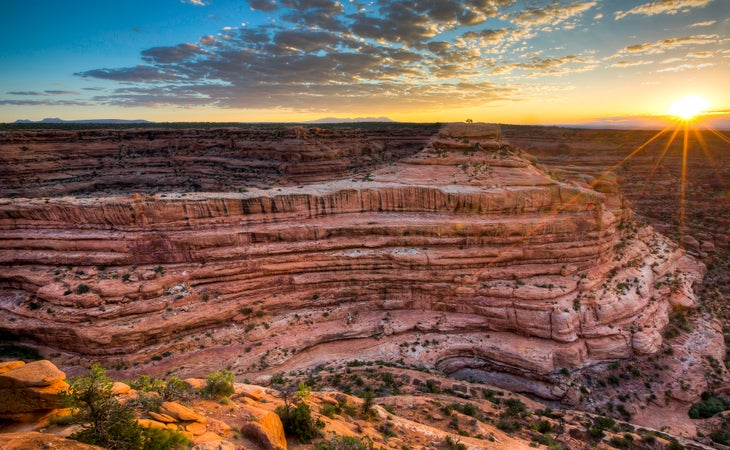 The White House has directed the Department of the Interior to review 20 years of national monument designations and the law used to create them, in what could be the first step of a campaign to undo protections for Bears Ears National Monument and other sites.
In an executive order issued on Wednesday, President Donald Trump charged Secretary of the Interior Ryan Zinke with reviewing and proposing changes to the 1906 Antiquities Act, which gives the president the authority to create national monuments without Congress's approval. Supporters of the administration's actions argue that Obama-era executive overreach has resulted in lost jobs and hurt regional economies.
At a joint press conference, Trump and Zinke asserted that the order is an effort to curb federal overreach and include local communities in the decision making process.
"We feel that the public, the people that monuments affect, should be considered, and that is why the president is asking for a review of the monuments designated in the last 20 years," Zinke said.
At the heart of the controversy is Bear Ears National Monument, the 1.3-million acre Utah site that President Obama designated in December. The move was lauded by conservationists and the Native American coalition that pushed for the designation, but roundly criticized by Republicans and industry representatives, including oil and mining companies eager to access the rich natural resources located near Bear Ears.
Other sites that could potentially be impacted include Grand Canyon-Parashant National Monument, Grand Staircase-Escalante National Monument, Sand to Snow National Monument, and Bain and Range National Monument.
Reaction from conservation groups, outdoor retailers and Native American groups has been swift. Patagonia president Rose Marcario said in a statement that the order "is an assault on America's most treasured lands an oceans."
"We take this as a sign that Trump and his team prefer to cater to fossil fuel interests and local land grabs for unsustainable development rather than preserve a vital part of our nation's heritage for future generations by protecting federal lands owned by every citizen," she said.
The review, which will focus only on monuments of 100,000 or more acres, will not itself strip any monuments of their designations, but it opens the door for the administration to do so at a later date.
Zinke's report – which will determine the administration's next move – is due to the White House within 120 days.
Whether the president has the authority to revoke a national monument designation is a point of contention between legal scholars. No chief executive has attempted to do so since 1938, when President Franklin Delano Roosevelt considered abolishing Castle Pinckney National Monument; he abandoned the effort after his attorney general advised him that the law didn't allow it. The monument would go on to be undone by an act of Congress in 1951.