Trip Report: Weekend of Epic Fail
Reflections on the upside of grudge match hiking
Heading out the door? Read this article on the new Outside+ app available now on iOS devices for members! Download the app.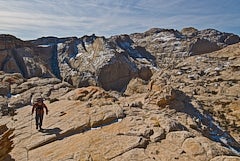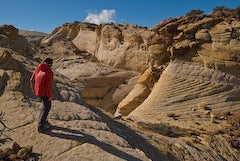 I've got a confession to make: When I go out hiking, a lot of the time I don't get where I'm going. That was definitely the theme last Weekend as I continued Project Backyard, my self-assigned mission to suss out cool wilderness routes ecologically close to my Torrey, Utah home.
On Friday I headed up to Boulder Mountain loaded for a three-day ski trek atop this 11,000-foot plateau. But a big storm moved in and I didn't feel like spacewalking in a ground blizzard for 48 hours, so I bailed back to trailhead after dusk. Tally: One well-loaded day hike.
The next morning I repacked, bid adieu to Mistress Betty after some Valentining, and headed into Capitol Reef with an overnight load to redeem machissimo points by testing myself in tougher but warmer country. It seemed like a sure thing too – a simple 2-mile scramble crossing from Pleasant Creek into the slot canyon of Burro Wash and hopefully beyond. Stroll in the park, literally.
I did not prevail in that either. Double "L" on forehead. In fact, I did an overnight on Saturday and Sunday, then went back for a day hike on Monday, and still didn't pull it off. In the end, gnashing my teeth mightily, I turned around about 200 feet from the pass, the divide, the other side of the mountain, the view into El Dorado, thanks to snow-covered slickrock slabs that would be cake in dry weather. So: Wilderness 3, Howe 0.
Adding stoutness to what should have been a trivial 4-mile round-trip was the warm weather, which flooded Pleasant Creek thigh-deep, chocolate water running atop hard-frozen ice sheets. This was a particularly rude Monday surprise because the creek had been casual all weekend, and I figured I had this golf-course jaunt all sewed up. But it took forever to find crossings, and that meant I faced the slippery final slabs just before dusk. Hence I bailed, and fortunately, water levels were dropping by the time I headlamped it back downcanyon to my truck.
So this section of my Waterpocket Fold route just turned into a grudge match. But that's a good thing, because memorable treks often require layer upon layer of mistake. I'm not talking about the 'Golden Sieve of Memory' here, that phenomenon where you remember the romantic adventure of an epic while utterly forgetting the abject pain, fear and misery that made it such a trial at the time. No, grudge match hikes are good because, as you stack up the errors, check off all the possible link-ups and push ever further on repeat trips, you end up in outrageous place you'd never see otherwise.
And indeed, I found a ton of secret little Shangri Las. Sure it can get frustrating, like being a lab rat in a maze, but at least there are consolation prizes at all the dead ends.
I got no shortage of consolation prizes this weekend. For a peek into the uglier side of map scouting, check out the embedded e-Quad. Just hover over the waypoints for a brief description.

All this produced a whopping 1.5 miles of additional route. But that's OK, failure can be fun too.
Hike safe. — Steve Howe