TRIP DOCTOR: How Do I Plan My First Glacier National Park Backpacking Trip?
Always wanted to go to Glacier? Our resident trip planning expert shows you how.
Heading out the door? Read this article on the new Outside+ app available now on iOS devices for members! Download the app.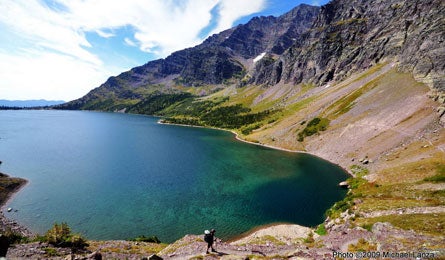 I want to backpack in Glacier National Park for the first time but I'm a little intimidated by the place…and the grizzlies. What do I need to know and where should I go?

—Shannon, Columbus, OH
Great choice. BACKPACKER readers consistently rank Glacier as one of their favorite backpacking destinations (it has repeatedly comes in first) because of amazing scenery and the likelihood of seeing lots of mega-fauna: mountain goats, bighorn sheep, moose, and maybe even black and grizzly bears. Backpacking there does pose some challenges, but nothing beyond the abilities of anyone with some experience. For starters…


Lake Ellen Wilson, on the Gunsight Pass Trail in Glacier.
WHERE TO GO:
For scenery, wildlife, and fewer people, I'd suggest the first backpacking trip I ever did in Glacier, in the less-visited northwest corner of the park, where you'll hike 36.5 miles from Bowman Lake to Kintla Lake via Brown Pass and Boulder Pass (download the GPS Track right here and see a map below). You'll almost certainly see mountain goats, and possibly bighorn sheep and bears, plus moose in the forest along the two big lakes. Boulder Pass is a beautiful campground, and 8,528-foot Boulder Peak is a non-technical off-trail hike (maybe two hours round-trip from camp) to a summit with a sweeping panorama of Glacier's mountains and the Canadian Rockies. If you don't have a second vehicle for the shuttle between trailheads, bring a mountain bike; it's a short, mostly downhill ride from Kintla to Bowman.


Want something easier? Hike the Gunsight Pass Trail
(download the GPS track right here
and see a map below) from Jackson Glacier Overlook to Lake McDonald Lodge; both trailheads are on the Going-to-the-Sun Road, so the park's free shuttle bus covers your trailhead transportation. Spend a night at Lake Ellen Wilson (see photo above), one of the most gorgeous backcountry campgrounds in the park.
If you're looking for another option along the Gunsight Pass Trail, definitely make the seven-mile, round-trip, out-and-back side-hike to Sperry Glacier, which you'd do from Sperry Campground to avoid having to carry your full backpack.
BEARS:
The truth is, you're unlikely to see a bear when you're hiking because they typically sense you first and get gone. (More likely: seeing a bear while driving, because you catch them by surprise.) You'll probably see some impressively large paw prints and piles of berry-filled poop, though.
Lucky for you, the park manages visitors so well that bear encounters that go badly are extremely rare. When you pick up your backcountry permit, you'll have to watch a short video on how to hike and camp in bear country—urging precautions such as never bringing food into your tent, leaving a pack unattended, or hiking alone or after dark. All backcountry campgrounds in Glacier have separate areas for preparing and eating meals, storing food, and tenting, making it easy to follow smart practices.
I carry pepper spray where I can get at it quickly, usually clipped to my pack's hipbelt. Make sure you know how to discharge it in a pinch. In my personal opinion, wearing a bell is almost pointless and an indicator of a newbie hiker; bears will smell you long before they'd hear that silly little tinkling sound.
If you see a griz at a distance, make noises to let it know you're there, and wait until it leaves the area before proceeding—loudly. In a close encounter, cluster your group together to appear large and don't run, just back away slowly. In areas of limited visibility, like the forest, or places bears frequent, like huckleberry patches, make noise and be aware of your surroundings.

GEAR: WHAT TO BRING
Your usual backpacking gear is fine in Glacier. But if you go after mid-August, make sure your tent's sturdy enough for a load of new, wet snow, and pack a warm puffy jacket, and gaiters for wet ground and vegetation.
Enjoy it. I'd say you'll have the trip of a lifetime, except that I think it won't be your last visit to Glacier.
—MICHAEL LANZA
Got a Question for the Trip Doctor? Drop him a line at tripdoctor@backpacker.com.
Michael Lanza is Backpacker's Northwest Editor. He's working on a book, "Before They're Gone," about spending a year taking his kids to national parks threatened by climate change. It will be published in spring 2012 by Beacon Press (beacon.org). michaellanza.com/