TRIP DOCTOR: How Do I Plan a Family Backpacking Trip to the Grand Canyon?
Our resident trip planning expert drops some beta on planning the perfect Big Ditch vacation for you and your family.
Heading out the door? Read this article on the new Outside+ app available now on iOS devices for members! Download the app.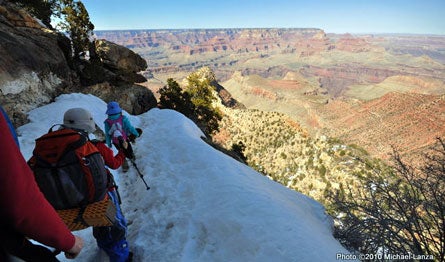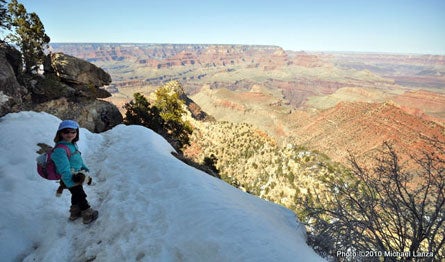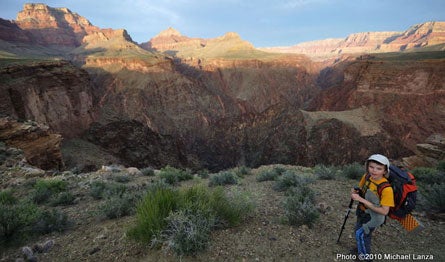 Welcome to the inaugural Trip Doctor blog, in which I'll answer your questions about how to pull off any outdoor trip. My name is Michael Lanza and as a field editor for BACKPACKER, I've hiked, climbed, backcountry skied, and paddled for years around much of the U.S. and far-flung parts of the world (Iceland, Patagonia, and New Zealand, to name a few). If there's a place you want to see, odds are, I've been there or it's on my tick list, so I've done most of your planning for you. If you have a question about a place you'd like to go, I'd love to hear from you. So, let's get started.



How do I plan a family-backpacking trip in the Grand Canyon? How hard will it be, how much water should we carry, and where and when should we go?

–Anthony, Boulder, CO
Alex Lanza, 7 (in front), and Nate Lanza, 9, lead their mother down the Grandview Trail.


As it happens, I just backpacked 28 miles over four days from Grandview Point to the South Kaibab Trailhead (both on the South Rim) in late March with my wife and our son and daughter, ages nine and seven. It was a wonderful trip for a family and we all had a great time.
WHEN TO GO:

One key to planning the perfect Grand Canyon trip is timing. The ideal windows to hit the canyon are either mid-spring, April into early May, or early fall, late September through October.
A mid-Spring hike offers one HUGE advantage: Creeks are flowing so, for adults, you'll have to carry less water each day, and for young kids like mine, there's endless fun keeping cool, building dams, and soaking parents.
Autumn temps are also ideal, but some creeks that flow in spring dry up by fall, so you'll have to carry a lot more water—you'll need a gallon per person per day in the Grand Canyon—which may not be feasible with kids.
We went in March because it was our kids' spring break, and enjoyed comfortable, shorts-and-T-shirts temps once down on the Tonto Plateau, 3,000 feet below the rim. But mid- to late April may have been better this year, because the canyon had a high-snowfall winter. (Snowfall varies greatly year to year, so check on that.)
Winter often brings heavy snowfall on the rims; only fit, experienced winter campers equipped with traction devices (see below) head into the canyon then.
And forget summer: inner-canyon temps often top 100° F.
Alex Lanza, 7, on the snow-covered the Grandview Trail in late March.


WHERE TO GO

Any hike in the Big Ditch is gorgeous. Deciding where to go comes down to what you're up for tackling, because overnight hikes range from moderately, to very hard, with big relief—nearly a vertical mile from rim to river.
That said, the "easiest" loop is going down the South Kaibab Trail to Bright Angel Campground on the Colorado River (seven miles and 4,780 feet downhill), then returning via the Bright Angel Trail (9.6 miles and 4,380 feet back to the rim). Spend night two at Indian Garden to break up the climb out of the canyon.
Even easier: Hike the Bright Angel Trail 9.8 miles out-and-back to Indian Garden, spending a night there.
If you want to take it up a notch, the hike my family and I did, and the comparable hike from Hermit Trailhead to Bright Angel Trailhead via the Tonto Trail (which I've done), are good choices for families with backpacking and desert experience and good stamina.
Both have rougher stretches and few water sources; our kids did one 10.5-mile day to reach our next water source, and I left our last flowing creek carrying 13 liters (27.5 pounds) of water in my pack. (My wife and I had 3L bladders and a liter bottle each, plus I brought a 10L dromedary, which I filled for our last day.)
All of the hikes I describe above are popular, so permits go fast. Apply for one on the first of the month, four months prior to your dates (see nps.gov/grca/planyourvisit/backcountry-permit.htm).
Nate Lanza, 9, on the Tonto East Trail above the inner gorge of the Grand Canyon.

GEAR: WHAT TO BRING
In late March, the Grandview Trail's upper mile or so was snow- and ice-covered—and "treacherous," as a ranger at the backcountry desk had warned us, so some type of traction device is absolutely necessary in those conditions.
I used Kahtoola Microspikes (kahtoola.com/microspike), which were perfect. I had an old pair of Stubai in-step crampons small enough for my son's boots, but not for my daughter's. I led each of them by the hand, one at a time, across a few narrow, exposed sections until we got below the snow. Don't hike the Grandview Trail in snow and ice unless you're comfortable with exposure—for yourself and your kids.
Going a few weeks later might avoid snow on the rim. But by mid- to late May, the inner canyon can be very hot, in the 80s and 90s in the afternoons. For this weather, check out our hot weather gear checklist.
Even in spring and fall, prepare for heat and constant sun exposure in this almost shadeless environment. Wear wide-brim hats and sunblock and drink frequently. Eat salty foods to replenish sodium levels that are rapidly depleted when hiking in the desert.
Have a great time. The Grand Canyon is one of those must-do hikes for any backpacker, and an exceptional adventure for kids.
—MICHAEL LANZA
Got a Question for the Trip Doctor? Drop him a line at tripdoctor@backpacker.com.
Michael Lanza is Backpacker's Northwest Editor. He's working on a book, "Before They're Gone," about spending a year taking his kids to national parks threatened by climate change. It will be published in spring 2012 by Beacon Press (beacon.org). michaellanza.com/