Trail Runner Kills Mountain Lion With Bare Hands After it Attacks Him
Colorado Department of Parks and Wildlife confirmed the man's story in a tweet.
Heading out the door? Read this article on the new Outside+ app available now on iOS devices for members! Download the app.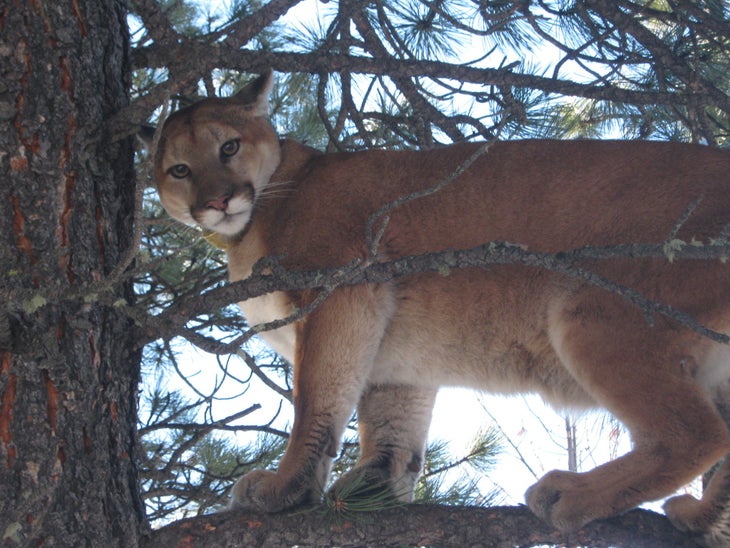 Update: The trail runner who killed a mountain lion with his bare hands has come forward. At a press conference, Travis Kaufmann, 31, described his experience. "I ended up hearing some pine needles rustle, a stick break, and I turned around and was pretty bummed out to see a mountain lion chasing after me," Kaufmann said. The mountain lion locked onto his hand and wrist and began to claw him across the face and neck. Kaufmann went on to recount how he wrestled with the cat and tried hitting it with a rock before finally managing to get a foot on its neck and strangle it until it let go.
See him describe the encounter below in a video from Denver's CBS affiliate.
Original post: A Colorado runner killed a mountain lion in self-defense and hiked to safety after the animal attacked him on a trail near Fort Collins, the Colorado Department of Parks and Wildlife confirmed on Monday.
In a press release, the department said the man, whose identity has not been released, was running on the West Ridge Trail in Horsetooth Mountain Open Space when the encounter occurred.
"The victim of the attack described hearing something behind him on the trail and was attacked by a mountain lion as he turned around to investigate," the agency said. "The lion lunged at the runner, biting his face and wrist. He was able to fight and break free from the lion, killing the lion in self-defense. The runner sustained serious, but non-life threatening injuries as a result of the attack."
Shortly after the attack, rangers searching the trail found the body of a juvenile mountain lion, near a pile of the man's possessions that he had told them to look out for.
After examining the animal's body, the department tweeted it had "confirmed the victim's account that he was able to suffocate the animal while defending himself from the attack."
According to the Denver Post, the man, said to be in his 30s, survived by hitting the cat with a rock and then choking it to death.
The Larimer County Department of Natural Resources, which manages Horsetooth Mountain, said on Tuesday that it would temporarily close the area out of "an abundance of caution" after briefly reopening it on Monday evening. 
"The safety of our visitors is paramount," Ken Brink Jr., the county's visitor services manager, said in a statement. "We'll reopen Horsetooth Mountain when we've had more time to assess mountain lion activity in the area with our partners at CPW."
Horsetooth Mountain Open Space covers 2,711 acres minutes from downtown Fort Collins, and its 29 miles of trail are popular with both visitors, who come to summit the eponymous mountain, and local runners and hikers.
Adult mountain lions can grow up to eight feet long and weigh 150 pounds. People who have suffered an attack from one have said it "feels something like getting hit by a bus." (As a juvenile, the animal involved in Monday's incident was likely half that size or smaller.)
If you're hiking or running in mountain lion country, take appropriate precautions:
Don't go alone. The vast majority of attacks are on solo hikers, as cougars are skittish and tend to avoid groups.
If you encounter a mountain lion, don't run. Stand your ground and attempt to make yourself look as big as possible.
Shout and make eye contact to scare the mountain lion off.
If attacked, try to stay on your feet. Fight back with whatever you can reach without bending over or turning your back. People have successfully fended off mountain lions with jackets, rocks, sticks, water bottles, and their fists.