Trail Chef: Greek Beef With Lemon Couscous
Take Mediterranean taste on the trail with this reader recipe
Heading out the door? Read this article on the new Outside+ app available now on iOS devices for members! Download the app.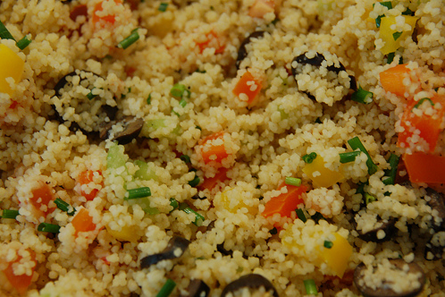 Certain ethnic foods are tailor-made for backcountry adaptation, especially if they include noodles or rice as a staple. Others, like Greek food, can be tough to replicate successfully in the wild. But let's face it, even the most delicious noodles and rice dishes get boring after a while.
Hankering for a taste of the Parthenon but don't know how to get it outdoors? BACKPACKER Forum user GrinchNH has the solution for you with this Greek Beef With Lemon Couscous recipe. You'll need a dehydrator to prep at home, but it'll be worth it. Opa!
Greek Beef

1 C. Bread Crumbs

1/4 C. Whole Milk

1/4 C. Feta Cheese Crumbled

1/4 C. Fresh Parsley Minced

2 T. Scallions

2 t. Oregano

1 Egg Slightly Beaten

1 T. Minced Garlic

1/4 t. Red Pepper Flakes

1/2 C. Kalamata Olives, sliced

1 Pound Lean Ground Beef or Ground Chuck

Take all ingredients except the garlic, red pepper, olives and beef and mix well into a bowl. Add beef and thoroughly mix together. In a large fry pan use a tablespoon or two of Olive Oil and heat to medium high. When heated, saute' olives, pepper and Garlic for two minutes then add beef mixtures. Cook beef thoroughly, drain and dry in dehydrator at 120 until complete. (Time depends on your model of dehydrator) A low temp slow dry works better for this mixture due to the Feta cheese. Pack in freezerbag and rehydrate with boiling water. Generally just enough to cover the beef works, but you may need slightly more. We've found that 15 minutes in a FB cozy is usually enough.Lemon Couscous

3/4 C. Dry Plain CousCous

3/4 C. Chicken Broth (one bouillon cube and 3/4 c water)

1 T. Olive Oil

1/4 C. Water and 6 Tru Lemon packets OR 1/4 Cup Lemon Juice Package Couscous in a freezerbag. Bring other ingredients to a boil, then add to Couscous in a cozy – Couscous only takes 5 minutes. Mix the beef and couscous together for a good meal. In addition, if you feel up to carrying the additional ingredients, top it with this sauce:Feta Yogurt Sauce

1/4 C. Feta Cheese crumbled

1/4 C/ Plain Yogurt (may be able to use yogurt powder)

2 T. Lemon Juice (can use 2 Tru Lemon packets)

1/4 t. Black Pepper
Just mix together the ingredients and pour over meat and Couscous
Thanks, GrinchNH, for another amazing recipe. Who's going to try it this weekend? Tell us about it in the comments section below.



Image Credit: ralpe