Trail Chef: Genny's Johnnycakes
Photo editor Genny Fullerton schools you on camp pancakes.
Heading out the door? Read this article on the new Outside+ app available now on iOS devices for members! Download the app.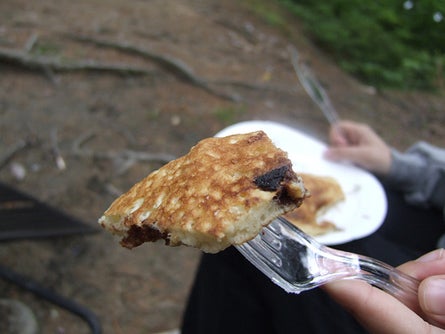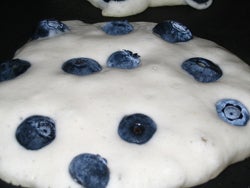 Genny Fullerton, our senior associate photo editor, knows pancakes. And not only is she a master of the whats (you know, flour, sugar, raspberries), she'll also tell you just how to pull it off, from packing to clean-up. When I asked Genny to contribute to Trail Chef's occasional series on editors' favorite recipes, not only did she give me a top-shelf pancake recipe, she also annotated it with her hard-earned advice.

Think you know pancakes? I'll bet you a bottle of maple syrup that Genny can teach you a thing or two.



Genny's Johnnycakes

Makes 12 cakes.



1/2 cup self-rising white cornmeal

1/2 cup whole-wheat flour

1/2 cup all-purpose flour

3 tablespoons cultured buttermilk powder

1/2 cup chopped pecans and walnuts

1/2 cup plus 1/2 teaspoon sugar

1 teaspoon baking powder

2 tablespoons butter (1)

1 egg

1/2 cup water

Strawberries, blueberries, and/or raspberries (2)

Syrup
At home

Chop the nuts. Pack all the dry ingredients mixed together (3). Freeze butter in a zip-top bag (4). Pack the egg, along with two paper towels, inside the walnut container (5) (6).

In camp

Mix the dry ingredients with the water and egg. Melt 1 Tbsp of butter in the pan on low and use it to grease the pan. Pour the remaining butter into your batter (7). Stir batter, being careful not to overstir. Pour batter onto frying pan over medium heat. If you're mixing berries into the pancakes, place them on top of the uncooked cake. Flip when bubbles come to the surface of the pancake (8). Cook until both sides are golden brown. Add more butter (9) to the pan for each new pancake. Top with berries, more butter, and syrup (10).
Footnotes

(1) Or more, depending on how much you like on your pancakes.

(2) Make your friends bring these.

(3) I pack them in a small mixing bowl with Glad Press 'n Seal down at the level of the ingredients, holding them securely down there. Then I pack the rest of the ingredients on top of the Press 'n Seal in the bowl.

(4) I put everything in the freezer the night before, so I won't forget the butter. It's okay to freeze flour and nuts.

(5) The walnut canister is perfectly sized to protect the egg, especially when padded. Can't find a walnut canister? Use a baking powder canister—same deal. Use the paper towels as napkins or for clean-up.

(6) After breakfast, the canister makes a great waste container for trash, especially because eggshells can break through plastic bags and cause leaks.

(7) Let's hope you still have 1 tablespoon left.

(8) The bottom should be golden brown by then. If it's black, your heat is too high. If it's pale, heat is too low.

(9) Yeah, you'd better bring extra butter after all (see note 1).

(10) Also delicious for lunch, topped with peanut butter.
—Elisabeth Kwak-Hefferan
Photo credits: Mike Burns (top) (11); Amy the Nurse(12)
(11) Yes, the pancakes in the top photo technically feature chocolate chips, not blueberries. But they sure LOOK like blueberries, don't they?

(12) Okay, purists: THESE are truly blueberries.