Trail Chef: Five Excellent Egg Dishes
Pack 'em fresh or pack 'em powdered, then pick one of our favorite egg recipes for this weekend
Heading out the door? Read this article on the new Outside+ app available now on iOS devices for members! Download the app.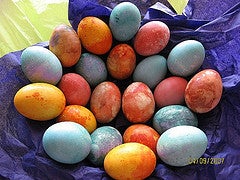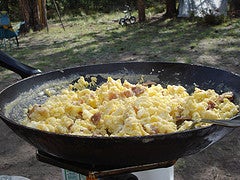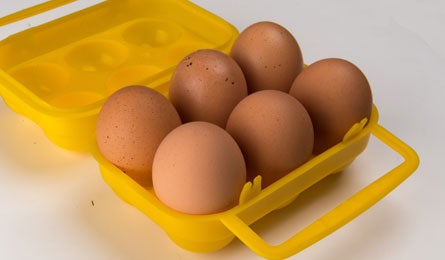 Protect eggs with a sturdy purpose-built case. (A Bydlon)
Still dealing with a basketful of eggs leftover from Easter? (Luckily, I don't have that problem. All the eggs I got from the Easter Bunny—who miraculously made it through a blizzard in Colorado's Sangre de Cristo Mountains to deliver holiday treats—were of the chocolate variety, and as such, are loooong gone.) But if you've got extra pastel-hued eggs lying around, we've got the perfect solution: Take 'em into the backcountry with you this weekend with one of our favorite egg recipes for the trail. (Keep the hike in mess-free by cracking eggs into a Lexan bottle and freezing it—and watch for more egg tips in our upcoming June issue.)
Herb-Scrambled Eggs

Serves 1.Adapted from The Well-Fed Backpacker, by June Fleming
2 eggs

1/2 cup jerky, torn into small pieces

Dried parsley, marjoram, basil, and thyme, to taste

1 English muffin or pita
1. Beat eggs in a bowl; add jerky and spices.

2. Scramble mixture in a lightly oiled pan. Spoon into pita or English muffin and enjoy!
Sierra Scrambled Eggs

Serves 2. Adapted from Lipsmackin' Backpackin', by Tim and Christine Conners



5 eggs

1/4 teaspoon pepper

2 tablespoons dried bell pepper

1 tablespoon dried onion

4 teaspoons powdered buttermilk

1 teaspoon garlic powder

1 tablespoon oil
1. At home, pack all dried ingredients in a zip-top bag; transfer oil to a spill-proof container.

2. In camp, beat eggs in a bowl; add dried ingredients.

3. Oil pan, then scramble egg mixture. Enjoy!
Pan-Fried Noodles

Serves 4. Adapted from Backpack Gourmet, by Linda Frederick Yaffe
1 pound buckwheat or whole-wheat spaghetti

2 tablespoons sesame oil

1 onion, minced

1 carrot, grated

3 cloves garlic, minced

2 tablespoons tamari soy sauce

1/2 cup finely chopped cashews

6 eggs

1 teaspoon salt

1/2 teaspoon crushed red pepper flakes
1. At home, cook spaghetti and drain.

2. Heat oil in a Dutch oven over medium heat. Add onion, carrot, and garlic and cook for 5 minutes.

3. Add pasta and cook 5 more minutes, stirring, until pasta is browned.

4. Stir in soy sauce and cashews. Cook 1 minute.

5. Beat eggs. Add eggs, salt, and red pepper flakes; cook 5 minutes, or until eggs are set.

6. Spread mixture on dehydrator trays; dehydrate 4 hours on 145 degrees. Pack in zip-top bags.

7. In camp, place noodles in pot. Pour water in until food is just covered. Heat to a boil, stir, and enjoy.
Sausage and Potato Breakfast

Serves 3 to 4. Adapted from A Fork in the Trail, by Laurie Ann March
1/2 cup Italian sausage, chopped

1 package instant mashed cheese potatoes

1/2 teaspoon garlic powder

Enough powdered milk to make the milk required for potatoes

2 tablespoons powdered scrambled egg mix

1 tablespoon butter
1. In camp, mix powdered eggs, milk, and potato flakes. Add boiling water (use the amount specified on potato package directions).

2. Stir in sausage, garlic powder, and butter. Eat!
Campfire Orange Cupcakes

Serves 6. Adapted from A Fork in the Trail, by Laurie Ann March
1 package yellow cake mix

6 large oranges

1 egg (if required for cake mix)

vegetable oil (use amount indicated on cake box)

aluminum foil
1. In camp, build a fire and get hot coals going.

2. Cut the top off each orange, 1 inch from the end (each should have a 2-inch-wide opening). Set tops aside. Scoop out fruit.

3. Squeeze orange juice from the fruit and reserve. Discard pulp.

4. Prepare cake mix according to package directions, substituting fresh OJ for milk or water. Fill each orange 2/3-full with batter. Replace tops and wrap each orange in foil.

5. Place oranges directly on hot coals and bake 15-20 minutes, until cake is done. Let cool and eat.
Image credits: bgautrea (bottom)