Trail Chef: Dinner & Dessert to Warm a Chilly Evening
What to scarf when the weather turns nasty
Heading out the door? Read this article on the new Outside+ app available now on iOS devices for members! Download the app.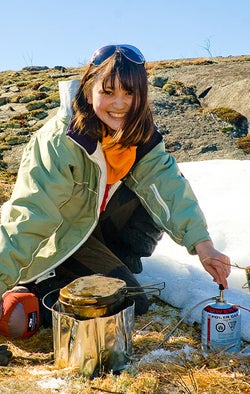 Winter camping. I'll be honest: Those two words strike a (ha!) chill in my heart. All that snow … all those fingers and toes to freeze. But ever since we produced our winter camping opus in the Fall Gear Guide, I've been inspired to give it a try. One very convincing reason: You have to eat—a lot, and often—if you want to make it back unpopsicled.
When you're exercising in the cold, your body needs calories, stat. The colder it is, the more this is true. And when you break for the night… well, you'd better start shoveling in some nutrients to keep your metabolic fires stoked. So I asked someone who knows—Buck Tilton, our Medicine Man and coauthor of NOLS Winter Camping—about his favorite cold-camping dinner and dessert combo. Here's what he shared:

Couscous with Butter and Cheese

Serves 3 to 4.

"Not for those on a diet"
4 cups water

1-2 packets chicken-flavored broth

2-4 tablespoons dried veggies

2 cups couscous

4 tablespoons butter

2 cups grated cheese (Buck likes cheddar)
In camp

Bring water, broth, and veggies to a rolling boil. Add couscous and butter. Stir well; cover and cook on low for 10-15 minutes (check on it frequently—this meal can burn easily). When couscous looks dry and light, remove from heat. Stir in cheese; cover for a few minutes, until cheese is melted.
Chocolate Oatmeal Balls

Or, as Buck calls them, "Sugary Fat Bombs." (Remember, fat = good in cold weather.)
1 cup oatmeal (instant or regular)

6 tablespoons butter

6 tablespoons brown sugar

2 or 3 packets of hot chocolate mix

1/2 teaspoon vanilla

1/2 tablespoon water
In camp

Mix all ingredients together. Form into little balls with your fingers. Eat immediately, or let them sit until they stiffen (which doesn't take long in the cold).
Have any of you braved winter's chill and lived to tell the tale? If so, what did you eat to stay toasty? Share in the comments section below! Your recipe may just be the one that keeps me alive this winter (which, in Boulder, apparently starts tomorrow).
—Elisabeth Kwak-Hefferan
Image credit: alexindigo