TRAIL CHEF: Backpacker's Top Chef Wins with Pizza
Gear editor Kristin Hostetter scores big against reality TV contestant Carla Hall
Heading out the door? Read this article on the new Outside+ app available now on iOS devices for members! Download the app.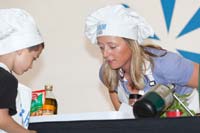 Around the Backpacker offices, gear editor Kristin Hostetter is revered for her fabulous backcountry cuisine. Take a trip with her, and you won't eat mac 'n cheese — unless it's a four-star version she concocted using a gourmet cheddar, plus spices and veggies she spent many hours dehydrating.
But two weekends ago, Kristin had a serious case of the jitters as she prepared for the biggest cooking challenge of her life. As part of Backpacker's annual Adventures NYC event in Central Park, she was about to face off against two professional chefs in a backcountry cooking smackdown — one that would be televised live on NBC Universal in front of an audience of hungry (and highly critical) New Yorkers.
Setting up at cooking stations next to Kristin were Carla Hall, a runner-up on Bravo's Top Chef reality-TV program, and Sara Gore, a professional sous chef and host of LX New York, an NBC lifestyle show featuring high-end cooking and real estate content. Each cook was faced with the same challenge: In 20 minutes, prepare a simple, lightweight entree that you could take camping and fix without fuss. Equipped with a Coleman 2-burner stove, backpacking cookware, and basic utensils, the cooks would work side-by-side under the bright glare of TV lights in front of a live audience.
What Kristin didn't expect — and the reason for her jitters — was the team of assistants behind the two TV cooks. Carla and Sara were both supported by a half-dozen members of NBC's commisary. Imagine showing up to square off against a Top Chef and discovering she had a full team of professionals to slice, dice, and saute for her!
But no matter, because Kristin used another wrinkle to her advantage. Because Backpacker and NBC Universal wanted to focus on youth and the outdoors, the director had announced a week before the event that the judges would be kids picked at random from the audience. While Carla concocted a fresh-veggie quesadilla recipe and Sara made a mini chicken taco, Kristin went with an all-time kid favorite. With her easy yet delicious recipe for backcountry pizza (see below), which you can customize infinitely to your tastebuds, she had the three young judges oohing and aahing over her perfectly crispy crust and oozing mozzarella.
Despite stiff competition — yours truly was on hand as emcee and backup taste-tester — Kristin ultimately took top prize, edging Carla's delightfully nuanced quesadilla. Needless to say, Kristin was thrilled to show that camp cooking can be simple and delicious at the same time.
Backcountry Pizza

(serves 1 hungry camper)
Ingredients

1 bag Betty Crocker pizza dough mix (Make it healthier: mix up your own dough using whole wheat flour.)

3-5 tbsp. pizza or pesto sauce

1 cup grated cheese (your favorite type)
Optional toppings

Pepperoni

proscuitto

Peppers

Onion

Broccoli

Mushrooms

Tomatoes

Whatever you like!

To make:

Mix dough with water according to package directions. Let it sit for 5 minutes. Oil a straight-sided nonstick 8 or 10" skillet. Spread the dough thinly across the bottom of the skillet. (Note: Don't use all the dough or the crust will be too thick. Save half of it for a second pizza.) Spread sauce evenly. Sprinkle cheese. Add the toppings and spices of your choice!
Set the pan over a very low flame. (Tip: For this recipe, you must use a stove that simmers or the crust will burn and the cheese won't melt!), and cover tightly. Cook for about 7 minutes until the crust is golden brown and easily releases from the bottom of the pan and the cheese is melted.
-Jonathan Dorn