This Family Just Hiked The Appalachian Trail With A Preschooler—Here's How You Can, Too
In August 2021, five-year-old Harvey Sutton became one of the AT's youngest successful thru-hikers. Here's how mom and dad helped him pull it off.
Heading out the door? Read this article on the new Outside+ app available now on iOS devices for members! Download the app.
Frozen shoes and snow-dampened sleeping bags made Cassie and Josh Sutton's first weeks on the Appalachian Trail grueling. The couple started in January to work around Josh's real-estate career—earlier than most thru-hikers start—and the Smoky Mountains greeted them with sub-freezing temperatures and incessant snowfall. But the Suttons couldn't drown in winter misery, because there beside them—sometimes hidden among four-foot snow drifts—was their son, four-year-old Harvey Sutton.
Harvey, trail name: Little Man, did more than handle the Smokies' bitter miles with grace. He hiked all 2,193 miles on his own two feet, with his five-pound pack, and summited Katahdin alongside his parents in August 2021. Little Man, now five years old, started kindergarten in Lynchburg, Virginia just two weeks after they finished.
While Cassie and Josh say Harvey crushed his miles over the course of their seven-month journey, hiking the AT with a soon-to-be kindergartener presents its own set of challenges. We sat down with the Suttons, who vlogged their entire trek on YouTube, to learn how they pulled off this epic journey—and how you and your kids can learn to love long-distance hiking, too.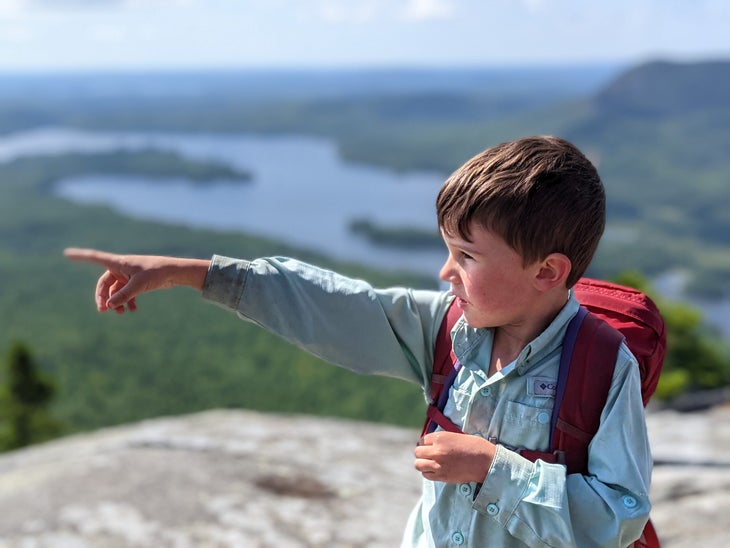 Train early and stay tough
The Appalachian Trail wasn't Harvey's first hike. His trail days commenced at age two, with small hikes, then longer treks and multi-day camping trips. Time and speed didn't matter at this point. Cassie and Josh had one rule for Harvey: no carrying.
"If he needed a break, we told him we'd take a break, and sit there playing with flowers or throwing rocks—but we wouldn't carry him," Cassie said. "One mile would take all morning if it had to. It was just a slow, slow progression of doing that."
The final test was a 50-mile hike along a portion of the AT near their home in Virginia. "We planned on doing seven days, and we actually finished in six, a day early," Josh said. "Harvey did better than we thought, and this confirmed we could do it."
Budget for more gear and frequent snacks
Early on, gear—and particularly footwear—became an issue for Harvey. Four-year-olds grow rapidly, and his feet shot up three half-sizes over the course of the trek. Plus, most kids' hiking shoes aren't built for hundreds, let alone thousands, of miles. Throughout the Suttons' seven trail months, Harvey went through seven pairs of shoes. "They'd all fall apart within like three weeks," Cassie said.
Like many preschoolers, Harvey was constantly hungry. Cassie and Josh knew a hangry Harvey was a surefire recipe for trail temper tantrums, so they fed Harvey every hour, Cassie said, with a focus on protein and carbohydrates.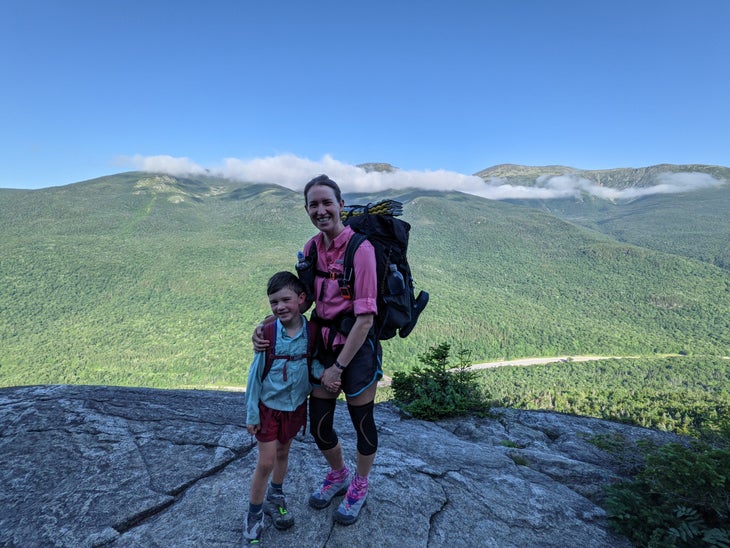 Be ready to entertain, but set boundaries
Whether it's home in the playroom or in the wilderness on the AT, preschoolers require entertainment, and that became Josh and Cassie's full-time job. On some days, Cassie pretended she was a "Paw Patrol" character hiking with Harvey. On other days, Josh and Harvey played a "the trail is lava" game, an activity that required hopping from rock to rock to avoid the magma at their feet. "That was the only way to keep him motivated," Cassie said. "If you stopped playing, he would drag his feet or want to take a break and not move."
The Suttons let Harvey entertain himself when it was time to set up camp, filter water, and prepare dinner. Harvey learned camp arrival meant chores time, and he would run off and build rock castles or play in the creek as Josh and Cassie got to work.
Make time for stop-offs and trailside attractions
Another way to build in fun? Trailside attractions and detours. For Harvey's fifth birthday, the Suttons spent a week back home. Cassie and Josh surprised him with 300 presents from the hiking community; by then, their YouTube channel had garnered a loyal AT-hiker following. 
"We had presents from 45 states and eight countries, and even a box from Japan with Japanese candies," Josh said. 
When they hit New York on the trail, the Suttons took a detour to New York City and Yankee Stadium, where Harvey enjoyed his first live baseball game. He got so hooked he picked up a bat and ball at the next trailside drug store. When they camped at AT hangout Blueberry Hill farm, Harvey orchestrated an entire 11 vs. 11 baseball game among hikers. 
"We had a hard winter, and during that time no one else was out there," Josh said. "But by summer, there were so many hikers alongside us, the community just came alive."
Get ahead of permits
One major hiccup loomed as the final trail months drew near: Harvey would require a specialpermit to summit Katahdin, because children under six years old are not allowed to hike above the treeline. When they reached AT halfway mark at Harpers Ferry, Josh and Cassie wrote a letter to Baxter State Park, the authority for Katahdin. 
When the pair didn't hear back, they wrote letters to senators and the state governor. Eventually, the Suttons were invited to a Zoom with park officials, where they stated their case—with Harvey's past miles as proof. They nabbed the permit, then went on to summit Katahdin months later. 
Accept a slower pace
If you're thru-hiking with kids, forget FKTs. "Hiking with kids is not the same as hiking without kids," Cassie said. "If you can make their hike enjoyable, your own hike will be enjoyable and everyone will have fun. If you're focused on making your miles, you're going to be miserable and everyone will be yelling at each other."
The Suttons completed the full hike in 209 days, or seven months—which was well ahead of their goal of simply finishing by September. "Our main goal was just to have a family adventure, which I feel like we accomplished," Josh said. 
Even better? The Suttons made it home just in time for Harvey's first day of kindergarten—giving him one hell of a "what I did on my summer vacation" story.