The Guiding Life Part II
Escape from Zion -- with a 100% survival rate!
Heading out the door? Read this article on the new Outside+ app available now on iOS devices for members! Download the app.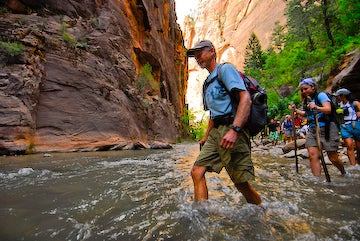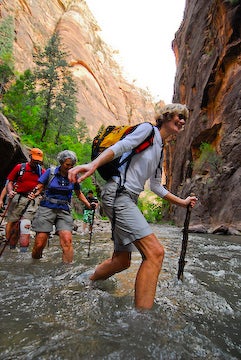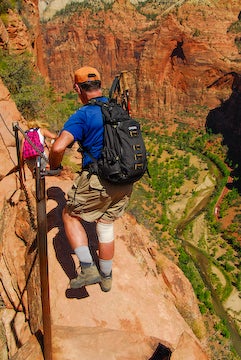 Greetings campers, from Las Vegas, Sin City, Glitter Gulch, the Entertainment Capital of the World – if you're a male with weaning issues, anyway. I wanted to blog some from Zion and Bryce, but with a schedule that ran non-stop from 6:30 a.m to 9:30 p.m., that just wasn't gonna happen.
Now all the clients/guests/friends from our trip have bolted for the airport, and most of the post-trip chores are done – the food inventoried, the checklists checked, the expense report reported, the 15-passenger van cleaned and gassed – so I'm temporarily stored here with the rest of the equipment, awaiting the arrival of Lynn Gordon, my assistant guide for Round II, and the next dozen weary, interesting metro refugees yearning for blue skies, red rock and sore muscles.
I'm left with little to do but lounge poolside, just across Tropicana from the Hard Rock Cafe, working hard to tan some pasty body parts between neck and knees, and trying with modest success to think pure and wholesome thoughts. The square miles of racy billboards and acres of tanned flesh here at poolside do not make that easy. But I can always think of Mistress Betty's flashing blue eyes and the fact that I possess no Kevlar underwear, and voila! improper thoughts wilt faster than asparagus after a frost.
So, what's it like returning to the guide's life after several decades as a magazine slave? Well, it's interesting, and challenging, and rewarding. For one, I love being outdoors, and being outdoors with other people who are enchanted to be there. And I'm learning to like cooking again. But I am not a morning person. And when you cook for a dozen or more people, many of whom rise early, you must suck it up and get breakfast cooked like a good little zombie. You prep lunch items while everyone eats breakfast. Then you lay out the day's itinerary, giving everyone a heads up about heat, water, the day's challenges and rewards. Then it's wash, wash, wash the dishes, toss your pack (with 5-pound First Aid kit, spare snacks and emergency sports drinks) in the van, load up the crew, and head off for the day's adventure.
After said journey, you immediately get snacks out, begin cooking dinner, then eat and chat, outline the next day's itinerary, wash up, shower up, and topple face-down on the mattress like a felled tree until the alarm bolts you upright again at 6:30 a.m. I'll say one thing: time sure passes quickly.
The easy part comes out on the trail. Larry Sage, the head guide for Round I, led the group, called the halts, and at every stop launched into a very detailed and polished presentation on geology, botany, wildlife and history. I thought I was up to speed on southern Utah, but faced with the difference between a Say's Phoebe and an exotic warbler, the exact age of the Mississipian versus Devonian periods, or the Carbon 12 versus Carbon 13 ratios in atmospheric CO2 that let us determine how much of global warming is human-induced, I must humbly bow to superior geekage.
So I ran 'sweep,' making sure no one struggled too much, or made wrong turns at intersections. And this time, no one did. But you can't really relax when it's 100 degrees Fahrenheit and sunny, with a humidity in the single digits, and thunderstorms paradoxically prowling the horizon tossing random bolts. Several trips ago, Larry had a guest go into anaphylactic shock after smelling sagebrush. On another trip, a guest insisted on scrambling a short cliff, took a 20-foot tumble, and fortunately bounced up lucky. Some people have bad knees, or backs, or are on medications, or allergic to medications. You're there for several reasons: Ease of arrangements, the cooking, local knowledge, natural history interpretation – and safety. It may not seem like a big deal, and usually it isn't, until suddenly it is, and then it's a very big deal.
We saw some way cool stuff. There are now oodles of desert bighorn sheep in Zion, many of them roadside. And while I was pointing out a set of fox tracks, and explaining tracking subtleties like stride length, pitch (the angle of a footprint from axis of travel), and straddle (the shoulder width between right and left prints), the track's owner -a kit fox- appeared on cue. We also saw peregrine and prairie falcons in Bryce. And of course, the usual Utah specialty: millions of pounds of very cool rocks, including the airy passage up Angel's Landing in Zion.
On the downside, Zion is a difficult park to guide in, and it's depressing to see how developed this once placid canyon has become. There's a monstrous mega-million-dollar visitor center now, replete with all sorts of interpretive signage about how awesome the Park Service is, and they're spending a ton of money on recreational landscape architecture to celebrate their 100 year anniversary as a park. But they still allow huge tour buses and RVs, which is one of the park's major challenges. And no 'backcountry' guiding is allowed, even for basic trail hiking.

So we stay in the 'frontcountry zone,' which is indeed stellar, but not as stellar as true backcountry.
No other park on the itinerary, be it Death Valley, Bryce, Capitol Reef, or Grand Staircase-Escalante National Monument, is nearly as regulated, or as overdeveloped. Yes, Zion's gorgeous, but I look forward to leading trips in real wilderness.
Fortunately the guests more than made up for it. Our six 'clients' were great; positive, interesting, upbeat, and forgiving of my interpretive and culinary rustiness. So ends my accelerated course. Now, after only one run-through, I'm in the batter's box as head guide for the next tour. My trip leaves Monday with a dozen guests. Curtains up. Footlights on. It's showtime! I'll let you know how it goes. — Steve Howe