The 8 Coolest Things I Found at Outdoor Retailer
Our reader reporter rounds up her favorite new products from the show floor.
Heading out the door? Read this article on the new Outside+ app available now on iOS devices for members! Download the app.
Much like Dorothy seeing Oz for the first time, walking onto the Summer Outdoor Retailer show floor filled me with giddy excitement. There was so much to see, and so many cool products on display, that I had a tough time narrowing it down. Here are the 8 coolest things I saw.
1. MSR Swift 3

First up, trekking poles. I've been backpacking with internal twist-lock trekking poles for many years, and the lower section of my poles often slip instead of maintaining the length I've set. This has been a more serious problem in cold weather.
I've considered trying a lever-clamp style pole, but think there's a good chance I'd end up getting pinched when opening and closing it. Or, the third option is a push-button system that I hadn't seen until now. MSR makes a trekking pole called the Swift 3. Take a look:

The Swift 3 is made of aluminum and weighs 16.2 ounces. It also has a strap release feature. The strap will detach from the pole—instead of yanking your shoulder—if the pole gets stuck behind you. This is only the third season these poles have been on the market. I'm hopeful they've worked out any kinks by now, which makes it the perfect time to try them.
2. Patagonia All Free Softshell




I crave breathability in a softshell and need one that won't make me overheat when exerting myself in crisp weather. I found it at Patagonia. The All Free Jacket is Patagonia's lightest, most breathable soft shell with a high level of protection from rain and wind. The fabric was very thin and felt soft and comfortable. I also thought that the cut was flattering.
3. Gore-Tex Surround
I have yet to find a waterproof boot that doesn't make my feet hot and sweaty. That problem may become a thing of the past with Gore-Tex Surround®, which will be available in Spring 2015 and is intended for moderate to warmer temperatures. The concept behind the technology is to let heat release from below the foot by making the sole more breathable. But why tell you when I can show you:


Since heat release from the bottom of the foot is essential for the technology to work, the insole must be breathable.

Currently, none of the orthotic insole brands have a product that is compatible with Gore-Tex Surround®. This also means no custom inserts.
Other boots that have been constructed with Gore-Tex Surround® include Hanwag's Najero:



Mammut's Comfort High:



And the Salewa Alp Flow:





4. Hydrapak Stash

I'm a backpacker. I like to explore. So in walking the show floor, I also wanted to discover new items I didn't even know I needed. The first one was small and simple. The Hydrapak Stash bottle is a lightweight, collapsible water bottle: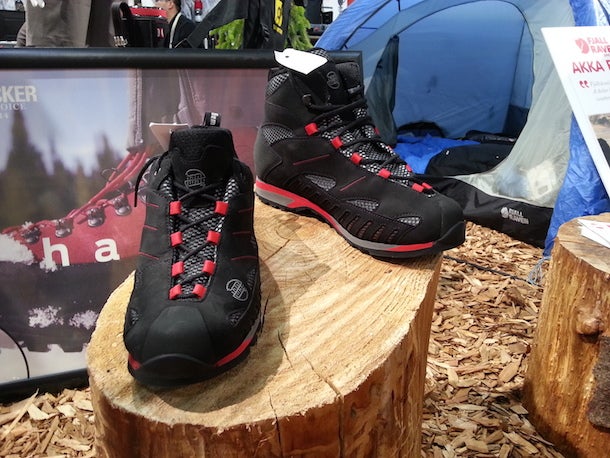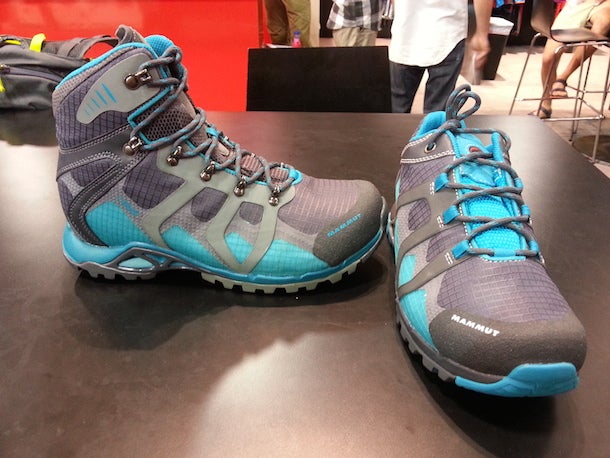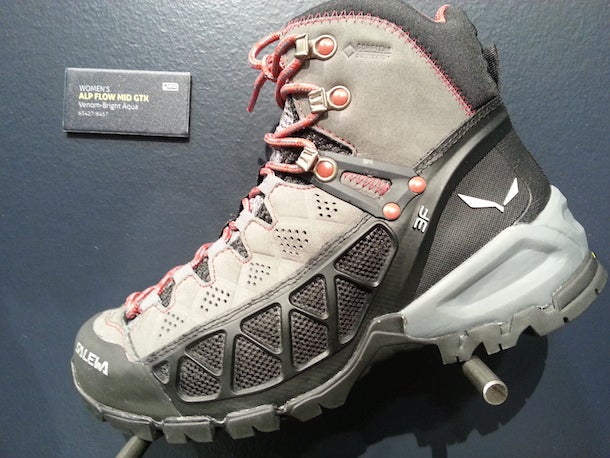 5. Sea to Summit Comfortlight

Sea to Summit introduced their brand new line of sleeping pads for Spring 2015 at the fair. These pads are constructed with interconnected chambers called Air Sprung Cells. This is intended to provide a more comfortable, supportive surface and an even dispersion of pressure across the pad.
I tested out the Comfortlight in the video below, but after reviewing the specs, I think I'd actually opt for the Ultralight insulated. It has an R-value of 2.5 and weighs 15.5 ounces, while the Comfortlight has an R-value of 1 and comes in half an ounce heavier at 16 oz. 


6. NEMO Tango Solo

A new sleeping pad deserves a new sleeping bag. I've never been a fan of mummy bags because I sleep on my stomach and don't like my legs to be restricted. But, I also don't like carrying unnecessary weight. I found a good compromise between comfort and weight with the Nemo Tango Solo. It saves weight by being bottomless. There's a pocket at the foot of the bag to secure a sleeping pad and it's compatible with any 20 to 25 inch pad. It's a 30-degree bag that weighs 1 lb and 13 oz.
7. CEP Progressive Plus Run Ultralight socks

Not every piece of gear is fun. Some are just functional. While I haven't seen anyone else on the trail wearing compression socks, I've taken a cue from runners, tried them out and think they make a difference.
Compression increases blood flow, which provides more oxygen to muscles. This enables the muscles to last longer and reduces swelling, which can be an asset at elevation. Most compression socks I've seen have been too heavy weight for backpacking on a warm day. And they look a little silly.
So I was pleased when I found CEP's Progressive Plus Run Ultralight Socks. They offer lightweight wicking fabric made of nylon, polypropylene and spandex and have light cushioning in the toe and heel. CEP also have socks intended for hiking made from nylon, merino wool, spandex and silk. The Progressive Plus Outdoor Merino Socks have an extra-flat toe seam and more padding then the ultra light version. Both come in ankle length as well.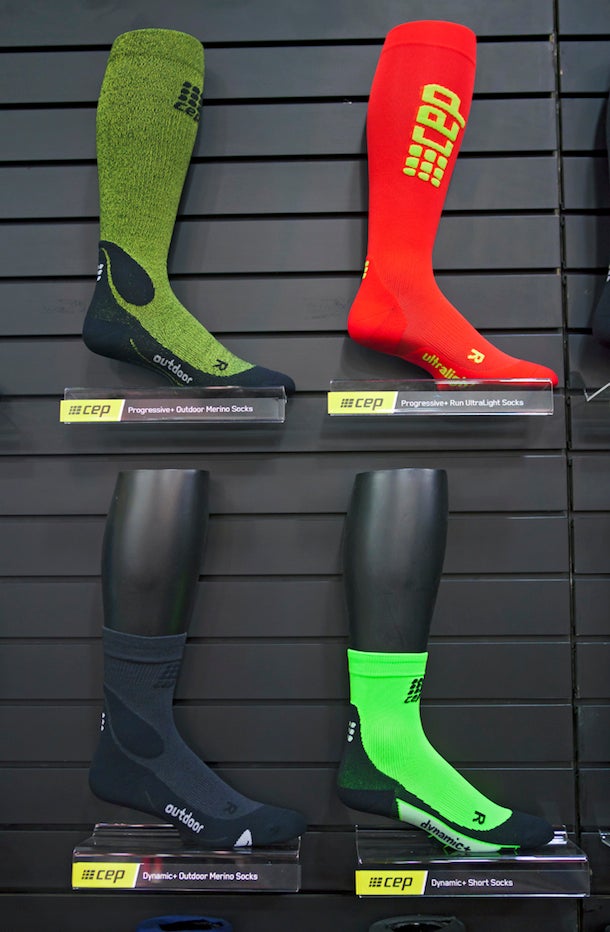 8. Chapul Cricket Energy Bar

My last and most unusual find was a food innovation. I ate crickets!



More specifically, I ate a Chapul Cricket Energy Bar. My favorite was the Thai, which has a coconut/ginger/lime flavor. The texture was somewhat of a cross between a PowerBar and a Lara Bar. As for taste, they weren't just good for an energy bar made of crickets. They were just plain delicious.