Solitude, Guaranteed
How one BACKPACKER editor found it in the Grand Canyon
Heading out the door? Read this article on the new Outside+ app available now on iOS devices for members! Download the app.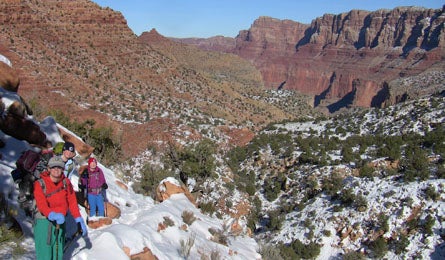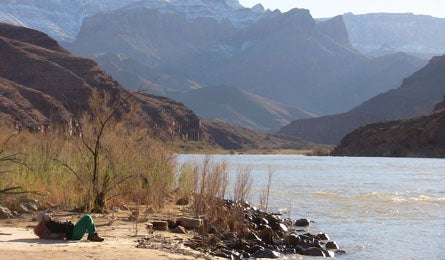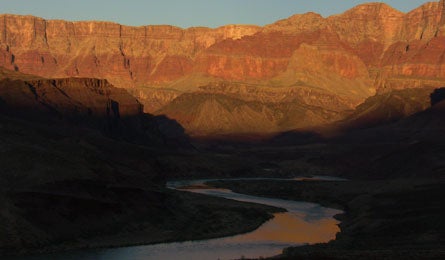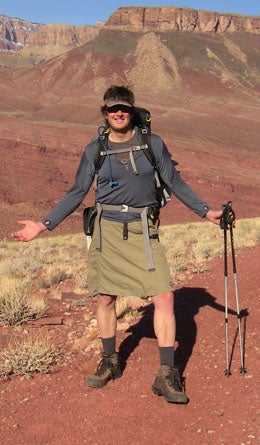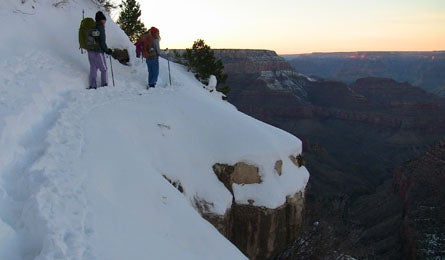 (Day 1: The snow was still a foot deep 1,500 feet below the edge of the South Rim (7,000 feet) as we descended on the Tanner Trail.
)
Tuck this tip away for 355 days: The best time to visit the Grand Canyon for utter, total complete, pin-dropping, billion-years-of-rock-spanning solitude is the dead of winter. Like the day after Christmas until the day after New Year's. You won't see lines at the backcountry desk or fight for primo riverside campsites with legions of rafters and other hikers. Shouts from youth groups won't break the epic silence, and jostling photographers won't shoulder you aside at popular overlooks.
(Day 2: Heather takes a siesta beside Lava Rapids during a dayhike along the Beamer Trail from our camp at Tanner Rapids.
)
How do I know this? Because I just returned from a trip in the Canyon with my family, and it was quietest five days I've had in a national park this side of Alaska. We drove down from Boulder the Friday after Christmas, scored a walk-up permit the next morning for one of the premier wilderness routes in the park, and were shouldering packs at Lipan Point two hours later. Over the next 40 miles—from the top of the Tanner Trail down to the Colorado River, up the Beamer Trail to Lava Rapids (a dayhike), over Unkar Overlook and across the Escalante Route to Hance Rapids, along the Tonto Trail to Horseshoe Mesa, and and up, up, up the Grandview Trail to the top of the South Rim—we crossed paths with only four other backpackers.


(Day 2: Sunset, looking up the Colorado River from the overlook above Unkar Rapids
)
Backpacking our way into the new year is a tradition my wife and I started years ago, back when our daughters, now 12 and 10, were still riding in child carriers. It was a good way to enjoy uncrowded trails and the beauty of the winter wilderness, but also offered some pretty practical benefits. Shedding holiday fat from weeks of cookies and Christmas parties. Decompressing from the stress of big family gatherings. Avoiding the hangover-football-Dick Clark insanity…
(Day 3: Kilt hiking!)
This year's trip was our most ambitious yet. Besides the 8-mile-per-day average and 4,500-foot descent/ascent at either end, a snowstorm had piled 20 inches of snow at the rim, requiring warmer (read: heavier) clothes and crampons. And if you've hiked the Escalante, which is unsigned and unmaintained, you know that it contains long sections of exposed, scrambly terrain where narrow ledges teeter hundreds and even thousands of feet above cliff bottoms. There's even a 30-foot rock climb that's just a hair from needing a rope. In other words, a monster challenge for pre-teens and a wife whose vertigo comes on when she looks out a second-story window.
(Day 4: Abby treads carefully beside a 600-foot-deep chasm along the Escalante Route.)
But more on that later. This spring, when we launch our biggest series of national park stories and maps ever, I'll return with a full report on the trip that will include a Google flyover, GPS downloads, video clips, and a photo gallery. For now, here are a few images from a chronically busy park that for one blessed week was as quiet as wilderness ought to be.
(Day 5: The kids lead the way back to the South Rim on the sometimes-precipitous Grandview Trail.
)
– Jonathan Dorn